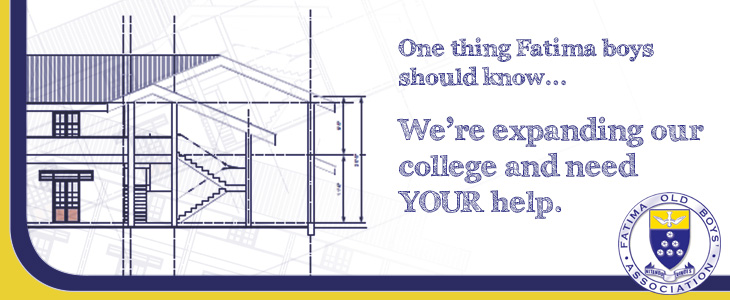 The Fatima Old Boys Association (FOBA) is undertaking the construction of a much-needed new school wing at Fatima College.
We need your help.


As some of you may be aware, every year FOBA embarks on a capital project within Fatima. In the past it has been the building of the mezzanine in the Hall, the refurbishment of the library and of the field pavilion, among other projects.
This year FOBA is undertaking the construction of a much needed new wing. This wing will be a two storey structure occupying the space where the Art and TD rooms and half-court basketball court (previously hydroponics area) exist. The new wing will provide additional classroom space for Form 6 classes, as well as provide better facilities for Art, TD and Geography in addition to allowing for expansion of the curriculum.
The new wing will be built in two phases totalling TT $4million. As you might imagine, that is a significant amount of money and far beyond FOBA's capabilities to fund on its own. So we are engaging all stakeholders to assist in the fundraising effort.
CLASS YEAR COMPETITION
To that end, we are asking each class to raise TT$50k to go to this project. The funds could be in the form of individual donations and/or focused fundraising. Additionally, if contributing to this project is not incentive enough, FOBA is sponsoring a competition whereby the class that raises the most cash wins a night out at a restaurant/bar of your choice as a thank you/reunion event.
CORPORATE TAX CREDIT
For those of you in a substantial position and willing to approach your workplace or other Corporations for donations…. contributions made towards the new wing will be matched by a Deed of Covenant. This deed allows corporations to obtain a 100% tax credit on the amount donated. Once the amount is donated and the corporation indicates their interest in receiving the Deed of Covenant, FOBA will begin the paperwork necessary.
PAYMENT OPTIONS
Donations to this project can also be made as follows :
Online via the E-Store
Via Linx at the FOBA office.
Via cheque made out to FOBA. This can be delivered by mail or by hand to the office at Fatima Old Boys Association, Fatima College, Mucurapo Road, Woodbrook.
By directly depositing to our bank account at Scotiabank. The account number is 1200454 (St. James branch).
Outside of this please contact the FOBA Office at 628-4735.