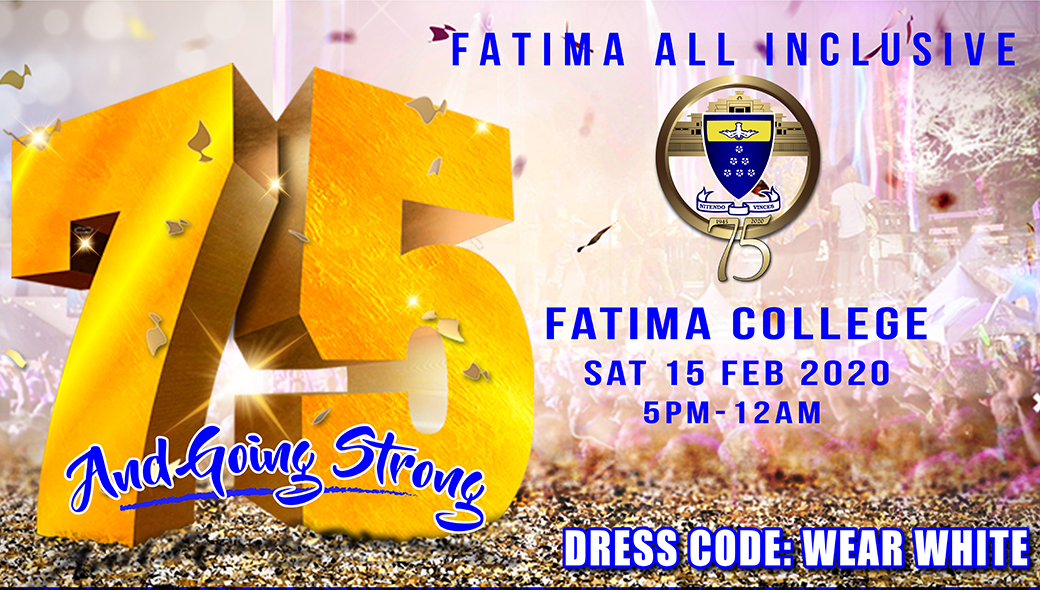 Fatima All Inclusive 2020
Saturday 15th February, Fatima College!

Female tickets: $925.
Male Tickets: $975.

For more details visit www.fatima-events.com online tickets or contact any FOBA Committee Member. 
75 Years of Greatness!
In 2020 Fatima College celebrates 75 years as an educational institution.
This is a momentous occasion in our college's history and something of which we can be truly proud.
There are a number of events carded this year to celebrate this historic achievement, the first being a 75th Anniversary Mass which was held at the school compound on Friday 17th January. This was followed by the launch of a week-long exhibition in the school hall, dedicated to the history of Fatima College. It featured photos and memorabilia of the College, our achievements, our students, teachers and benefactors from 1945 to today. 
Our Fete celebrates the 75th!
Our all inclusive fete this year is part of the celebrations of our 75th Anniversary and is appropriately themed "75 and Going Strong!"
Patrons will experience our outstanding Food Clusters, Premium Bar and the Best in Entertainment with #5BIGBands and #Over12GreatArtistes!