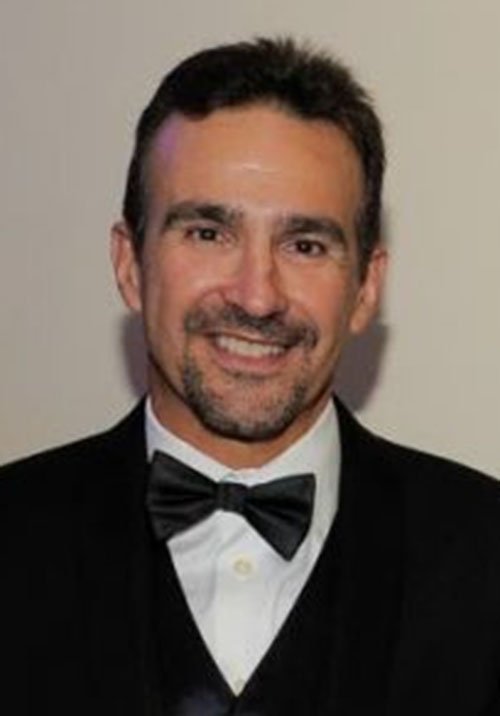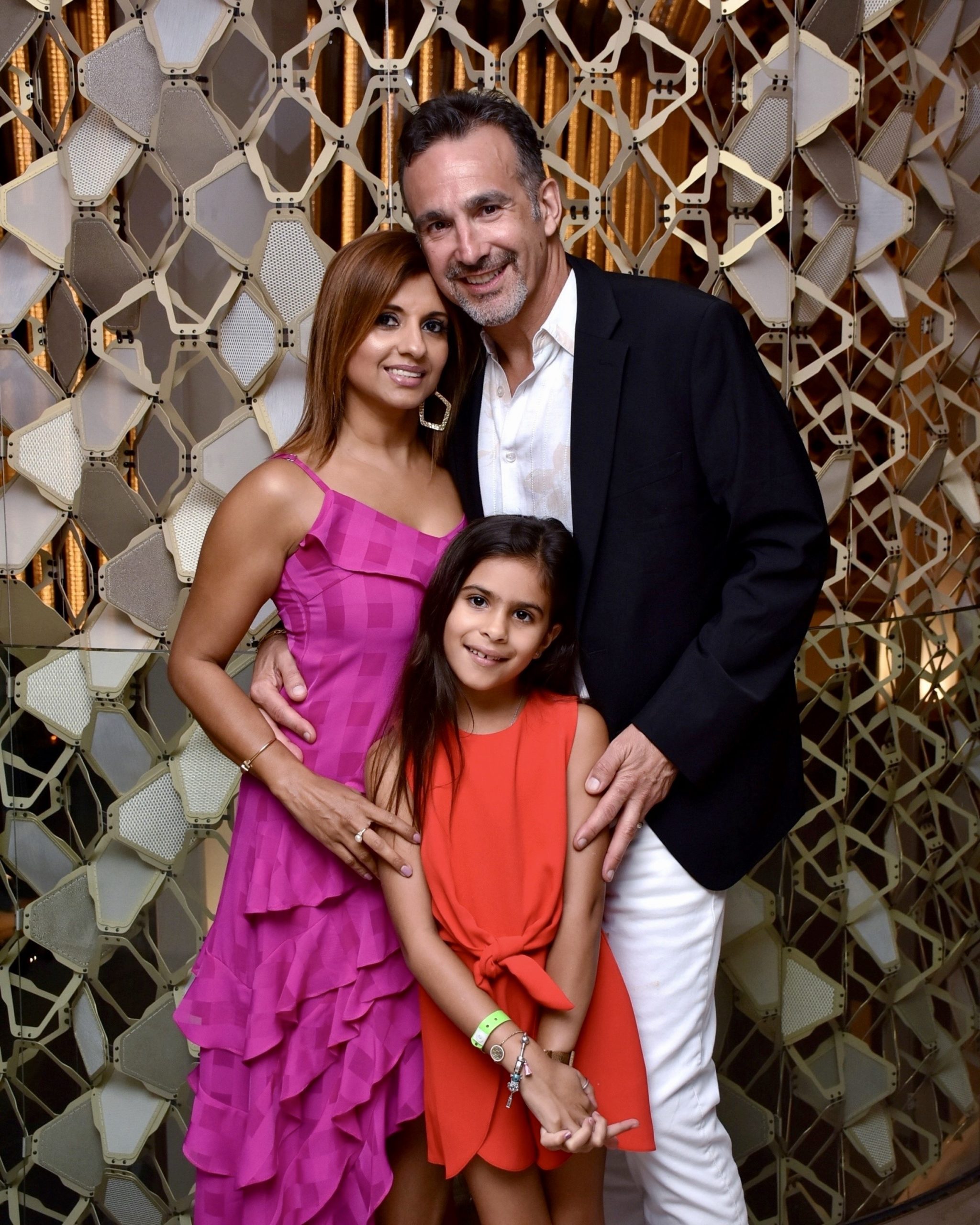 Nigel with his wife and daughter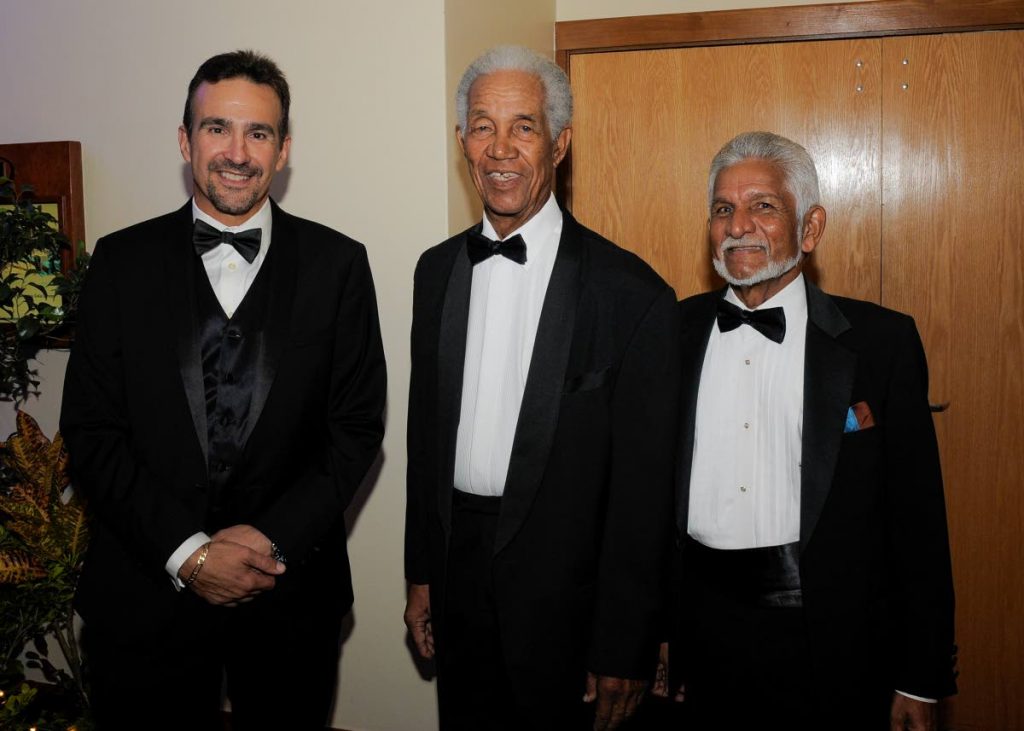 Nigel with cricket legends, Sir Garfield Sobers and Deryck Murray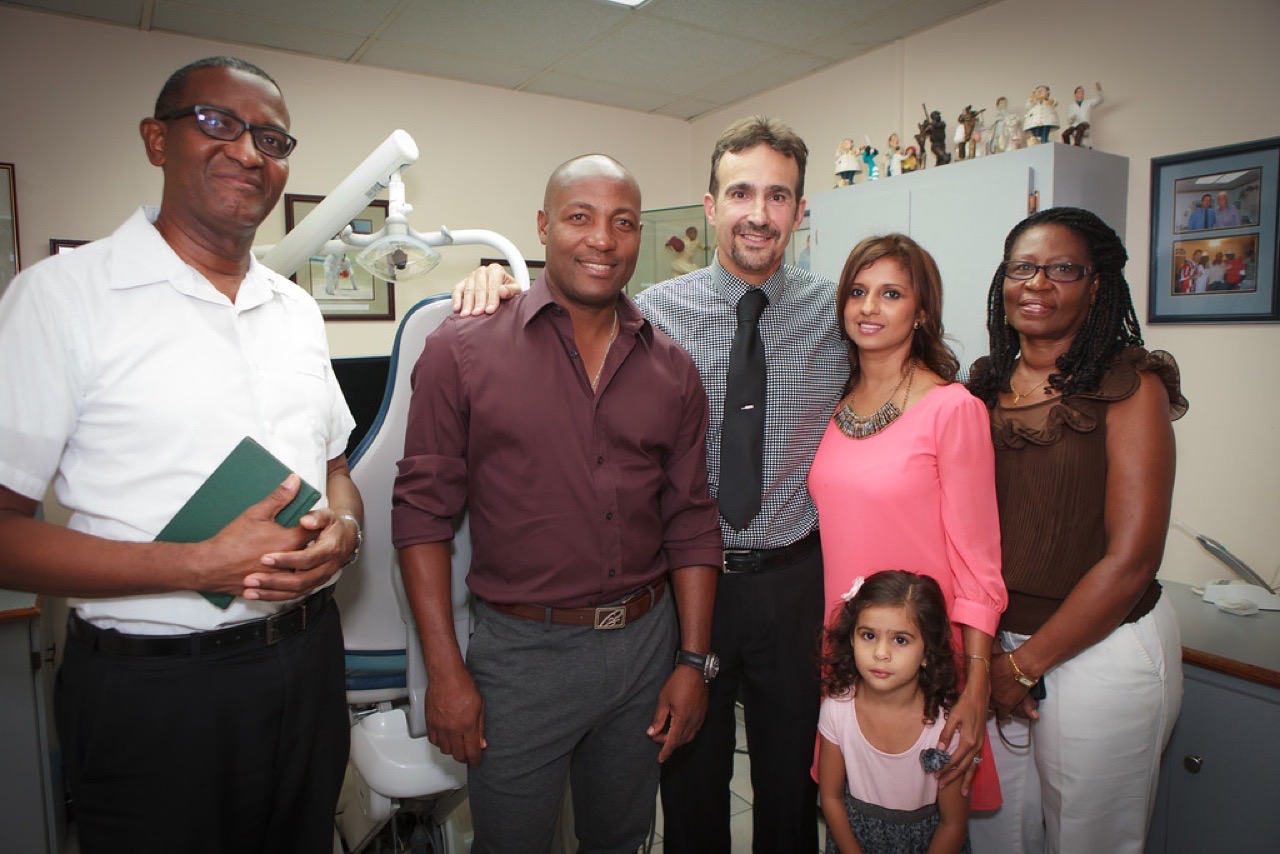 The blessing of the Brian Lara Room at Nigel's office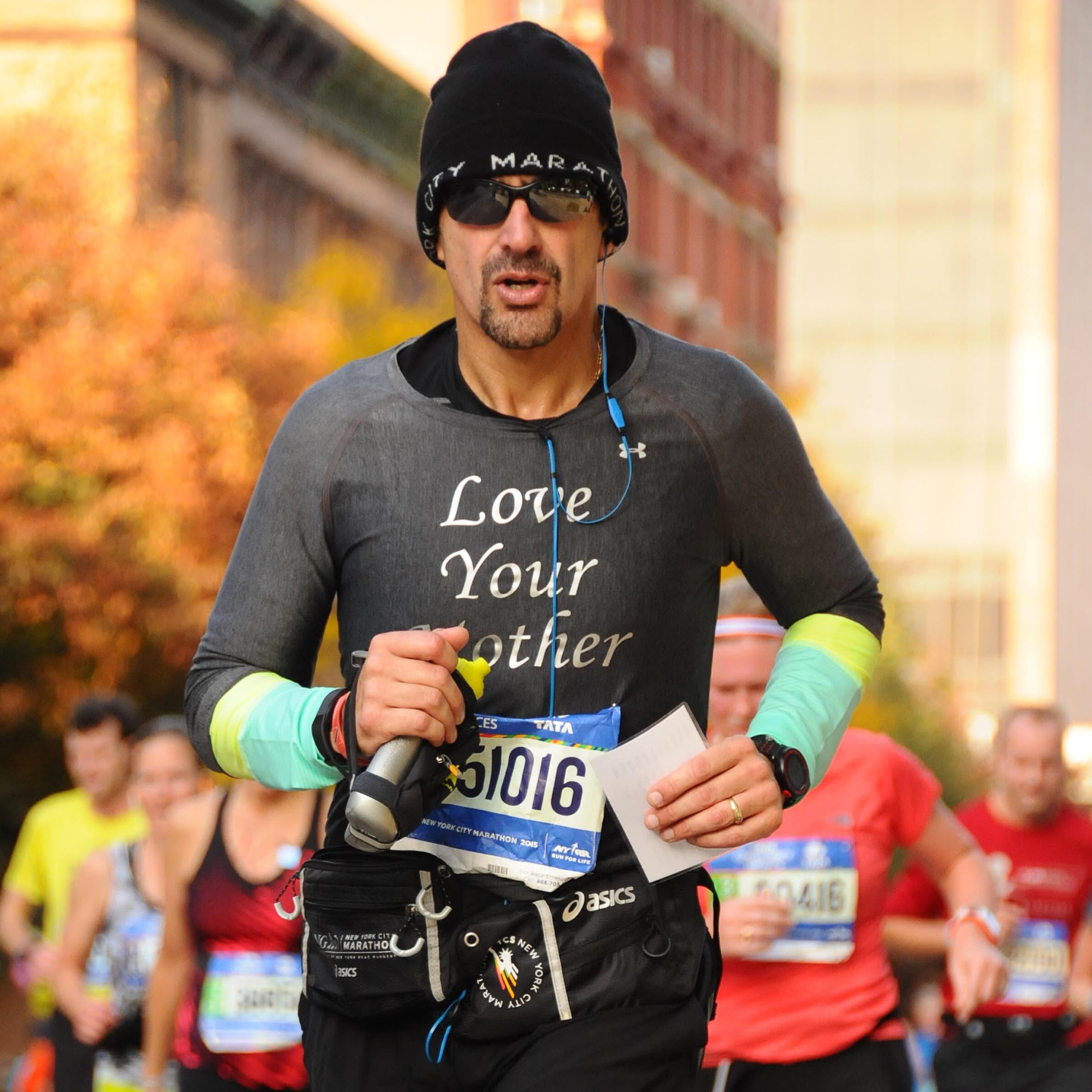 Nigel running the New York City Marathon 2015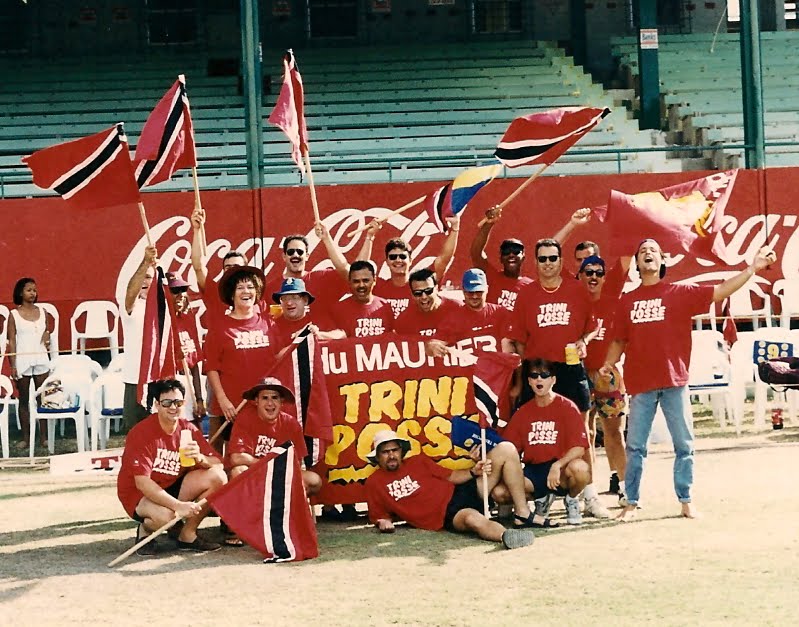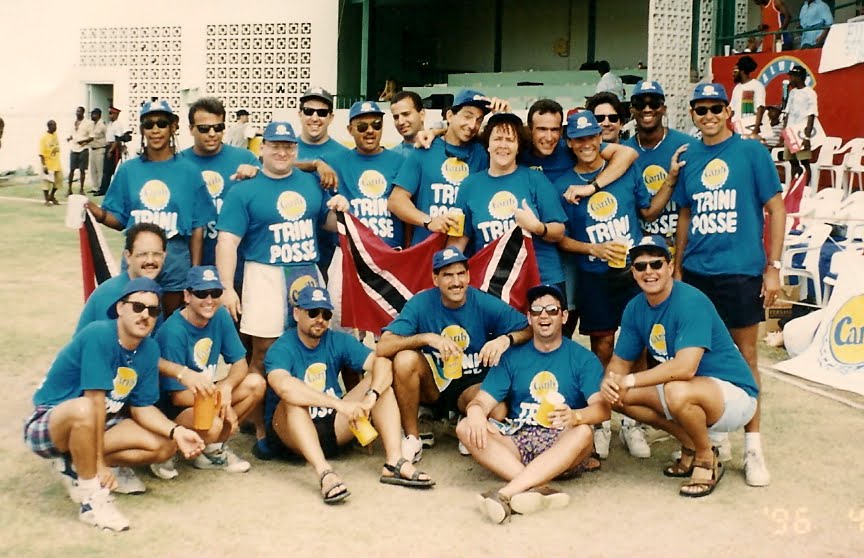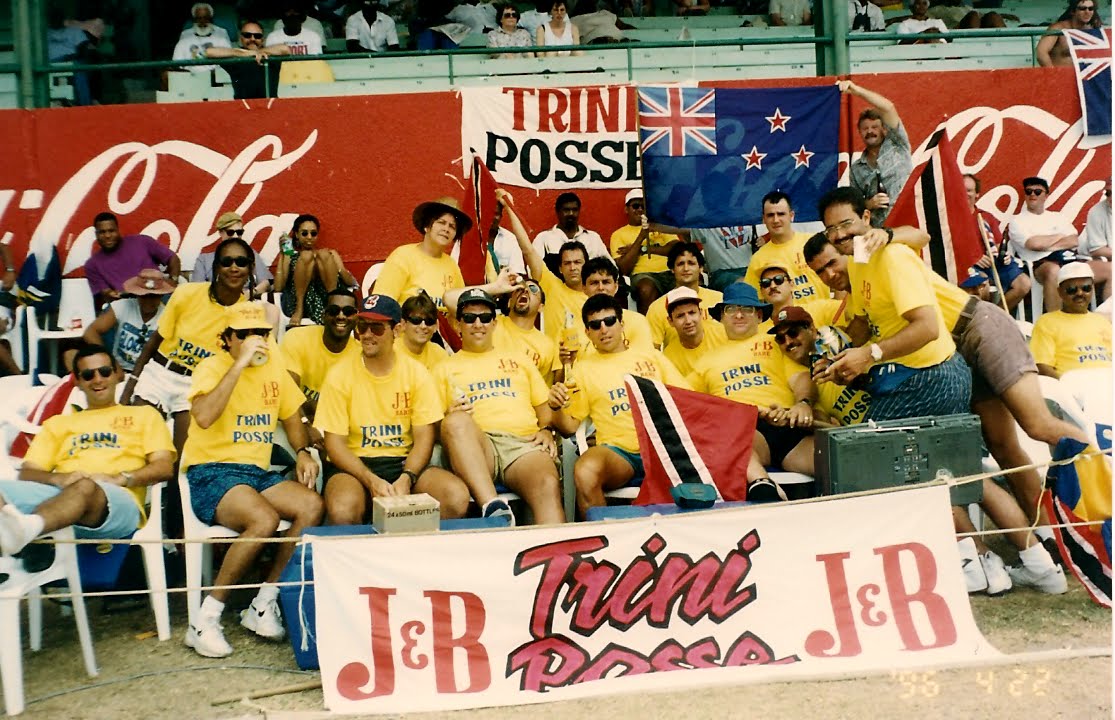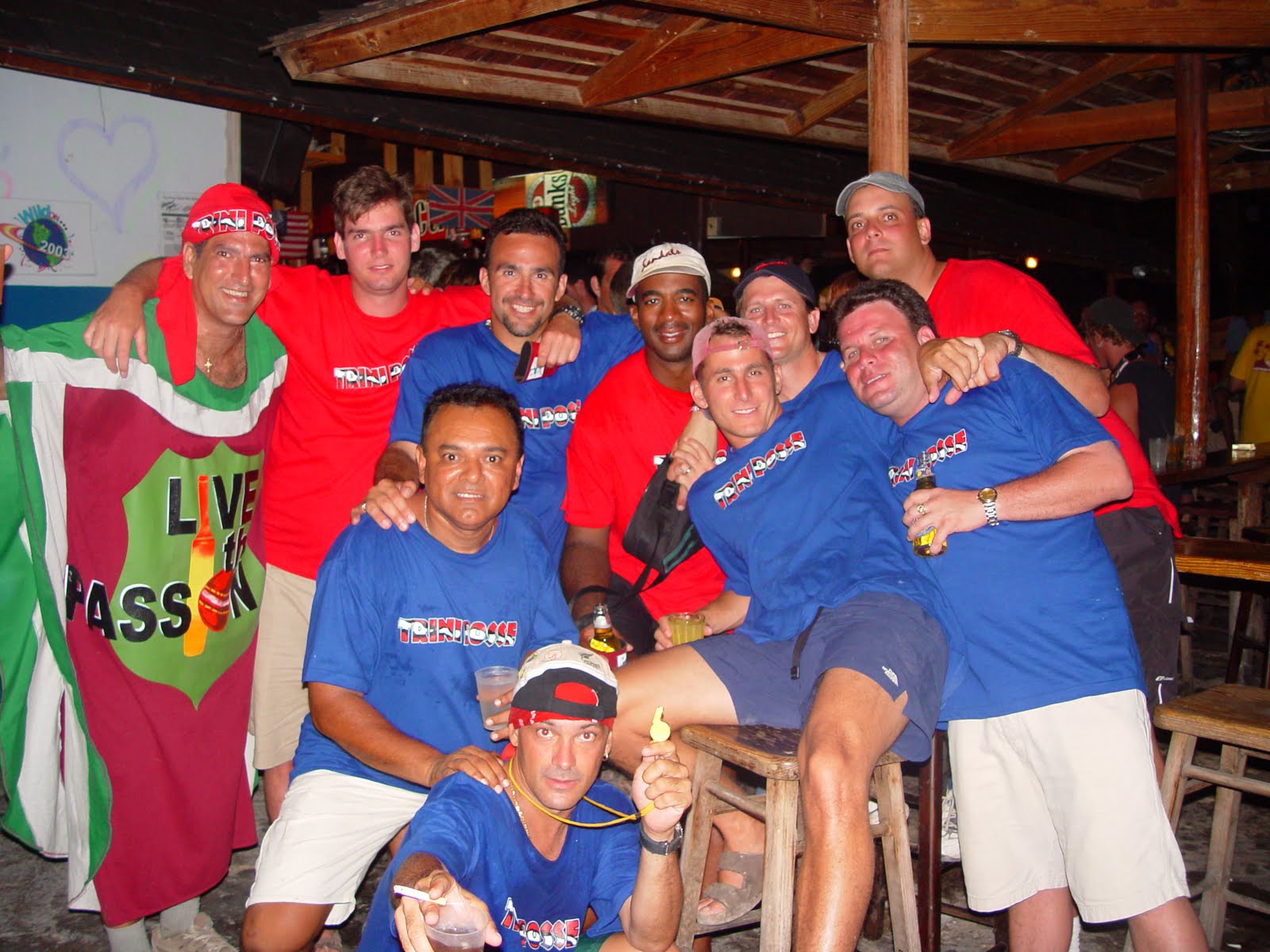 Trini Posse in Barbados 2003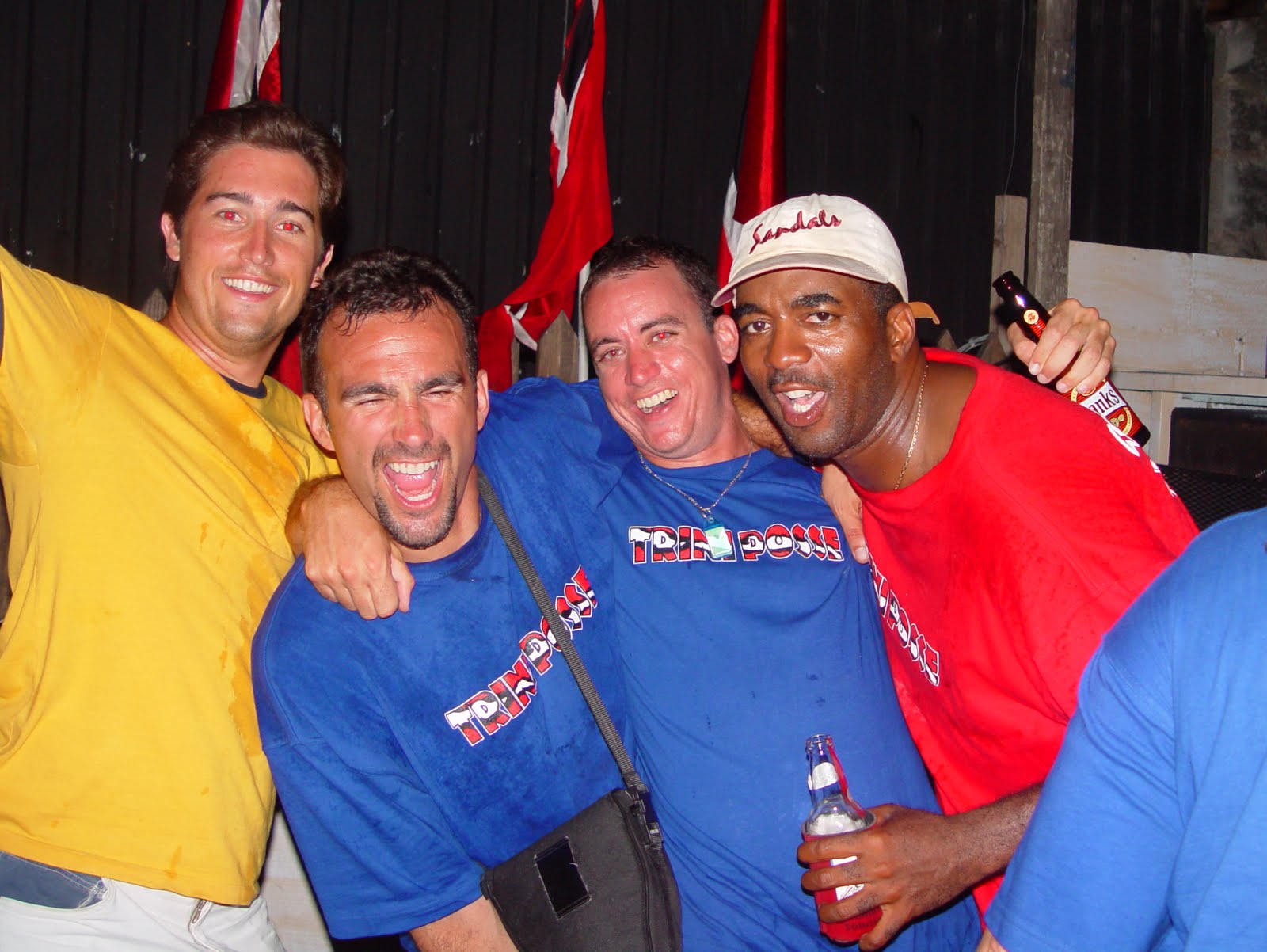 Trini Posse in Barbados 2003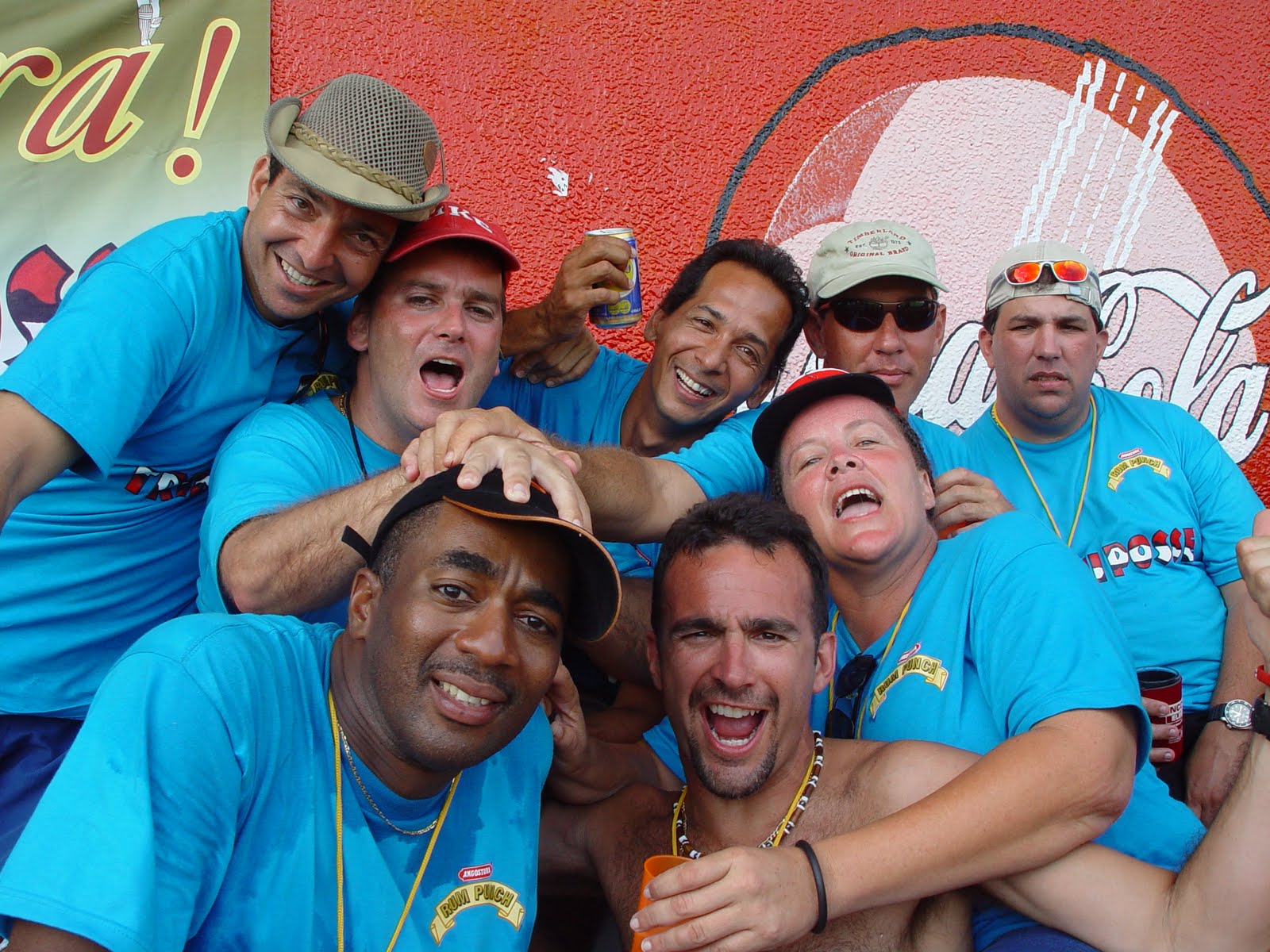 Trini Posse in Barbados 2003
Nigel Camacho is a dentist by profession and one of the co-founders of the Trini Posse, the group of Trinidad and Tobago sports enthusiasts who have been touring the Caribbean supporting the West Indies cricket team for almost 30 years. 
Q. You attended Fatima from 1976 to 1981. What influenced your choice of Fatima College for Secondary School?
A. My dad attended Fatima College in the 50s and I wanted to follow in his footsteps. It was a happy family thing!
Q. Tell us about your memories at Fatima – pleasant and/or non-pleasant? Fondest/Strangest memories? What is the worst mischief you got up to?
A. My fondest memories of Fatima came from playing cricket for Fatima under 'Harry', Lay Teacher Harry Ramdass. We had a very powerful team and it was great fun winning handsomely against all competition. We won a national championship in 1978. That was amazing!  On a team so loaded with talent, my average cricket skills went barely noticed. However, in the National Final I had a decent game in a low-scoring affair, putting in a 'Man of the Match' performance when it counted. This taught me a lesson for life: teamwork is the key to success in all endeavours in life.
However, all aspects of life were incredible at Fatima––the friendships developed, the sports, cricket and football, the academics. It was easy to excel with the great teachers we had. I fondly recall Father O'Dwyer telling me in Form 2 that I had what it would take to become a priest. He was recruiting and I humbly told him I wasn't worthy. Boy, was I ever so correct!  I knew myself too well—that I was not blessed or destined that way. There were many naughty moments at Fatima, e.g. the chaotic scenes at Roxy cinema when the school went to see the film "Jesus Christ Superstar".
However, our naughtiest moment was our last day celebrations in Form 5: we all dressed in girls' uniforms (St Joseph and Holy Name) and invaded all the girls' schools with water balloons, eggs, etc. It turned out badly and Mr Pantin nearly banned us all from GCE. In fact this behaviour may have accelerated his decision to retire as Principal! 'Twas not a proud moment for us, but nonetheless, very memorable.
Q. Any memorable nicknames?
A. Luckily my nicknames never came till later in life; none I can recall getting at Fatima.
Q. Which teacher(s) had the greatest impact on you at Fatima?
A. As said before, Teacher and Games Master Harry Ramdass had the greatest impact on my Fatima life. Mr Clive Pantin was a great inspiration to us all, as I grew to have the greatest respect for him. He was an amazing Principal. Mr Garcia interacted well with us, as he too was a great teacher. Father Girod had the hugest influence in my early study of religious knowledge. I remember fondly Father Gregory, as he was a couple years ahead of me, and was deeply religious from way back then. Other teachers who affected my development positively were Mr Joesph, Mr Clive John, Mr Lee Hah, Mr Charles, Miss de Four, Miss Zackour, Mr Glen Roach, Mr Francis John, Miss Heywood, Miss Hubbard, Mr Carmino, and Mr Brash.
Q. Cricket is undoubtedly your favorite sport. Did you have any interest in any other sports at Fatima? Besides cricket, what sports do you follow now and what are your favourite teams?
A. I love all sports, all, but yes cricket by a mile is my fave. However, I am a huge football fan, from Fatima I was a Man U and Brazil fan. I later switched allegiance to France in 1986. I am also a big fan of Messi and Barcelona––he is unbelievable! I love most North American sports as well, having spent nine years in North America becoming a dentist. But, of all the sports and teams in world sports, West Indies will always be at the pinnacle in my heart, I grew up a huge Windies fan and that will never change.
At Fatima I played cricket and football from Form 1-4. In football, I played Giants, Colts and Second Eleven…and loved every second of it. Cricket I played Giants, Colts and First Eleven. I also played rugby for two years for Fatima. It was all terrific fun.
Q. Have you been able to maintain friendships with your classmates since school? Did your class year ever have a reunion?
A. I have maintained lifelong friendships with the majority of my classmates at Fatima. There is hardly a place I can go in Trinidad and not run into a former classmate. A number of them have also become patients of mine. Unfortunately, we have never had a big reunion; we have had a number of 'mini' ones over the years.
Q. What does 'Nitendo Vinces' mean to you?
A. Nintendo Vinces means everything to me, singing the school song still gives me goose bumps
…Fatima Boys come answer to the call…Iconic stuff, lifelong pride!!
Q. You have been a dentist for the past 25+ years. What advice would you give to anybody contemplating a career in dentistry?
A. I decided to become a dentist in Form 2. I sustained an injury playing in a 'man on ball' session in the courtyard, and my grandmother took me to my dentist Dr.Fagenbaum to stitch the cut I got. After that, I decided I wanted to be a dentist! Dentistry has been an incredible profession for me. Every day I thank God and my parents for helping me finally to become a dentist.  It has shaped my life, gives me great professional satisfaction, and has afforded me a decent living. It also affords me time to spend with my family and do all the other undertakings I have chosen for my life. I would highly recommend any youngster so inclined to pursue Dentistry as a profession.
Q. What qualities and values did you take from Fatima that helped you in your career?
A. My greatest lesson at Fatima was discipline. Through dedication and discipline, Fatima taught me I could achieve anything in life I chose to do. At Fatima, the friendships developed helped shape my life and my personality. This I fondly cherish. However perhaps, as said before, the most rewarding endeavour at Fatima was representing the school in sport. Sport thought me that teamwork was critical to achieving your goals in life, a lifelong lesson that I still draw on every day.
Q. You are one of the co-founders of the Trini Posse group. Tell us about how that group started.
A. Trini Posse, for me, grew from a love of cricket that was grounded at Fatima. It was driven by the combination of my love of West Indies cricket, and the love of always wanting to have a good time in true Trini style. It was synergized by my late good friend Sean Grosvenor, who played music while we watched cricket. He would play music to put us in a good mood and it generally reflected the state of the game.
Trini Posse was founded in 1992 and mirrored the career of a great Fatima legend, Brian Charles Lara. It was amazing how we got the name. We went to Kensington to see the boycotted Test match against South Africa in 1992. 38 of us. We were in disbelief when we were the only spectators at the ground the first morning of the Test, we had the ground to ourselves. So…great fun. On the way to the ground the second day, I picked up a newspaper, and saw the headline reading "Boycott a success––except for the Trini Posse". I cut it out and told my friends: This is it! We got our name!! The other seven founders loved it…and the rest is history. Trini Posse has been a fantastic part of my life for the past 30 years.
Q. In 2014, you teamed up with the West Indies Cricket Board (WICB) and the West Indies Players Association (WIPA) to form and launch the West Indies Retired Players Foundation (WIRPF), to take up the cause of the retired West Indies cricket players. How has that progressed and what challenges, if any, has the Foundation faced?
A. The WIRPF was something I conceptualized after talking to a number cricket loving people all over the world. Dave Cameron, the then WICB President, was very supportive. It makes logical sense…but the challenges have been unbelievable. The past players, perhaps understandably so, have such a level of mistrust in the administration of cricket Regionally, it has proven nearly impossible to get it going. Despite this, I still have the passion…and West Indies cricket has given me so much personal satisfaction in life, I remain committed, and confident that with continued effort and dedication, it will succeed.
Q. Who was your favorite cricket player growing up?
A. This is easy. The Master Blaster, Viv Richards, was the ultimate West Indian gladiator. His combination of skill and aggression for West Indies and Somerset was knockout stuff, literally! A sight to behold. He helped me instill confidence in myself. His achievements on the field of play and the way he went about doing it drove his fans to feel we could possibly succeed in anything we set out to do.
Q. What was your opinion on the Windies touring England in 2020 during the time of Covid-19?
A. There were mixed feelings, as we were still gripped by the ravishes of a global pandemic  However from a selfish standpoint, having been starved of entertainment for the three months prior, we needed that tour as fans of cricket, and sport in general  From a medical standpoint, I was confident the authorities could pull off the tour safely behind closed doors. I understood some of the players' decision not to go as it was indeed a scary time in global history. As a perennial Windies fan and the eternal optimist, I still expected victory. Added to this, we did have the Wisden Trophy in our possession.
Q. Some are of the opinion that the increasing popularity and appeal of T20 cricket is having a negative effect on test cricket (e.g. players more attracted to T20 for financial reasons). What are your thoughts on this?
A. There is no doubt that the appeal and excitement of T20 has attracted more new fans to the game, and as a result the sponsors' money has followed. Hence there are larger rewards for the players in this format of the game. Test cricket is a victim of the success of the shorter format. The result being more players are attracted to this format than the longer traditional version of the game. True cricket connoisseurs love their Test cricket. However, in most parts of the cricket world, these numbers are dwindling. Economics is shaping the future of the game, as the most talented players will follow the money. Only the Big 3––England, India and Australia––will be wealthy enough to pay their Test cricketers a base salary, to keep them playing that format for their country. Test cricket faces an uncertain future, though tradition will keep it going for now. T20 cricket will likely become the dominant format in the future.
Q. Which is your favorite cricket format and why?
A. Easy answer: Test cricket. It's the most complex and compelling version of any sport played on the planet. Its ebbs and flows are enthralling, the tradition, the records enchanting. There is nothing else in sport like a good Test match. Besides the theatre of watching Test cricket, this is what moulded Trini Posse to be what it is!
Q. You are an avid runner and have run a few marathons. How did you get into running? Which race(s), local or foreign, was/were the most memorable and why?
A. Running has become a lifestyle for me. Throughout my early life, I battled weight problems, but running has helped me stay in shape and keeps the pounds off. Running marathons was something me and my training partner Sheldon Cockburn (unfortunately a Saints boy) jokingly got into as a challenge. To date I have run six full marathons and 14 halves. All my full marathons were in the US. The incredible NY Marathon I have done three times, West Palm Beach twice and Houston once. My PB in a half is 1:49 in Barbados, and in the marathon is 4:18 in Florida.
One of my favourite moments was running for Children's Cancer Research, Sloan Kettering Hospital, in NY in 2011. The night before was an inspirational dinner to gee up all the runners. The spokesperson said whatever you do, make sure you make it to Mile 16. I ran the race and by 13 miles I was feeling ill. The hills of New York are a killer. Then I remembered that the person said mile 16. I dug deep and kept going: Mile 16 was on 1st Avenue, where the hospital was situated. Outside on the sidewalks, were all these kids in their wheelchairs, beds, etc , IV poles, the works . Screaming at the top of their lungs, saying thanks for raising money for research. WOW, tears came to my eyes, I no longer felt sick. Suddenly I felt driven and this propelled me magically for the next 10 miles! By far my favourite running moment ever.
Q. What do you see as the biggest challenge for the young boys of this era and what can Fatima do to support this?
A. The biggest challenge for young boys growing up in this era, I think, is the strains technology put in maintaining a normal healthy life. Technology is an amazing thing, though necessary. However, it desocializes people, which can't be healthy. We need to get back to the basics of human relationships. Social media is probably not the best way to build those bonds for life––the bonds we had growing up in Fatima. There is also the health side of things, exercise, etc. If not already being done, Fatima needs to spend time teaching boys how to use modern technology in a healthy meaningful manner, stressing self-discipline and human interaction along the way.
Q. Do you have any recommendations to FOBA as to what benefit you would appreciate as an alum?
A. I am pleased at the efforts made by FOBA to stay constantly in touch. FOBA should continue to help formalize the reunion aspect of the various classes throughout the years, highlighting the milestone anniversaries. This will maintain the camaraderie, as well as fund-raising potential from past students. Also, we need to ensure our Annual Carnival party continues to compare well with our sister school, St Mary's.
Q. Favorite type of roti? Buss-up shot or dhalpourie?
A.  am definitely a buss-up-shot man; potato and boneless chicken roti…my favourites; plenty pepper. On my Doubles as well!!
Q. Any closing remarks?
A. Post-COVID I would wish to see Fatima boys band together through FOBA to spread positive vibes of encouragement to the Nation, as we get accustomed to what will be our new normal. Also, I must thank Father Gregory for the magnificent job he is doing as Principal––Fatima once again being the most sought-after boys Secondary School in the country.
Last but absolutely not least, may I extend condolences to the family of Mervyn Moore, a truly great Principal himself.
Strive on Fatima Boys…Strive on!