"Ganglamb Style", "Super Premium VAT Free Chicken", "U ENT C? Something Fishy in the People's Pot", "Everything at Steak". These were some of the creative and humourous names given to the dishes at Fatima's Salt and Pepper 2012. Patrons were subjected to many "VAT Free", "Section 34" and "Premium" choices, these being the hot topics in the air. Remember the "SOE" and "Diesel" dishes of 2011? The amusing names of dishes however are but a minor aspect of what guests anticipate for Fatima's Cookout.
Loyal old boys seized the opportunity to support their alma mater on Saturday 20th October 2012. As usual, the dinner was well attended and the school compound was bustling with activity, spread from the Form 6 Block and Hall across the car-park to the main cafeteria.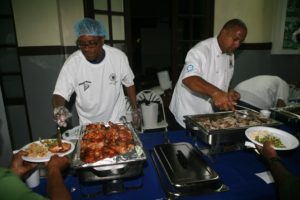 On entering the compound, guests were greeted with a sample of Deckie's Sorrel Liqueur, strong but very tasty, sure to be a hit over the Christmas season. Principal Fr. Gregory started proceedings with a prayer and guests were then invited to dine.
The food was delicious. Choices ranged from wild meat to chicken to seafood and of course the basic staples. Seafood lovers had no shortage of shrimp dishes to try – Crawfish too, "Oh My Craw'd!". There were so many pork and rib dishes presented, guests gambled with their choices. Conrad Aleong wooed them to the "Conrad Aleong Ribs" and not in vain. They aced the taste test! Guests that wanted their pork to hold deep significance chose "Geero Pork (In Honour of Fr. Girod). For the more adventurous, there were two rabbit dishes and possibly the most original, muffins filled with meat.
Professor Philmore performed a soothing pan set, entertaining throughout dinner, the highlight of the night. A choice of cake and ice cream was offered for dessert.
The DJ guided guests throughout the rest of the night, with short interruptions for drawing door prizes and then a raffle. Patrons savoured the time, catching up with one another, but some nostalgia lingered over the absence of karaoke, a crowd-pleaser in previous years.
Overall, patrons left Fatima Salt & Pepper XII smiling. Quite an enjoyable evening spent with friends and family! Quite a dinner!
Pictures from the Cookout can be viewed here.