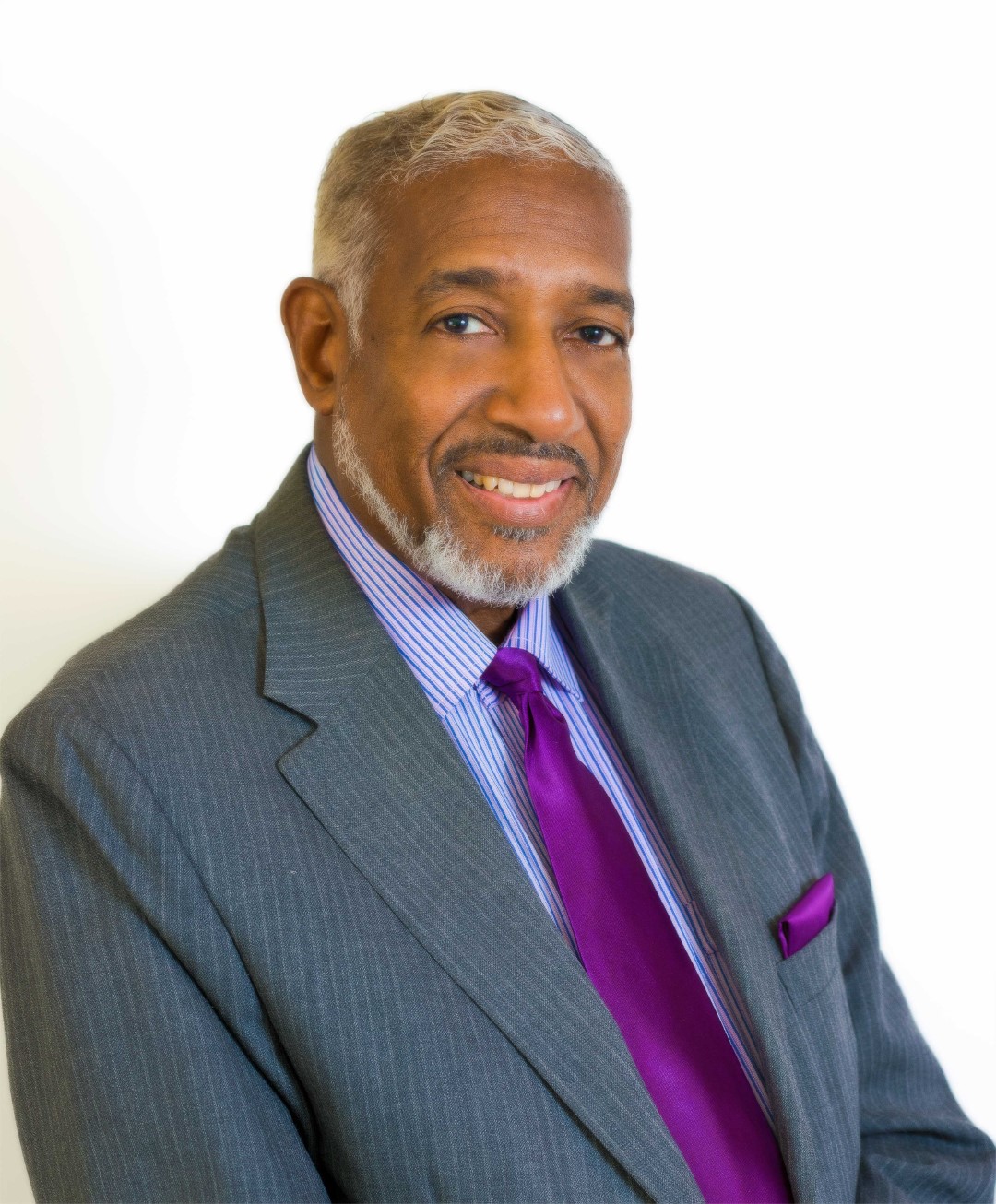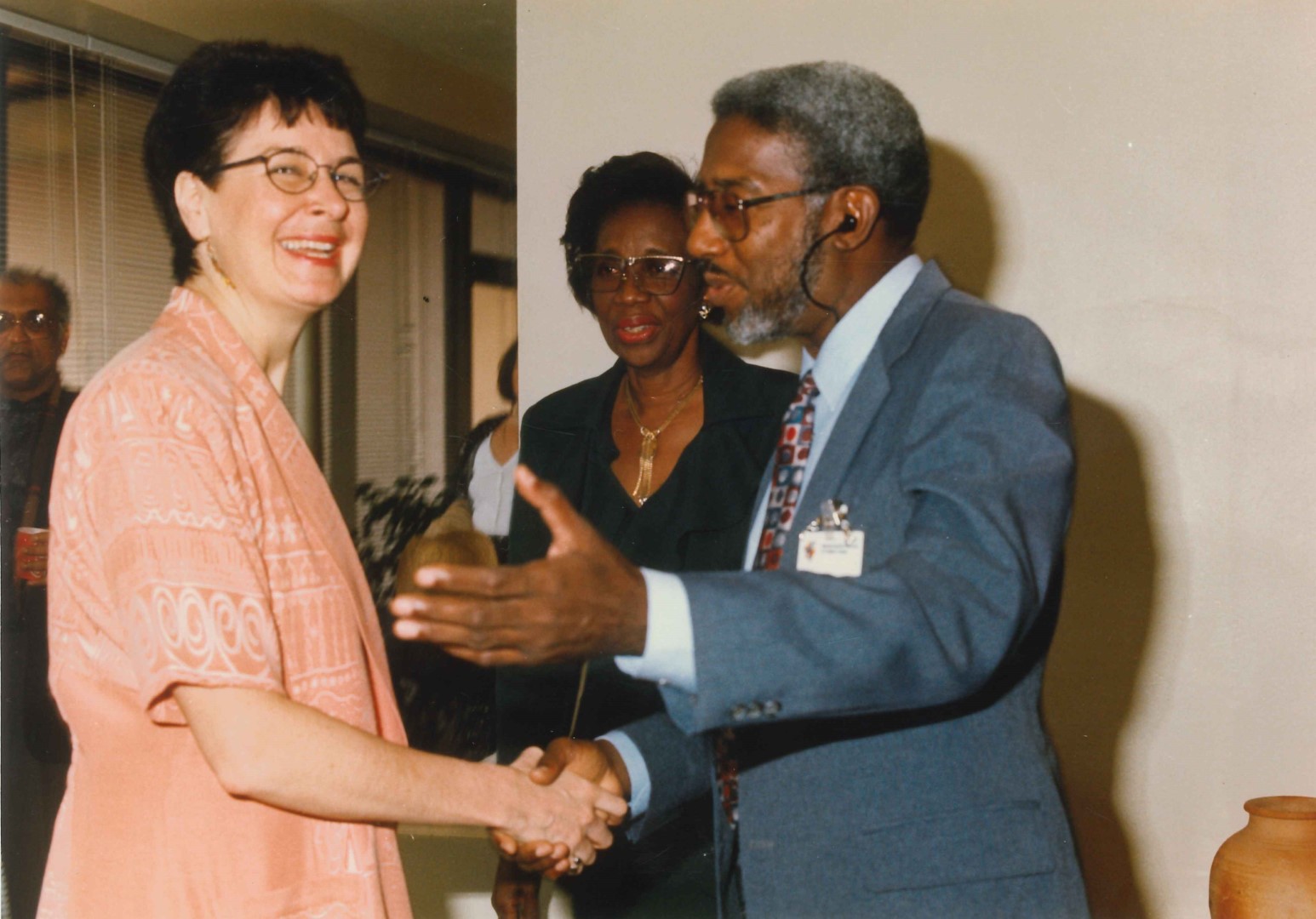 Alfred with T&T Minister Mrs Joan Yuille-Williams and Ontario Minister of Culture, Ms Anne Swarbrick – Carnival 1994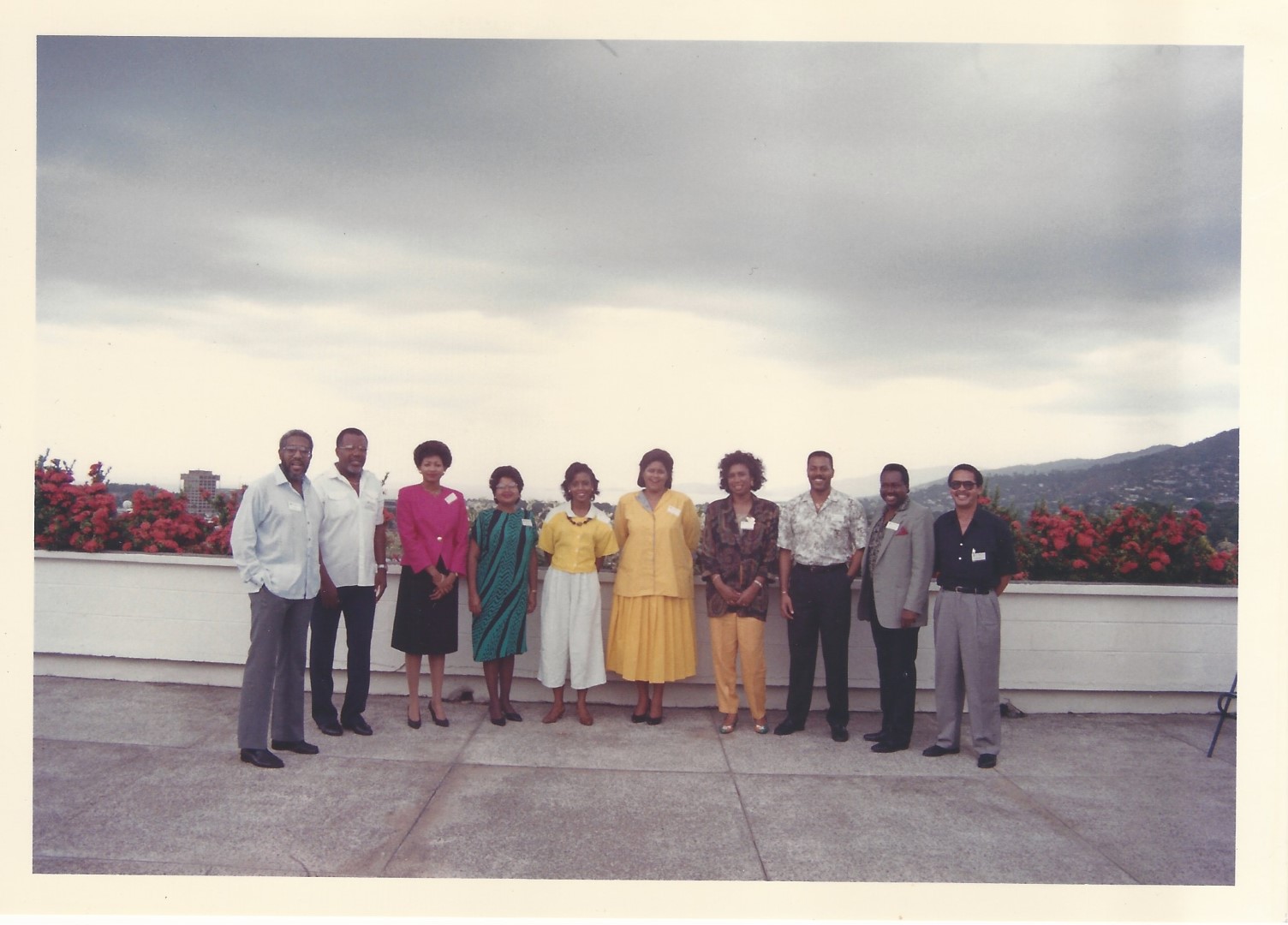 Caribbean Public Relations Association formation meeting – 1980s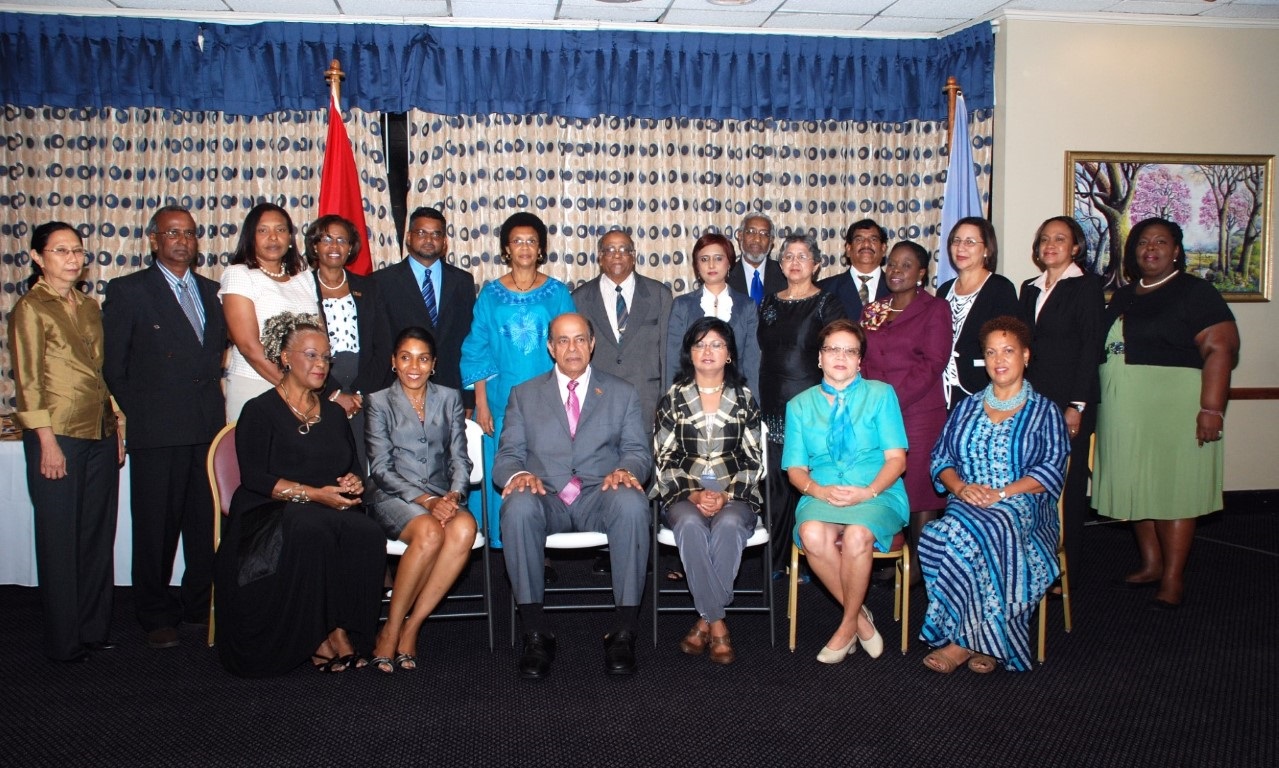 UNESCO T&T National Commission 2011 to 2015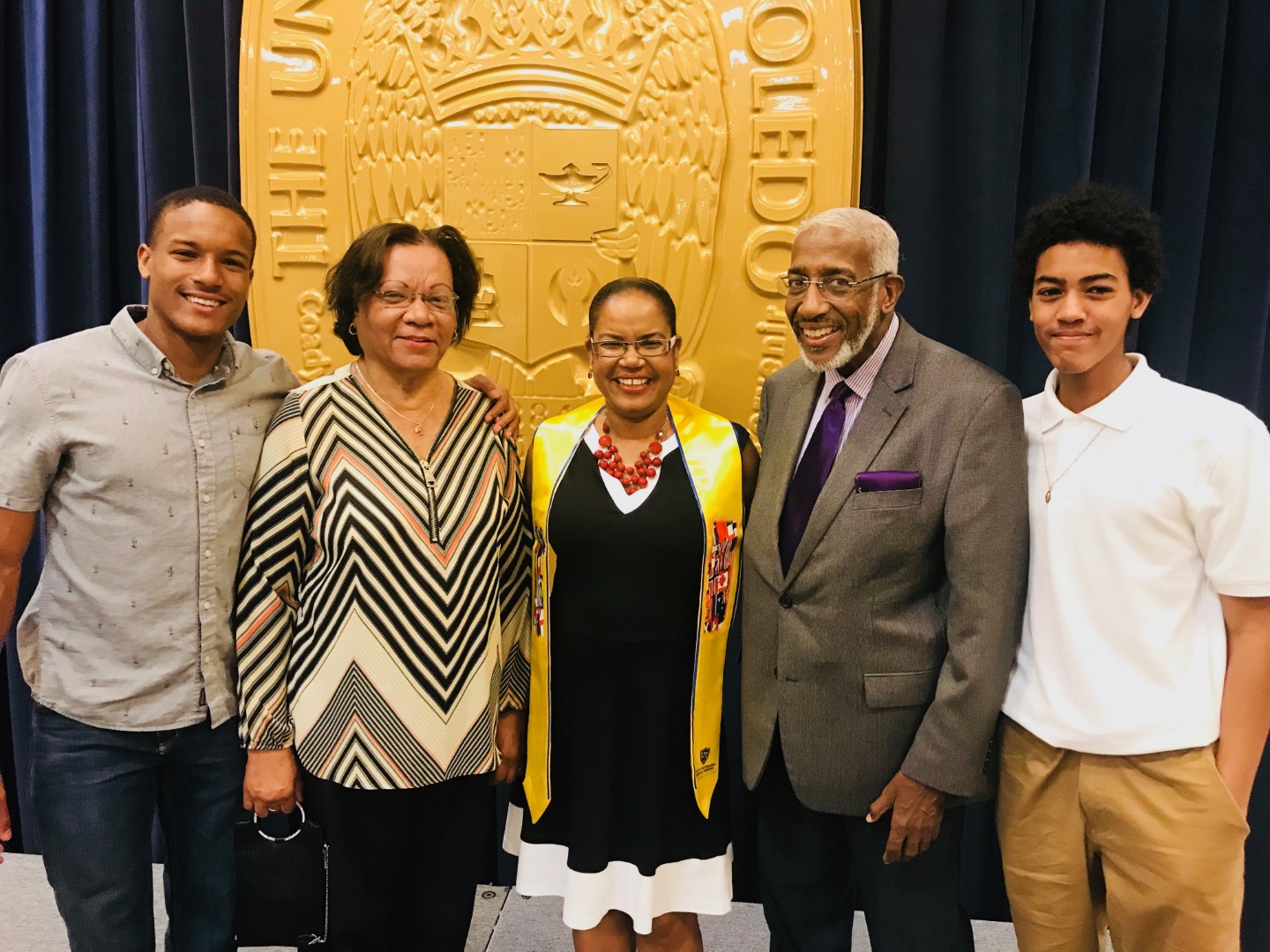 Alfred with daughter and grandsons at daughter's graduation – May 2018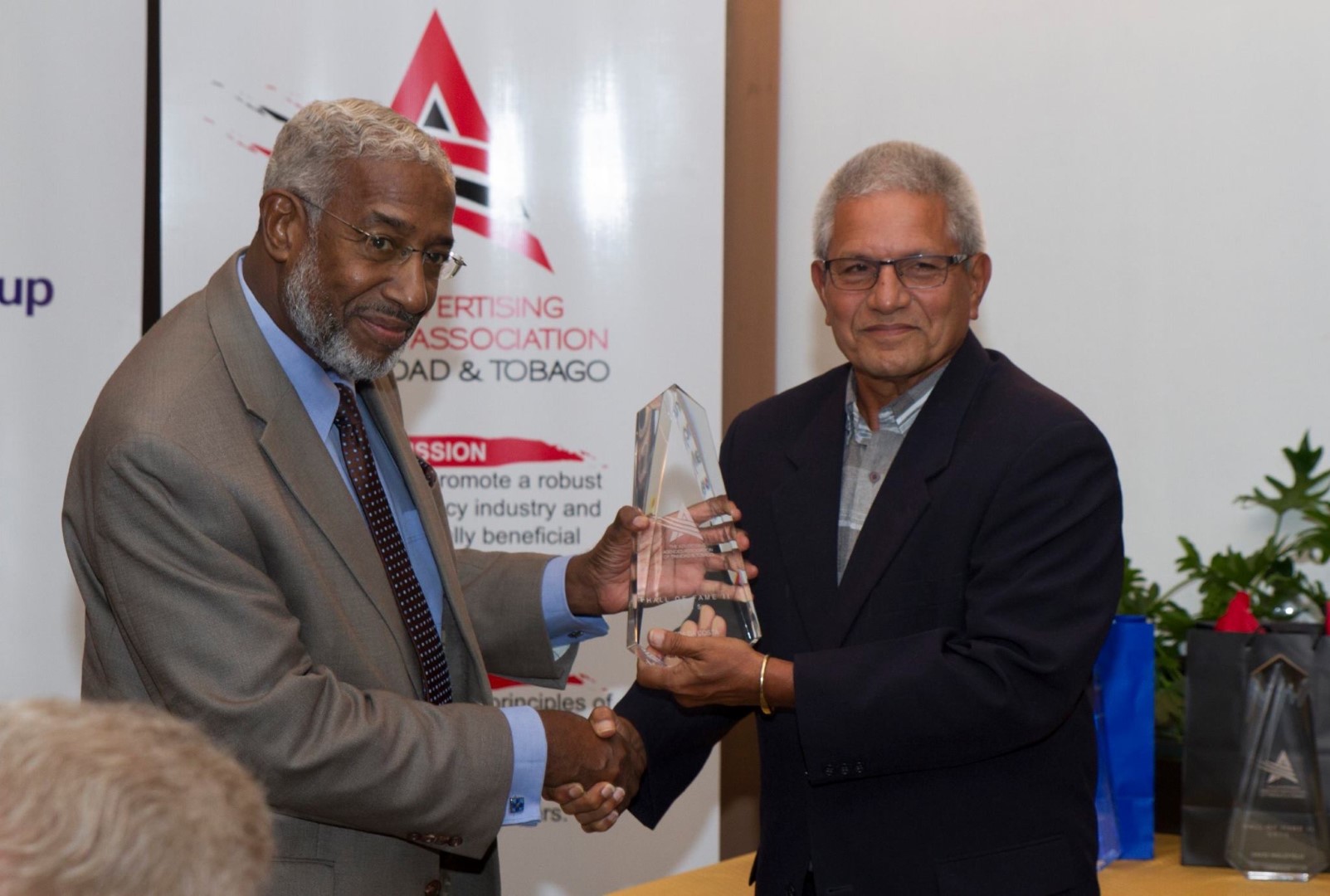 Alfred receiving the AAATT Lifetime Achievement Award – October 2017
Alfred Aguiton (Class of 1961) began his career as a professional communicator in 1963 as a radio news editor, and worked as a broadcast journalist until 1974. He received formal training at the BBC and the Syracuse University School of Journalism in New York. He co-founded the company All Media Projects Limited (AMPLE) in 1974 and has served as Chairman and Managing Director to date.
Alfred served as Chairman of the National Carnival Commission from 1991 to 1995; Director-General of the CARIFESTAs in 1992 and 1995; Special Advisor (Specialized Communications Unit) to then Prime Minister Patrick Manning from 2001 to 2005; and Commissioner of the Trinidad and Tobago Commission of UNESCO from 2005 to 2010.
 In 2017 the Advertising Agencies Association of Trinidad and Tobago inducted Alfred into the T&T Advertising Hall of Fame, and The Rotary Foundation awarded Alfred the Paul Harris Fellow in 2018.
Q. Your brothers Sydney and Robert were part of the very first class of Fatima College in 1946. Your other brother William attended from 1952-1956. Why was Fatima the school of choice in your family?
My brothers Sydney and Robert never stopped boasting that their names were the very first on the roll at Fatima because of alphabetic order! Then, they had such good stories about their stint at the College that it automatically became mandatory that William and I would make the trek behind them to Mucurapo Road. As it later did for Robert's two boys, Derek and Bryce, followed by my own son Jason. Sydney was spared the responsibility of progeny because he became a Catholic Secular (Parish) priest.
Q. Describe the culture of the school in your time?
During my time (1955-'61), the Fatima culture (which placed holistic integrity above single-minded academics) was a gentle flowing stream fed by three main tributaries: learn from the messages of Our Lady; a Fatima boy must be nothing less than a 'good' boy; seek to become a contributing citizen in an independent nation. This last stream was because Dr Eric Williams launched the PNM in 1956 with a first objective of Independence…and the Irish clergy at Fatima (and St Mary's) seemed quietly gleeful that T&T was kicking the British out.
Q. Did you play any sports or take part in any extracurricular activities at Fatima?
Sport at Fatima in my time was peculiarly limited: there wasn't the spectacular playing-field and sport-courts of now. The uneven, patchy grass, manure dotted area known as "Yankee Lands" opposite the College was suitable only for one make-do cricket pitch served by a matting wicket; there was some lawn-tennis on a pitch-court where the cars parked; some Irish Prefects introduced baseball at break-time!!; not even a table-tennis board. I again followed my brothers who had done well as cricketers, and at one point I was Captain of Fatima's Colts Eleven. I tried to be a respectable left-hand opening bat, and occasional quick bowler. I've been known to claim that Fatima produced four outstanding left-hand batsmen: Joey Carew, Alvin Corneal, Brian Lara, and another whose name I'm absolutely too humble to mention. (Howls of laughter usually change the topic!)
Q. Did any teacher(s) at Fatima stand out the most for you?
Every single teacher was outstanding, as incredulous as that sounds. All memorable for a splendiferous variety of reasons. But perhaps more vivid than others would have been: Earl Augustus (Latin, English, Scripture), Fr Brett (Civics), Fr Tony Pantin later Archbishop (Religion, French, InterCol calypsoes), Harry Bharath (Literature), Dr Jankie (Biology), Van Stewart (Spanish), Fr Cocoran (Choir).
Q. Have you been able to maintain friendships with your classmates since school?
The friendships formed at Fatima have been everlasting, without even the assistance of formal get-togethers and "Class of…" observances. When we meet each other, there's an eerie-but-happy feeling of being back in the classroom, on the corridors, on the playing-field, in the Hall, or walking to and from those grey gates. We're authentic brothers.
Q. If you could go back in time, what would you change about your experience at Fatima?
Perhaps also unbelievable is that nothing about the past needs to be changed. If I went back, I'd do it all over again, the same way. (Better yet, I'd get an opportunity to pay Miss Campbell the six cents I left owing her for a bottle of unidentifiable juice.). The Fatima years were simply golden years, with no trace of tarnish.
Q. Your son and a few of your nephews also attended Fatima. Does this mean that Fatima is now a 'tradition' in the younger generations?
When I hear the succeeding Fatima boys ole talkin', they exude just as much pride as older folk harbour. FOBA is a hotbed of passionate liming and deep work commitment, getting impressive stuff done while having great clean fun. What a shining example for all generations of alumni!  And what terrifically enabling leadership being provided by the one-of-a-kind Principal Fr Gregory (The Gregarious) Augustine!! So yes, Fatima is a genuine T&T tradition.
Q. At family gatherings, are there discussions and comparisons over how the school has changed over time?
When the Aguiton Fatima guys gather, we swap stories, trying to out-boast each other with some mildly embellished claims of 'how great it was in our time'.
Q. What do you feel about Fatima now, how it's progressed?
With absolutely no doubt: Fatima has progressed – I see the remarkably enhanced 'physicalities' and equally impressive performances in academics, sport, culture, and a range of non-stop activity.
All to be expected with the increase in numbers, facilities and a broadened sense of producing cadres for national, Regional and international service and accomplishment….but it stirs my heartstrings to hear of the local-to-global impacts Fatima boys have been having. My confident guess is that Fatima high achievers are having their successes as a direct by-product of their Fatima foundation!
Q. What qualities and values did you take from Fatima that helped you in your career?
Fatima's avowed 'qualities and values' read like a schoolboy's handbook of the Ten Commandments, but boy, were they handy at that age…and how they continued to make sense and prevail as we grew older!
Basically, they are: believe in God, Jesus, the Mother Divine, and as a bonus the Catholic Church—they will keep you straight; love and care for everybody with whom you come into contact––haters don't know how to lose years of InterCol and still celebrate; and, never ever get swell-headed¬¬––if you do, don't tell anybody that you went to Fatima.
Q. Compare Carnival back in your time as NCC Chairman (1991-1995) with Carnival now.
Carnival in my time? Wow. That's an interesting one to come after my Number 10 reply!!
There are zillions of things to be said about Carnival––from memories to momentous lessons, from facts to figments of imagination, from spiritual stuff to sensuosity with not much better that animal sense.
So, yuh have time? Ok. Mercifully, I'll give you the short version.
When I think of Carnival (and a day doesn't pass since my last day at NCC in 1995 that I don't think about Carnival—in fact, it feels sometimes as if in some semi-perverse way, Carnival thinks about me!), I think of the word "Gift".
First, there was the matter of a Gift from a truly distinguished Fatima Old Boy Roy Augustus. Roy was the NAR-appointed Chairman of the Carnival Development Committee (CDC) and he spearheaded the writing of the "National Carnival Commission of Trinidad and Tobago Act No. 9 of 1991" which sought to establish the NCC. My take on this—subject to confirmation––is that because the NCC Bill was assented to in August of 1991 and General Elections were due in the later part of 1991, Roy––with his own gift of political perspicacity, second-guessed that voters would oust the NAR after the unfair debacle of 1990. Being himself a consummate Fatima Gentlemen (streetwise from Behind-the-Bridge breeding plus the world-class gentility he got from the Civics lessons of Mucurapo Road). Roy felt that it would have been egregiously uncivil and unfair to give life to the Act by appointing an NCC Board before a perhaps new Government would have had the chance to review it and accept it.
It turned out that the NAR 'lost back' to the PNM on 16 December 1991, and PM Manning (I suspect influenced by his ultra-savvy Minister of Culture 'Aunty' Joan Yuille-Williams), felt that for my sins of having done the Advertising and Public Relations for the winning campaign, I should be punished by naming me Executive Chair of the first State Board appointed by his Administration (Carnival was going to be 2nd, 3rd March 1992––some six weeks after the Elections so he had to move fast to give the newbies a chance to find their legs!).
The Board was appointed, we found no fault with the Bill, we became the first Board of the newly-approved National Carnival Commission. No longer would Carnival be run by a 'Development Committee', despite the royal job (Prince Cumberbatch, et al) they had done over the years! That 'gift' from Roy was then followed by the many 'gifts' of the four Carnivals I worked through.
Thus, my comparisons between then and now spring from: 'Mas by Minshall "Odyssey" ('94) and "Hallelujah" ('95); Calypso Monarchs Sparrow, Chalkdust, Stalin in '92, '93, and '95 respectively; Panorama Champs Exodus, Renegades, Despers in '92, '93 and '95 , '94 respectively; Road Marchers Super Blue and Preacher in '92, '93, 95 and '94 respectively.But truthfully, comparisons between 'then' and 'now' I'm happy to leave to far better minds.
The administrative/organisational aspects that we pulled off would stretch through a book. But the folks who were there should be remembered as having worked themselves heroically to: introduce computer technology to the workings of the NCC offices; seize control of the Grand Stand and Savannah South, clearing out the horses and stables; pull off a first-time ever no-bottleneck, 'Band Controlled' Parade of the Bands (the last Band crossed the stage at 5:32 pm!!); sell Media Rights first time ever for the unprecedented NCC revenue of $200k, then $500k; elevate Regional Carnival under the inspiration of the iconic, late John Cupid; stage an historic Education and Trade Show in Toronto during CARIBANA; and conduct unique discussions with the IRO to find ways to reduce the artless vulgarity in Carnival! That and much more.
I warned you, it was quite a bit.
Q. What were your main responsibilities as Special Advisor to then Prime Minister Patrick Manning (2001-2005)?
Main responsibilities to PM Manning as his Special Advisor Communications can be yet another book, perhaps as lengthy as Obama's 700-pager, even if not as elegantly written!
Essentially, I spearheaded a team who generated non-propaganda information productions in radio, tv, and print; we doused some potential fiery issues, turning them into lanterns of learning; and kept drama at a minimum.
It turned out that during my time, Manning was such a 'Rolls Royce' of a politician and person, the ride was relatively smooth. Much kudos to the influences of sagacious Lenny Saith, calming wife Hazel Manning, right-hand Joan Yuille-Williams, erudite Special Adviser Herbie Atwell, and a crew of Cabinet members who generally performed as well as any government could want (identities withheld for their protection).
Q. Tell us about the impact of the Covid-19 pandemic on your company, AMPLE, and by extension, the advertising industry.
COVID-19 joined that other pandemic of our oil-and-gas decline to scorch the bottom-lines of many of us. The Advertising business is still reeling. To some extent, we at AMPLE have been slightly lucky to have been born in another kind of "ad" environment—adversity. But, the clouds are ominous. Fatima had imparted Faith and Hope as umbrella virtues, so we're using those to shelters while keeping an eye out for the silver lining.
Q. What do you regard as the proudest moment(s) of your life (career & otherwise)?
Proudest moments? Entering Fatima and breathing in vapours left by my older brothers; securing Distinctions in Senior Cambridge exam including one in English Language which the lay-masters suspiciously claimed was the highest mark at both Fatima and St Mary's; births of my daughter and son, and their respective tertiary level graduations; serving as an acolyte to the first Mass said by my brother Sydney; scoring 50 not out in a Savannah Cricket Competition to win a case of beer guzzled by my company team Trinidad Agencies Ltd; doing reportedly breakthrough work in my 11 years at 610 Radio as a Broadcast Journalist.
Co-founding AMPLE with the now deceased but unforgettable Astra Da Costa in 1974; working with some terrific men and women (including Fatima alumnus and Inductee Tony Smart) to stage the bench-marker Pan Jazz Festival; meeting and interacting with a wide range of international music icons, from Jazz giants Dizzy Gillespie and Oscar Peterson to pop chart-busters Diana Ross and the original Jackson Five; co-emceeing Nelson Mandela's Lunch at the Trinidad Hilton; doing Broadcaster stints in Guyana and the Bahamas; named to the T&T Advertising Agencies Association Hall of Fame; and recovering from the shock of being considered to be worthy of the Fatima Hall of Achievement.
Q. Any hobbies and/or guilty pleasures?
Hobby: listening to/viewing Jazz music. Guilty pleasure: sneaking glances at any fleeting occasion of West Indies Cricket success; savouring YouTube footage of Gary Sobers and Brian Lara, with daydreams of if only God had made all left-handed batsmen equal.
Q. Favorite food?
Good sense and political wisdom dictate I should tell the truth: that is, anything my wife serves me, or Jason cooks!
Q. What does 'Nitendo Vinces' mean to you?
Nitendo Vinces brings to mind the giant Earl Augustus who enabled me to snag a High Credit in Senior Cambridge Latin. Moreover, it reminds me of the comfortable and comforting philosophy that progress-making should come from effort-making––even if you happen to purchase the correct Lotto ticket, you're not a winner until you do something good with it for your fellow-man.
Q. How did it feel to be inducted into the Fatima College Hall of Achievement, and hereby joining your brothers, Sydney and William, who were both inducted in 2015?
My feeling re induction into the Hall of Achievement is perhaps best expressed by repeating the one word comments I made for the video presentation: shocked, unbelieving, humbled, proud, grateful, and certain that I can give scores of names of schoolmates for more deserving.
Q. Any closing remarks?
In closing, my genuine thanks for your gracious accommodating. My sincere apologies to your readers who, I'm sure, are wishing I'd stuck to 'one-word comments' instead.
See Alfred's induction into the Fatima Hall of Achievement here