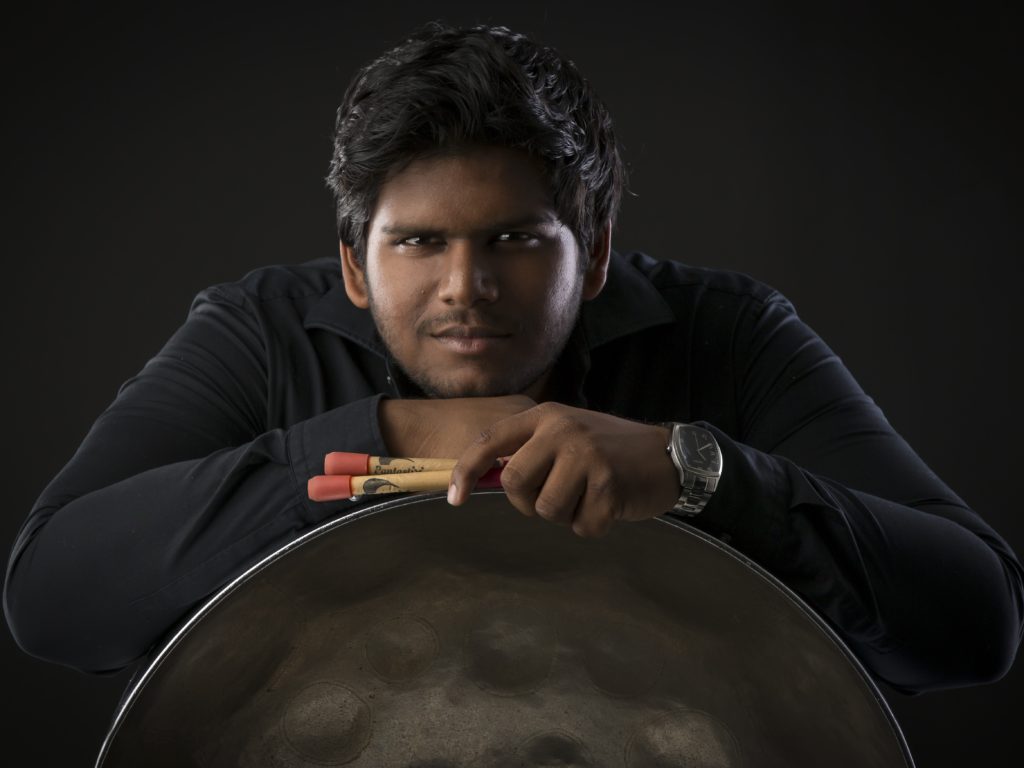 Interviewer: Stefan Roach
Fatima College Alumnus Johann Chuckaree is hailed as one of Trinidad & Tobago's foremost pannist. He is a Section Leader and Senior Member of 7 time National Panorama Champions, Phase II Pan Groove Steel Orchestra. Johann has performed alongside the likes of Len "Boogsie" Sharpe, Ray Holman, David Rudder, Raymond Ramnarine, Machel Montano & Heather Headley just to name a few. In 2014, he won the National Youth Award for Arts and Culture.
During his tenure at Fatima College from 2001-2008, he was an outstanding contributor to the life and culture of the school and also served as Head Prefect.
Q: How did you get into the music?
A: Coming from a family with a very deep background in music, my parents encouraged me to start playing the piano at the age of 4. My two older sisters who were just beginning to play the steelpan at the time encouraged me to start playing the pan and the rest is history!
Being a resident of Woodbrook, I began to play at the St. Theresa's R.C. Church every Saturday for mass, and eventually at the age of 12, I joined the Phase II Pan Groove Steel Orchestra. Along the way I was also encouraged to pursue formal music education and achieved Grade 5 passes with distinction in Music Theory and Practical Piano, and also a Grade 8 pass in Steelpan Performance.
Q: What would you consider your most outstanding achievements as a musician?
A: Over the last few years I was afforded opportunities to travel and represent the culture of Trinidad & Tobago on various world stages, including the USA, Europe and Asia.
Another outstanding moment for me as a musician was being able to share the stage with Trinidadian born and internationally renowned singer, Heather Headley when she performed in Trinidad in December 2011.
Q: Do you think that your experience at Fatima had enhanced your development as a musician?
A: I would definitely say that my time at Fatima has helped me. All my teachers and also the Principal, Mr. Garcia and Vice-Principal, Mrs. Gomes-Phillips fostered my talent. I was a regular performer and sometimes organizer at school events such as the Opening Mass, Graduation Ceremonies and Carnival Events.
Q: Was your pan schedule around Carnival time ever problematic for your school life?
A: At some points there were conflicts, especially with late night rehearsals and performances. Sometimes it was difficult and I even ended up missing classes. However, with the support of my parents and teachers, I was generally able to strike a good balance between the two.
Q: What subjects did you do at Form six and why?
A: Physics, Computer Science and Pure Math along with the mandatory Communication and Caribbean Studies. I was preparing myself for a career in engineering, however things didn't work out that way in the end.
Q: Is Music your main career at the moment?
A: No. I would love it to become my full time career at some point though! After my stay at Fatima College, I went on to study Information Systems & Management. Soon after, I became involved in the ICT sector and went on to start my own company, JC Networking & Security Ltd. in 2013. I am also the co-founder of Indigisounds, a music software company.
Q: Tell me more about Indigisounds.
A: Indigisounds is a sound design and music technology company. We specialize in the sampling and digitization of acoustic instruments. Over the last few years we have been the first company in the world to have authentically sampled the entire range of the Steelpan family and most recently, we have done digital sampling of the Laventille Rhythm Section. Our products can be heard in many local and international music productions.
Q: I've also heard your name associated with another invention, the PHI. What is the PHI and how did you contribute to its development?
A:The PHI (Percussive Harmonic Instrument) is basically an electronic steelpan. It was 100% locally designed and built, a project of the University of the West Indies. I was involved in the initial design and beta testing of the unit as well as served as an international demonstrator of the product over the last few years.
Q: Would you say that these products are successful on the international market?
A: Up to this point, the PHI has not reached beyond prototype creation. However, Indigisounds has been gaining significant traction both locally and internationally. We currently have customers on every continent and have received endorsements from international recording artistes.
Q: How did you gain your spirit of entrepreneurship?
Since I was young, I always believed in creating something of my own. Starting my own businesses is something of a dream come true. My time at Fatima also helped me in fostering this spirit by allowing me to gain experience in planning, time management and moulding me into a responsible young adult.
Q: Were you satisfied at the music programme at school? What more should be done?
A: At Fatima, it felt like the music programme outside of choir was very minimal. However, I along with many students and teachers pushed a lot to acquire much of the instruments and sound equipment presently at the school. At this point, I'm happy to see the strides made in this area and the renewed emphasis being placed on students getting involved in music.
The Gifts of Blue and Gold concert is a great example of this effort. In addition to the singers in the choir, a live student orchestra provided all the backup music.
Q: You have been on many cultural missions, representing Trinidad and Tobago. What is your fondest memory from these experiences?
A: I think the fondest memory I have is being part of the cultural contingent representing Trinidad & Tobago at the 2006 World Cup in Germany. It was an amazing experience to see the patriotism and the support shown to the Soca Warriors by all.
Q: Considering the present dire state of the economy, what role can the creative industries play in pulling us out of this rut?
A: I believe that the creative industries have a major role to play in the diversification of the economy of Trinidad & Tobago. The creative spirit of the citizens of Trinidad and Tobago is one of our best and most sustainable natural resources. As a nation we are blessed with creativity, talent and a vision second to none.  If more emphasis is placed on growing this sector, we will definitely see an improvement in our economic situation.
Q: Any closing remarks?
I believe that Fatima College has helped to mould me into who I am today. I am definitely indebted to all my teachers, especially those who took a special interest in me to ensure that I succeeded at every level. According to our past principal and the current Minister of Education, "Fatima Boys are Good Boys!"