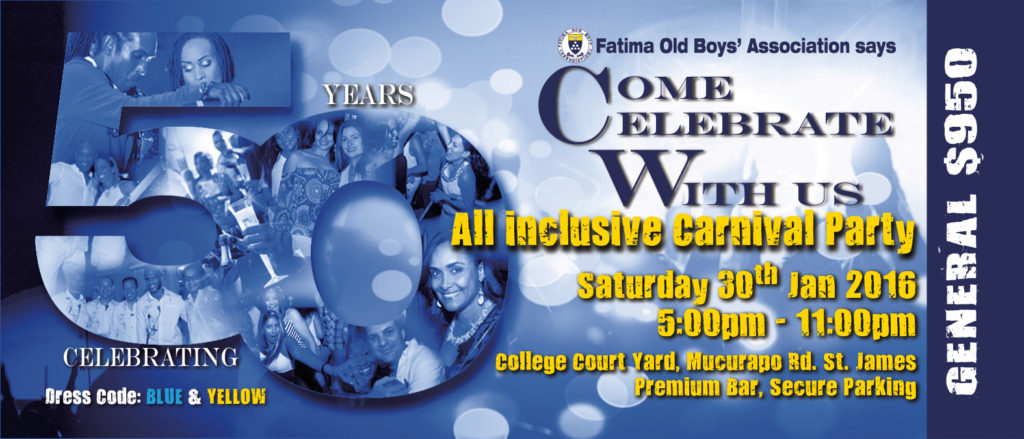 Carnival is here again, which means the approach of one of the season's top fetes, Fatima's All Inclusive. This year the fete will be held on SATURDAY 30th JANUARY, 2016 at the school compound and tickets are priced at TT $950.
Because of the usually very high demand for tickets, FOBA will once again be putting aside a block of tickets for alumni and holding a lottery for their distribution. Each lottery winner will be afforded the opportunity to purchase two (2) tickets.
Please note the following:
Only Fatima alumni WHO ARE IN THE FOBA EMAIL DATABASE are eligible to enter the lottery.
If you are already on the database and would like to enter the lottery please click here to fill out the online form.
If you are an alumnus but not on the database please register here.
The deadline for entry into the lottery is MONDAY 18TH JANUARY, 2016 at 12 NOON (TT time).
Winners will receive a notification email by WEDNESDAY 20TH JANUARY, 2016.
Winners will have until WEDNESDAY 27TH JANUARY, 2016 to collect and pay for their tickets at the FOBA office in the school. Details on collection procedures will be announced before that time.
Tickets not collected by end of business on WEDNESDAY 27TH JANUARY, 2016 will be forfeited and sold to the general public.
Please be reminded that each lottery winner does not win free tickets but instead has the opportunity to PURCHASE two (2) tickets.
No more than two (2) tickets will be allotted to a lottery winner.
We kindly ask that those of you who already have tickets, or have a contact to get tickets, to please refrain from entering the lottery so as to be fair to those who have no other means to obtain tickets for the fete.
We kindly request that you only enter the lottery once. Multiple entries will be ignored and the entrants will be disqualified from the lottery.