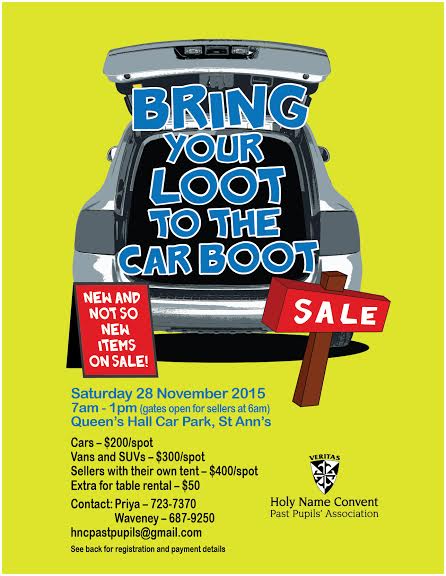 Are you "cleaning house" for the holidays and wondering how to get rid of items?  Why not make some extra cash while you're at it!
Or are you looking for affordable items for family and friends or even yourself?  Then check out Holy Name Convent Past Pupils Association's Car Boot Sale!
Patrons to the event can always expect to find a mix of new and used items  for sale, ranging from household décor items; books; clothing and accessories  for adults and children; toys; plants for those of us with a green thumb and even  food stuff such as preserves, jams and jellies to get us all into the festive mood of the holidays.
Place: Queen's Hall Carpark, St. Anns
Date: Saturday 28th November, 2015
Time: 7am -1 pm (6am set up for vendors)
Pre-registration is necessary for participation.
Car spots cost  – $200TT, SUV and Van spots cost -$300TT
and those patrons  making use of
tents $400TT
. Need an
extra table- cost $50
. Persons interested in registering as a vendor can email us  at:
hncpastpupils@gmail.com
or submit the registration form to any one of the drop off locations listed.