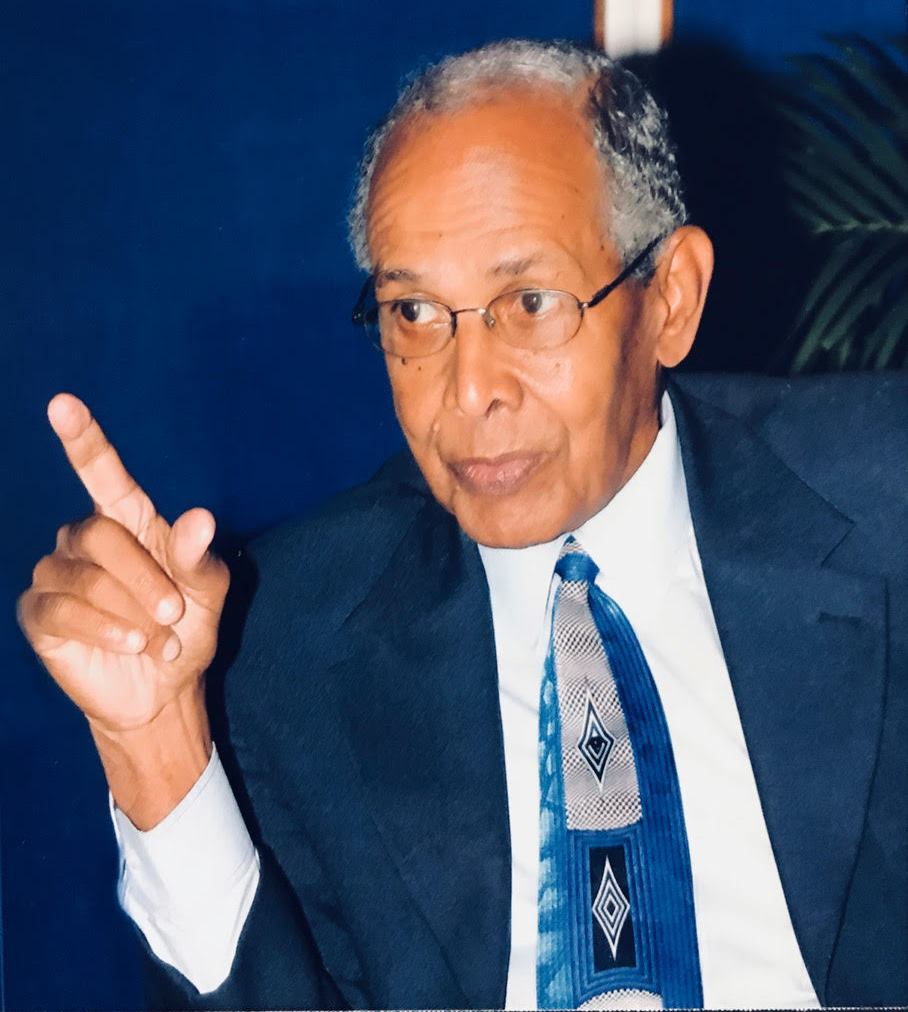 A wise observer once described Norbert Masson (Class of 1965) as being 'the human personification of a Public Library': He is filled with knowledge, and is always open to people borrowing his service.
The knowledge he acquired in dazzling ways: Secondary schooling was at both Presentation College in San Fernando and Fatima College in Mucurapo; Tertiary he got from Loughborough University, Imperial College of Science and Technology, and Leeds University.
Out of those institutions he became a Chartered Mechanical Engineer, Chartered Marine Engineer, a one-time Chartered Petroleum Engineer…achieving 1st Class Honours for his BSc and distinguished quality in his Ph.D.
The service he gave based on this rich knowledge was equally impressive and mutually rewarding to where he served: as the first Principal of John S. Donaldson Technical Institute (now a part of UWI); Director at the Metrication Board, spearheading the introduction of the metric system to T&T; appointed Permanent Secretary, Ministry of Education, Culture, Sports, Community Development and Youth Affairs; a Director at the Institute of Marine Affairs; a Director on Boards inclusive of NCB, FCB, MTS, Valpark Shopping Plaza, Readymix, and TRINTOC (now Petrotrin). He became Chairman of the Elections & Boundaries Commission from 2005 until retirement in 2016, establishing an enviable level of performance in a highly complex and demand domain, and in an often controversy-laden if not directly hostile environment.
His luminescent sense of service shone through undiminished as he responded to calls to lead and/or participate in Commissions of Enquiry and to provide consultancies.
Incredibly, Dr Masson made the time to roll off five books on Engineering, one published novel, and two unpublished works, fiction and non-fiction!
No wonder he was duly presented with two National Awards: Medal of Merit Gold (1984), Chaconia Gold (2000).
Norbert Masson fits the 'Public Library' metaphor well, with his 84 years as a life in possession of extensive knowledge and possessed by the passion to serve, allowing his fellow-citizens to 'borrow' from him, to enjoy and employ all that he has to offer.
Q: What influenced your choice of Fatima College for Secondary School?
A: My father chose Fatima College. I attended Fatima for about 18 months or thereabout, as far as I can recall. I contracted typhoid and was away for 2 terms. then my father died and I dropped out. Entered Presentation College just as the Presentation Brothers were taking over from Father Ganteaume Principal of St Benedict College
Q: Tell us about your memories at Fatima – pleasant and/or non-pleasant? Fondest/Strangest memories? Any memorable nicknames?
A: I was an acolyte
Q: Which teacher(s) positively impacted your school experience and life the most and which one(s) did you give the most trouble?
A: Mr McCarty
Q: What is the most valuable lesson that you learned at Fatima? How have you applied this in your career?
A: Holding to my Christian Faith
Q: How did Fatima contribute towards making you the man you are today? What advice would you give to the present student crop on maximizing on their opportunity?
A: Gave a good foundation, after the death of my father, for continued schooling at Presentation College, San Fernando
Q: Have you been able to maintain friendships with your classmates since school? Did your class year ever have a reunion?
A: No. No.
Q: What do you see as the biggest challenge for the young boys of this era and what can Fatima do to support this?
A: Respect for everyone regardless of station in life
Q: Do you have any recommendations to FOBA as to what benefit you would appreciate as an alum?
A: To receive a newsletter, say, by e-mail, on a regular basis giving updates on the College's progress etc.
Q: Over the years FOBA has invested in school improvement projects such as smart boards, air conditioning classrooms and sustaining the sports teams with coaches and kits. What projects or initiatives would you like to see the Alumni body and school implement in the future?
A: Introducing courses to keep pace with technological development in the world of work. I remember preparing a programme for off-line computing facility at the college at the request of FOBA. Lindley (?) Abdulah was the OB who approached me on it.
Q: What is the biggest challenge facing young men of this era? What role can Fatima play in grooming better men for society?
A: Helping to eliminate the racial divide in the country