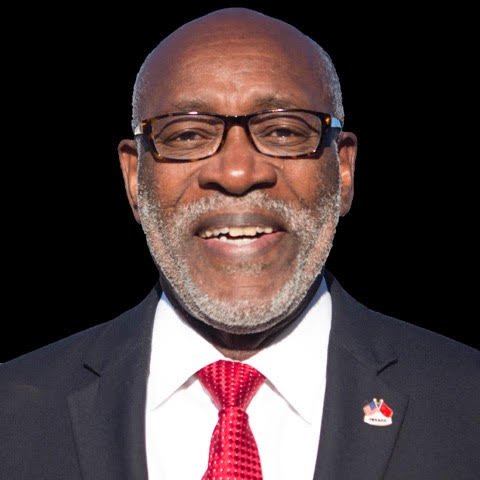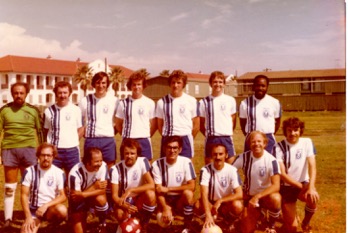 With Houston United in 1978, the only non-Mexican team in the league at the time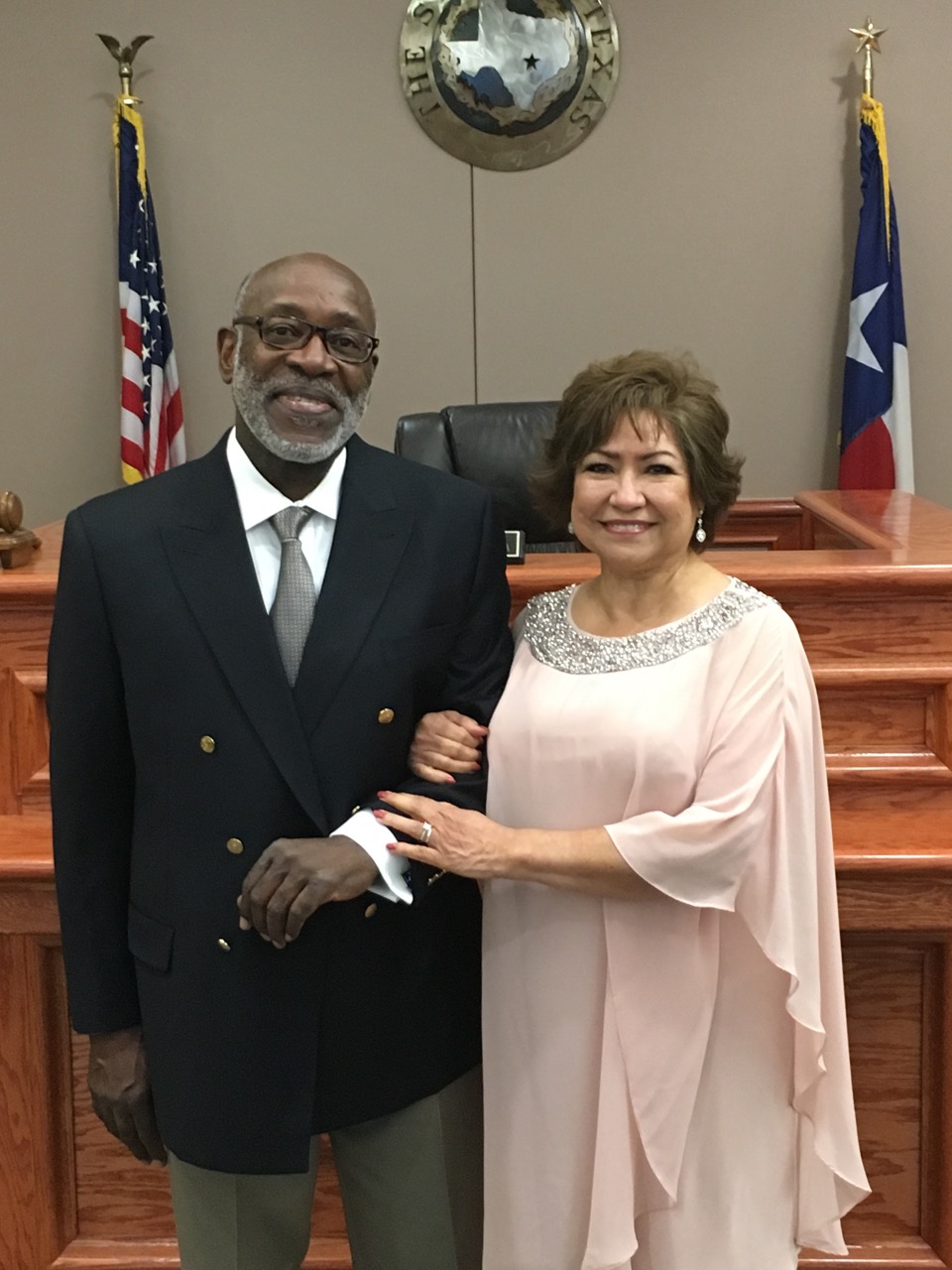 Roderick with wife, Jo Elda James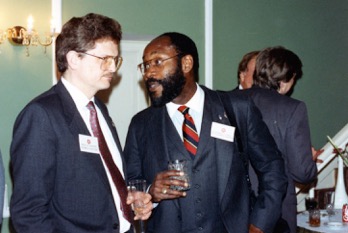 The celebration at the opening of the Texaco computer center in Moscow, Russia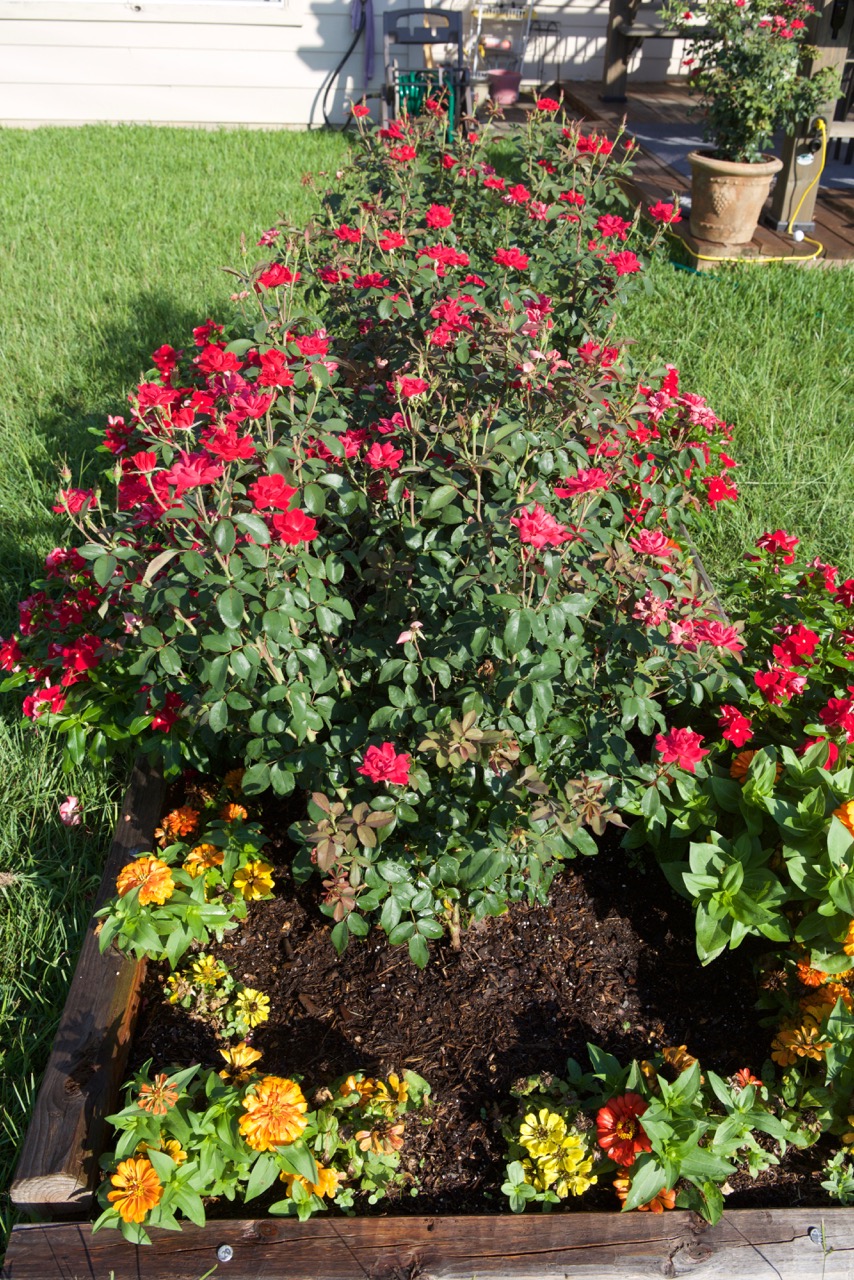 One of the rose beds in his backyard
The time-worn cliché 'meteoric rise' becomes a perfectly plausible accurate description when you apply it to the life and times of Roderick Vivian (Buff) James (Class of 1966).
His trajectory began at Rosary Boys', into Fatima in 1960, coursed through membership in the Dominic Savio Choir, representative College Cricket, member of Fatima's history-making first-ever Inter-Col winning team, and Victor Ludorum for three consecutive years (whew!).
His academic journey was successful enough to have him step out of Sixth Form directly into Fatima's Masters' Room to teach for two years, before switching his direction to UWI, St. Augustine, for his Bachelor's, then hurtling on to his Doctorate in Electrical Engineering at the University of Missouri-Columbia. And he was just getting started.
He signed up with Texaco in Houston, Texas, and spent 25 years continuing to voyage upwards, This meteor became a star in the global Science firmament: he oversaw the opening of a computer center in Moscow; he was part of the project that brought the first high-speed Vector Computing System to the Soviet capital, to achieve which he had to present Texaco's case to the US Department of State, Defense and Commerce, thus securing the required licenses from the US and its NATO allies.
Eventual retirement from Texaco did not find him resting: he's back to his first love of teaching, working at making a difference in young people's lives through his sparkling lessons in Electronics, Calculus, Trigonometry and other Math courses.
Dr. James keeps the Fatima tradition by being a singing scientist, an athletic academic, and a milestone-setting meteor—but most of all, a meteor that helps others to rise.
Q: What influenced your choice of Fatima College for Secondary School?
A: I lived in Diego Martin at the time and Fatima was closer. I also passed the Fatima entrance exam.
Q: Your memories of Fatima—pleasant, fondest, strangest memories…including nicknames you don't mind recalling?
A: My memories of Fatima started in Form 1 when I was recognized for getting "3 Honor Marks" in my judgement book. I will never forget that walk across the stage. That was followed by disappointment at the end of the year when I placed 10th in class and went to Form 2B the next year! The first nine students went to Form 3X, in a new experiment carried out by the administration. Form 2B was an experience. First, we were located in the classroom upstairs behind the chapel. We were somewhat Isolated and that made some of us think we were invincible. Back in Form 1, I joined the choir, a life- changing event. I still am a choir member to this day! Our choir won the Music Festival that year.
In Form 3, a group of us formed a bond: we called ourselves "The Comancheros" Mr. Clive John was our Maths teacher. He was left-handed and always started his look at our homework by going down the row on his left side. I was in the back row his right side. He never got to my row before class was over so after a while I stopped doing homework. Inevitably, one day he started down his right side; one of The Comancheros distracted him and I was able to present a buddy's homework. That was pure clean fun!
I was also interested in sport. I played for our "Colts" Under 16 Soccer Team and even made the team that represented North. The only memorable part of that game was that I was tripped and broke my right wrist during that game. I played on the Fatima First Eleven in both cricket and football. I was a member of our first-ever winning "Intercol" team and I won the Victor Ludorum medal (Champion of the Games) at the annual Fatima Sports Meeting for three consecutive years. A feat believe has never been repeated! With all that, academics was always my first love. I got five or six O-Level passes and three A-Level passes with a "One" in Chemistry in my first year in Form 6.
As for nicknames everyone then knew me as "Buff".
Q: Which teacher(s) positively impacted your school experience and life the most?
A: As for the teachers who influenced me most. First there was Fr. Anthony Pantin (later to become Archbishop). He was a great teacher and motivator. He took a keen interest in his students. Fr. Corcoran was also influential; my love for classical music started with him. Then there was Mr. Philbert Morris who spent the most influential 30 minutes with my class talking about the power of "cross multiplication".
Fr Keegan piqued my curiosity and set me off into the wonderful world of Science. Mr. Lennox Morris was also very influential in my development in Physics and Mathematics.
At the other end of the spectrum was my Form 1 English teacher Mr. Barratt. He was quite a challenge and perhaps wasn't the person best suited for our classroom. Many years later I met a relative of his in a foreign country, and my earlier assessments seemed to be confirmed.
Q: What were some of the most valuable lessons you learned at Fatima…and how have you applied this in your life?
A: The most valuable lesson I learned at Fatima was to turn every disappointment into a success. Closely behind that is the fact that hard work always pays off. If I had made it to 3X I would have missed the greatest opportunity in my life. I would not have met Prof Carlson at UWI and I would not go on to the University of Missouri-Columbia.
Another priceless lesson I learned at Fatima was that I should never follow the crowd but instead, should always be an independent thinker. This was thanks to the study of "Julius Caesar". The ability to chart my own course was and always will be most important to me. An early example of that was the night after our inter-col victory. The team ended up at Paragon Football Club…but I was home in bed! I found out only a few years ago when I met Wayne Jackson in New York that my team-mates could not figure me out. I was "different", in Wayne's words.
Yet other profound lessons I learned were: to recognize what is important and what is not; concentrate on the important stuff and everything else will take care of itself; take advantage of every opportunity that comes your way…the really good ones never come back! Have no fear of the future; be strong, do the right thing and your God will take care of you.
Q: Have you been able to maintain friendships with your classmates since school…and did your class year ever have a reunion?
A: Yes I have remained friends with some of my classmates, most notably Franklyn Mahabir, Peter Keiller, Keith Simpson, and Errol Carmino before he passed away.
No, my class never had a reunion that I can remember.
Q: What do you see as the biggest challenge for the young boys of this era?
A: The biggest challenge for young boys in this era of social media and all the other unhealthy stuff out there, is for them to realize the importance of personal friendships. I mean, a friend like Frankie Mahabir who, when my sister died a few years ago in New York, came to my rescue. Frankie was there for me, to provide comfort and support. Our friendship started 50-plus years ago at Fatima. The school must find a way to instill in its students the importance of developing deep personal relationships. Friends who will be there for them in 40 or 50 years.
Q: Do you have any recommendations to FOBA as to what benefit(s) you would welcome as an Alumnus?
A: In my respectful opinion, FOBA should not be in the business of providing benefits to its members. The focus of FOBA should be continuous improvements of the school—its physical plant, getting the best teachers available, and concentrating on preparing its students for life in a global community. In short, FOBA's focus should be external not internal.
Q: Over the years FOBA has invested in school improvement projects such as smart-boards, air- conditioned classrooms and support for the sports teams with coaches and kits. What initiatives would you like to see the alumni body and school implement in the future?
A: The most important thing we can do is to impress on these boys the value of superb COMMUNICATIONS skills. The communications skills are both oral and written. They must be able to speak clearly and concisely. They also must be able to write properly. In this area, social media is no help at all. In fact, it hurts!
Most of the problems in organizations are problems that no one person can solve. This means that a team must be assembled to solve the problem. Team members must be able to communicate effectively. It is entirely possible that your idea can be a spark for another team-member. As a team- member, you cannot afford to be bashful. You must be prepared to present your position clearly and to defend your stance vigorously.
One thing FOBA can do is to sponsor a debating society that includes all students especially the Science students. Another idea is the development of a "Speaker's Bureau" where alumni can share their experiences with students that can be very inspirational.
Q: What role can Fatima play in grooming better men for society?
A: A major challenge also facing young men today is the multiplicity of choices and distractions that are all around them. The key to success is DISCIPLINE! First, you give the students a solid foundation in the difference between right and wrong. Impress upon the students that short-term gains can lead to long-term disaster. Teach the young people that there are always unintended consequences, and that they should be thinking about all possible outcomes before the event.
Q: Who were your team mates on the first-ever football Inter-Col winning team in 1965?
A: The Team: Glenn Sealy, Franklyn Mahabir, Wayne (Candle) Jackson, Earl Fough, Anthony Weekes, Watson, Glenn Billouin, Mike Andrews, Lester (Punch) Newman, Everald (Gally) Cummins, Roger Duprey (Captain).
Q: Did the Texaco project in Moscow happen during the Cold War period? Describe that experience?
A: Yes the Texaco Moscow project happened during the Cold War (the Soviet Era). This was the most remarkable experience of my life. When I first arrived in Moscow I was not impressed. The city was dirty, the cars were 25 years old, the people were sad. The only bright spot was the subway system. The stations were magnificent!
My first memorable experience was a visit to a Russian Orthodox church where a male choir was singing acapella. The music was glorious. I remember thinking at the time that after 70 years, the government could not kill the religion! Across the street was an orphanage. Our guide explained that "the orphanage was for children whose parents were enemies of the State". These were the most chilling words I heard during my stay in Moscow.
I visited the big shopping center, GOOM, on the edge of Red Square during the Easter season in 1991. The sign across the main hallway read: "Christ is Risen in Moscow"! I was not expecting that.
Another memorable moment was my visit to a Russian Air Force museum. We were only able to visit the museum because our guide's husband worked for the General in charge and the General wrote us a pass. Once inside it was fascinating. The person signing the guest book before me was Casper Weinberger, President Reagan's Defense Secretary. I saw the missile that brought down the Gary Powers U2 spy plane. I even got a picture holding part of the U2. I am an aircraft guy so I was in heaven! There were MIGs, the SU 27 (fastest aircraft in the world at the time), Badger and Bear bombers, the TU144 supersonic passenger aircraft (the Concordsky). For permission to take the pictures, I paid the museum guide 20 bucks. My driver told me that the $20 was more than a year's salary in rubles!!
By far the most chilling experience was the Gorbachev Coup. The plot was hatched about five miles away from our dacha, in a compound where my wife and daughter had spent two weeks a month earlier! As a precaution, I hid the vector processors in our computer and stored it in the dacha. To further complicate matters, I had two guys visiting a formally closed city. We tried to contact them by phone for two days without success. To pick up my guys I had to go to a domestic airport. That was an experience itself. Finally, after three agonizing hours, my guys showed up!
Q: After your retirement from Texaco, you returned to your 'first-love' of teaching. Is that something you missed while at Texaco? Where do you teach now?
A: I did not miss teaching if only because at Texaco there were many opportunities to make presentations and to train users at Texaco locations worldwide in a software program I had help develop.
Q: You played football and cricket while at Fatima, which back then were the core school sports. Fatima today participates in a multitude of other sports including rugby, water polo, track and field and triathlons, and has been very successful in all. Have you been able to keep abreast of these sporting accomplishments?
A: Unfortunately, no. It is good to see that Fatima is diverse in all areas. I am all for diversity—as long as it does not come at the expense of academic superiority. In my view, academics must come first.
Q: You have been described as a 'singing scientist' and 'athletic academic'. Do you consider yourself a jack-of-all-trades?
A: No, I am not a jack-of-all-trades. Fortunately, I know my limitations. I will say that anything I attempt to do, I do to the very best of my ability. For example: I have spent a lot of time in Adobe Photoshop. There are lots of things I can do in Photoshop but I will never consider myself a Photoshop expert!
Q: Any hobbies, or guilty pleasures for your spare time?
A: I love roses and have built several rose gardens in different houses I lived in. Photography is another hobby. I have thousands of pictures. I made a photo-book for each of my grandsons, commemorating their first year of life.
I love to cook! I love to eat good food from everywhere.
My favorite hobby of all is Travel! I have been to many places. Two memorable moments that come to mind: entering the burial chamber in the great pyramid in Cairo Egypt, and experiencing the summer solstice as the sun's rays peeked over the mountain into the burial chamber at Machu Picchu in Peru.
Q: You live in Houston, Texas. Do you have family in Trinidad…and do you visit them often?
A: Yes, I have two brothers and two sisters in Trinidad. No, I do not visit too often because there are still many places I want to visit and in some cases, Trinidad has not changed for the better.
Q: What did receiving the Fatima Hall of Achievement award mean to you?
A: Receiving the Fatima Hall of Achievement award was fitting reflection of an adult life that started in 1960 at Fatima College. The College prepared me for everything I faced in later life. I am very grateful to the college and hope Fatima continues to prepare young people for brilliant careers.
Q: Closing remarks?
A: In closing, my hope and prayer are that FOBA will continue—with the support of the College Principal and staff—to prepare our students to carry on the great tradition and to be always proud of our beloved Fatima.
So, I say: Strive on Fatima boys Strive ON!!