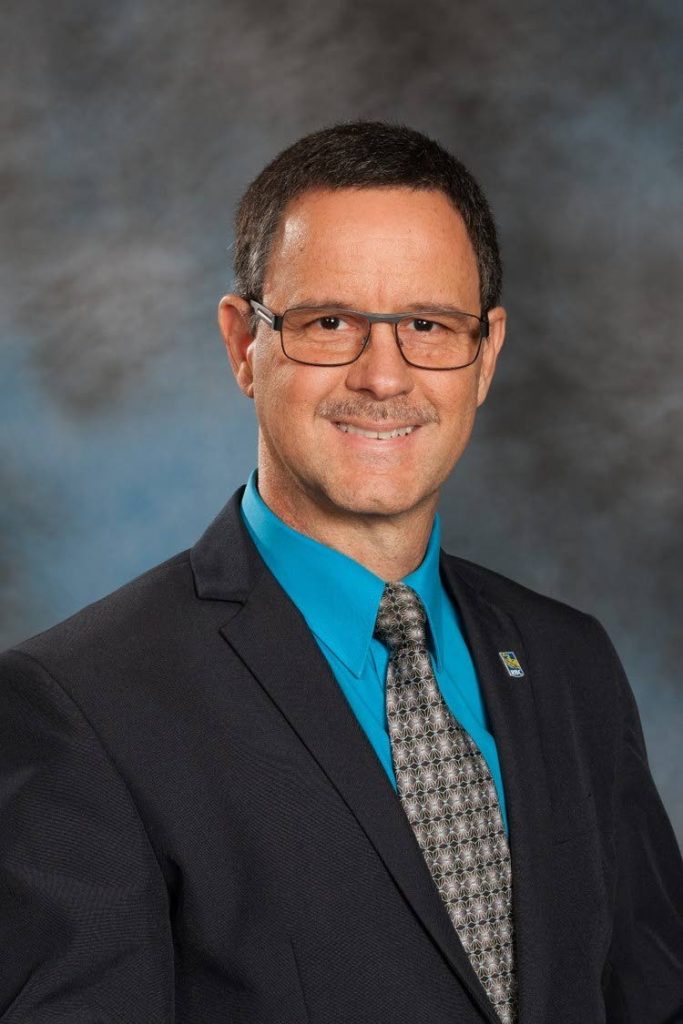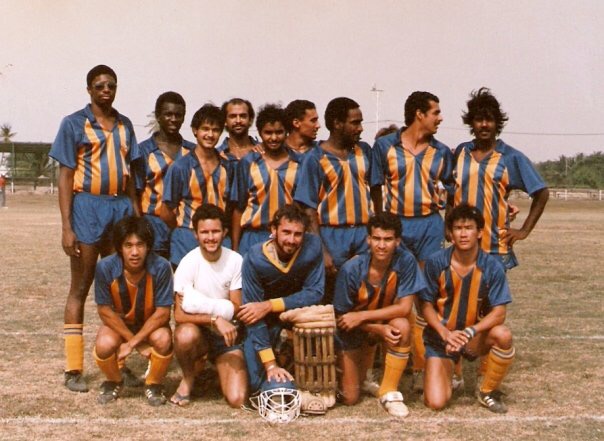 Fatima hockey club Big 4 champion team 1987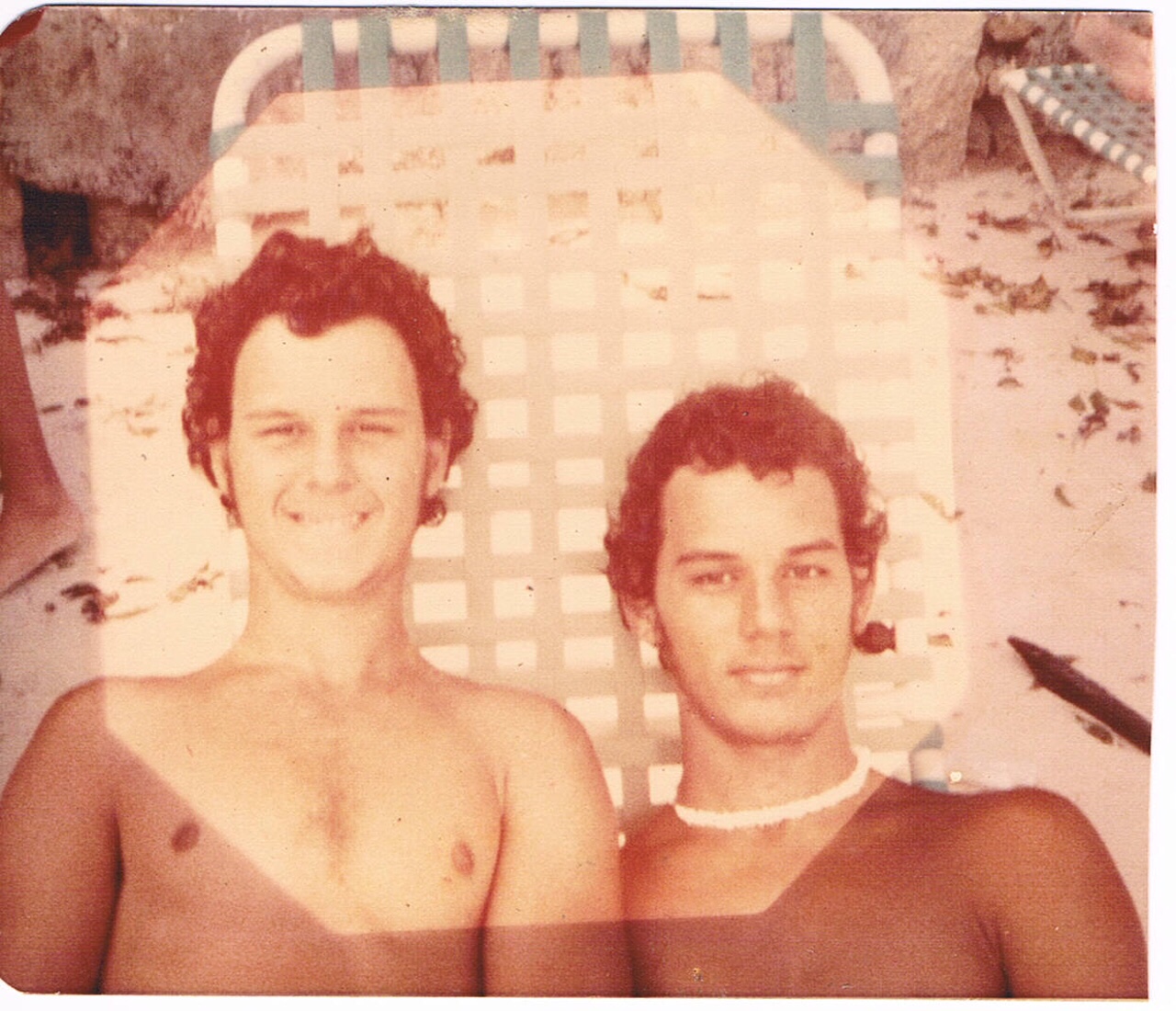 Richard with brother David in Barbados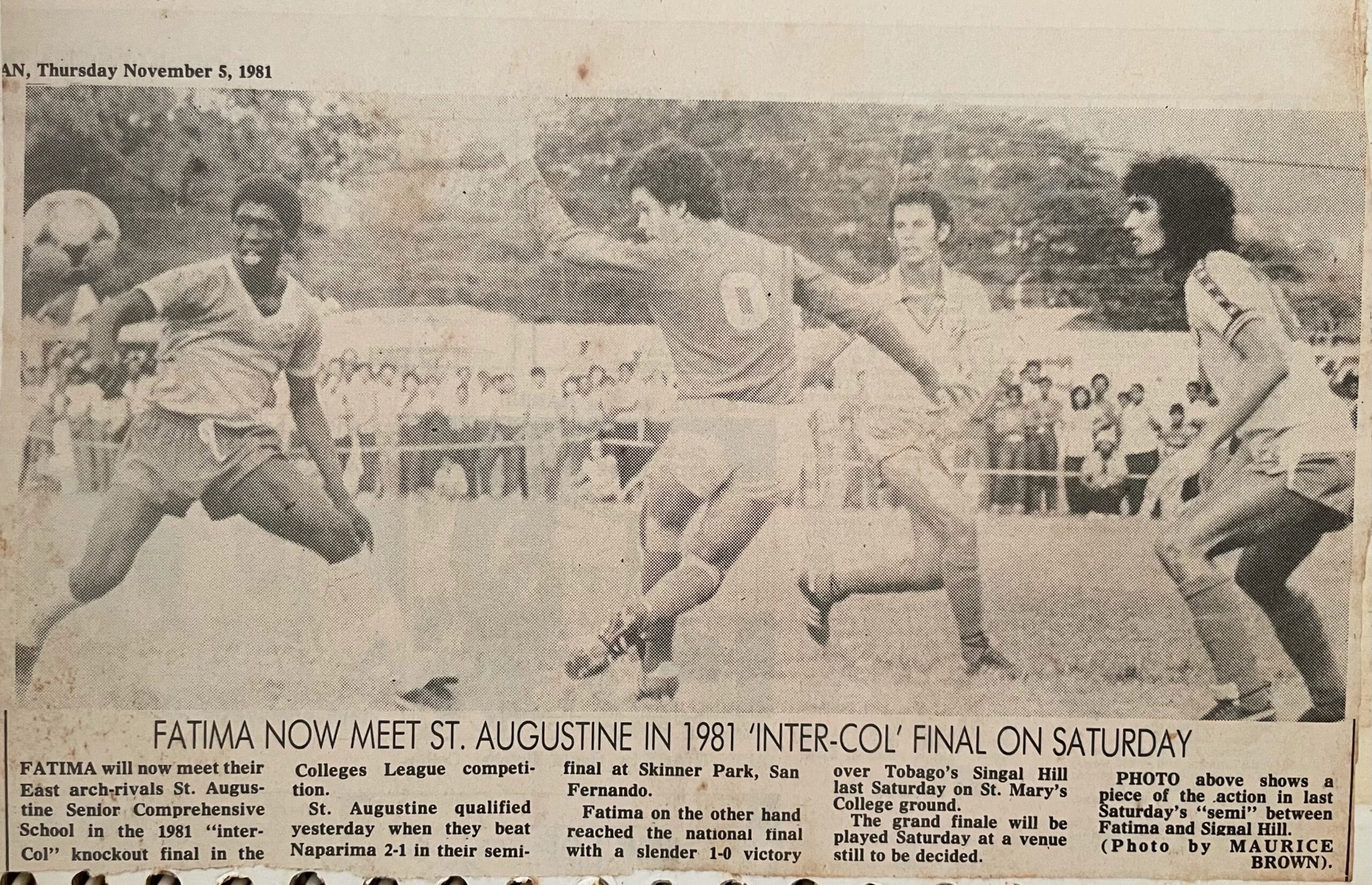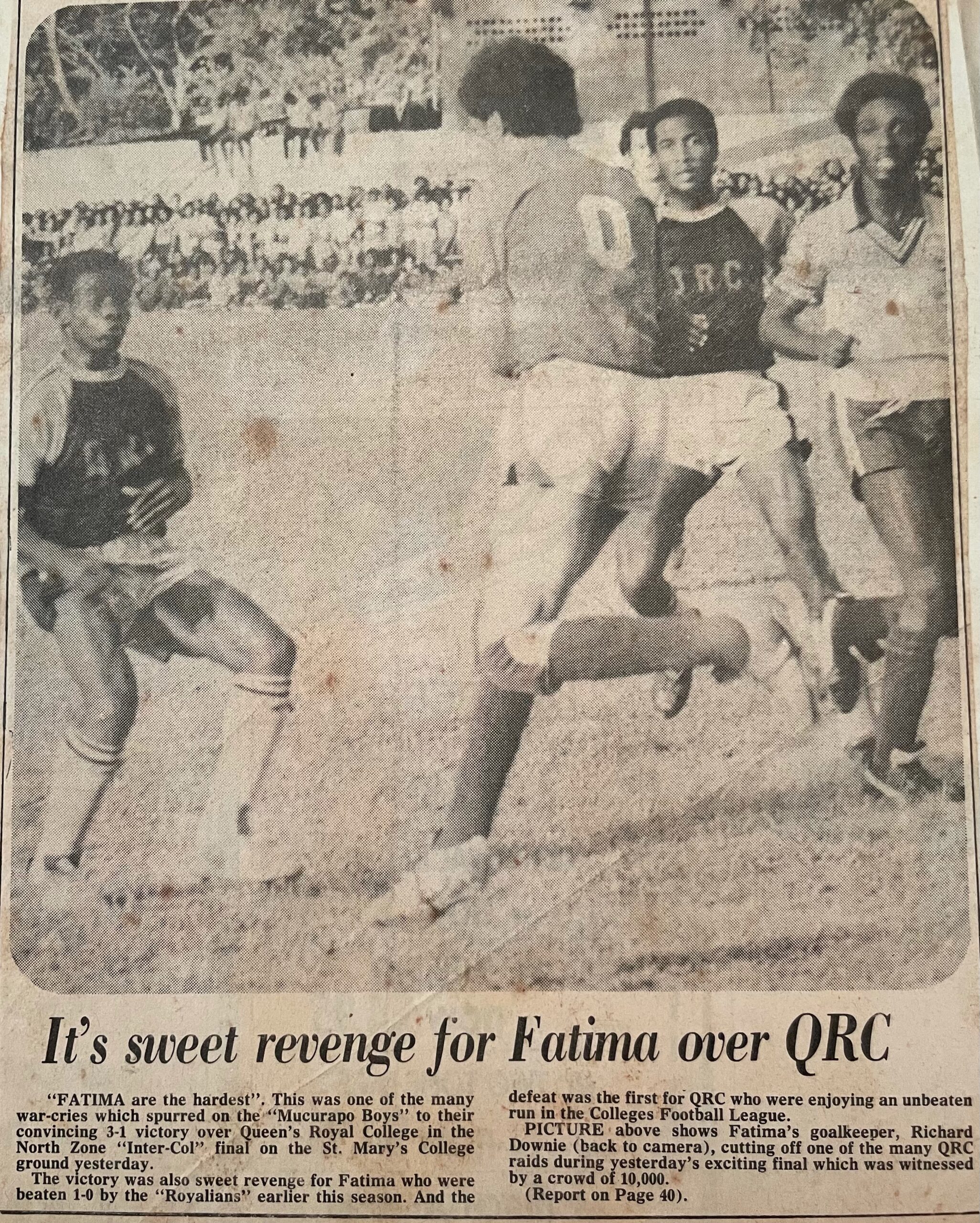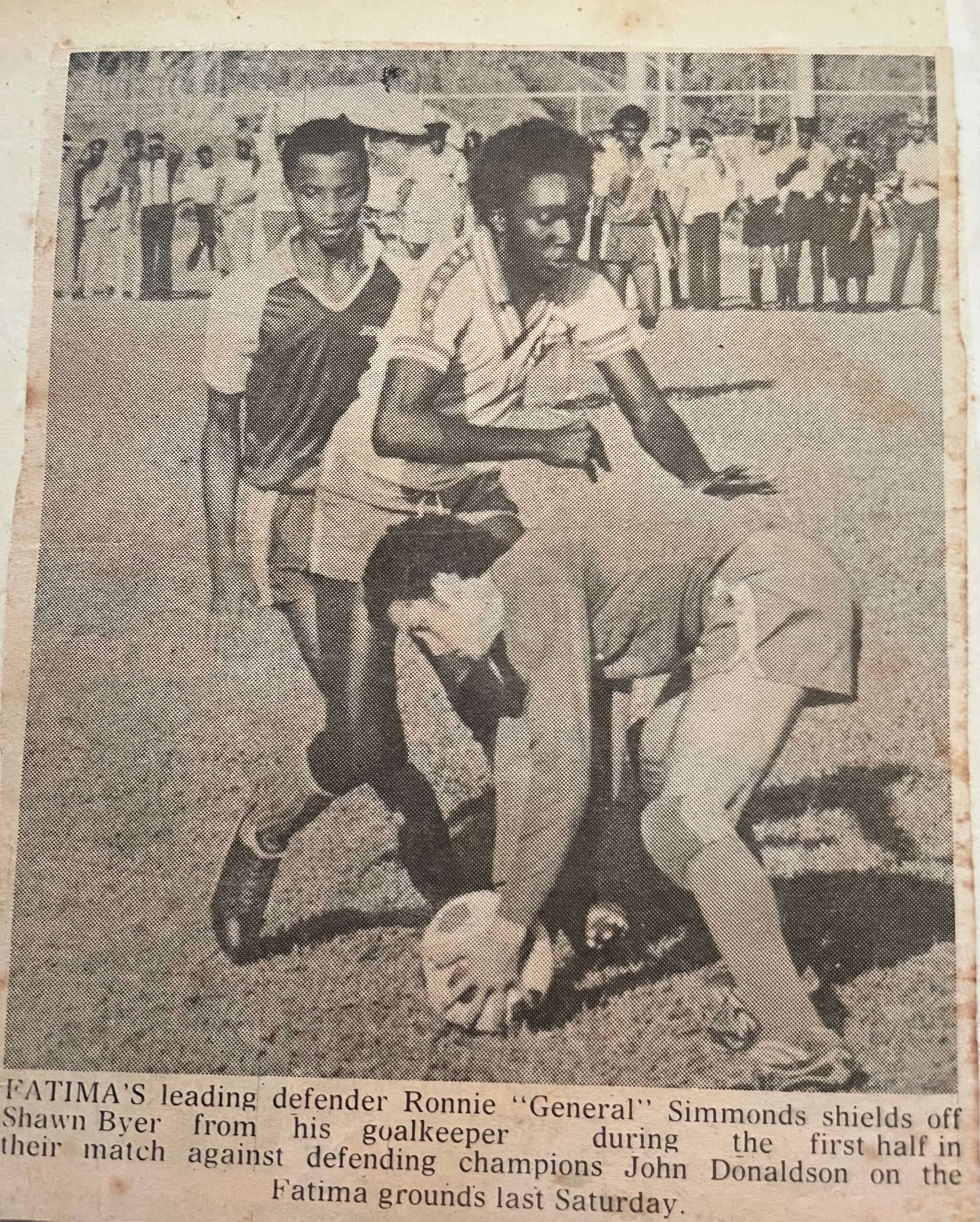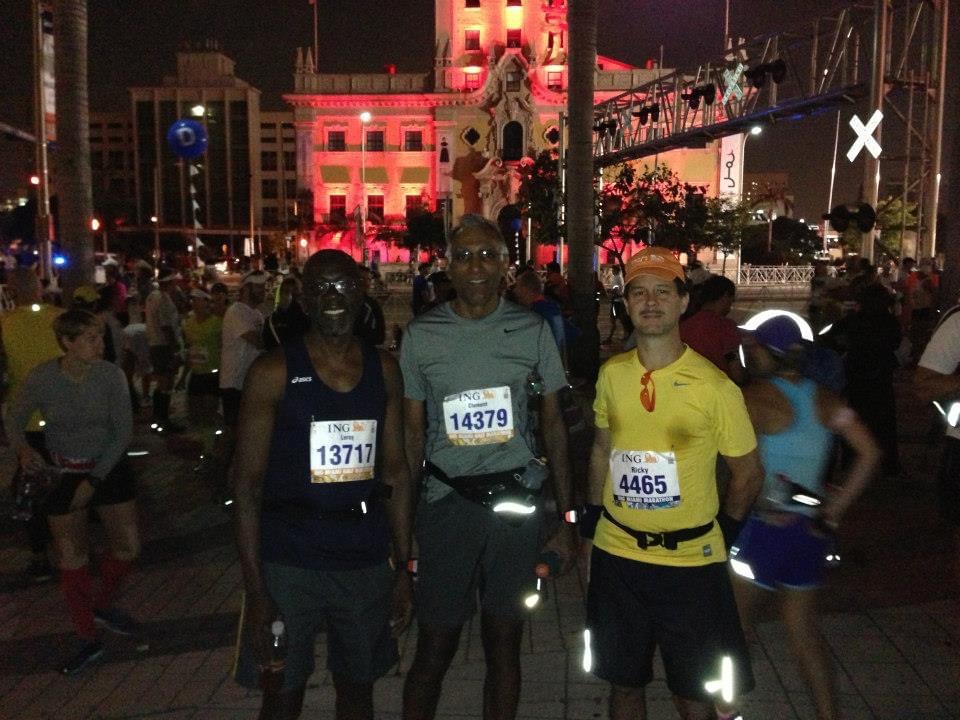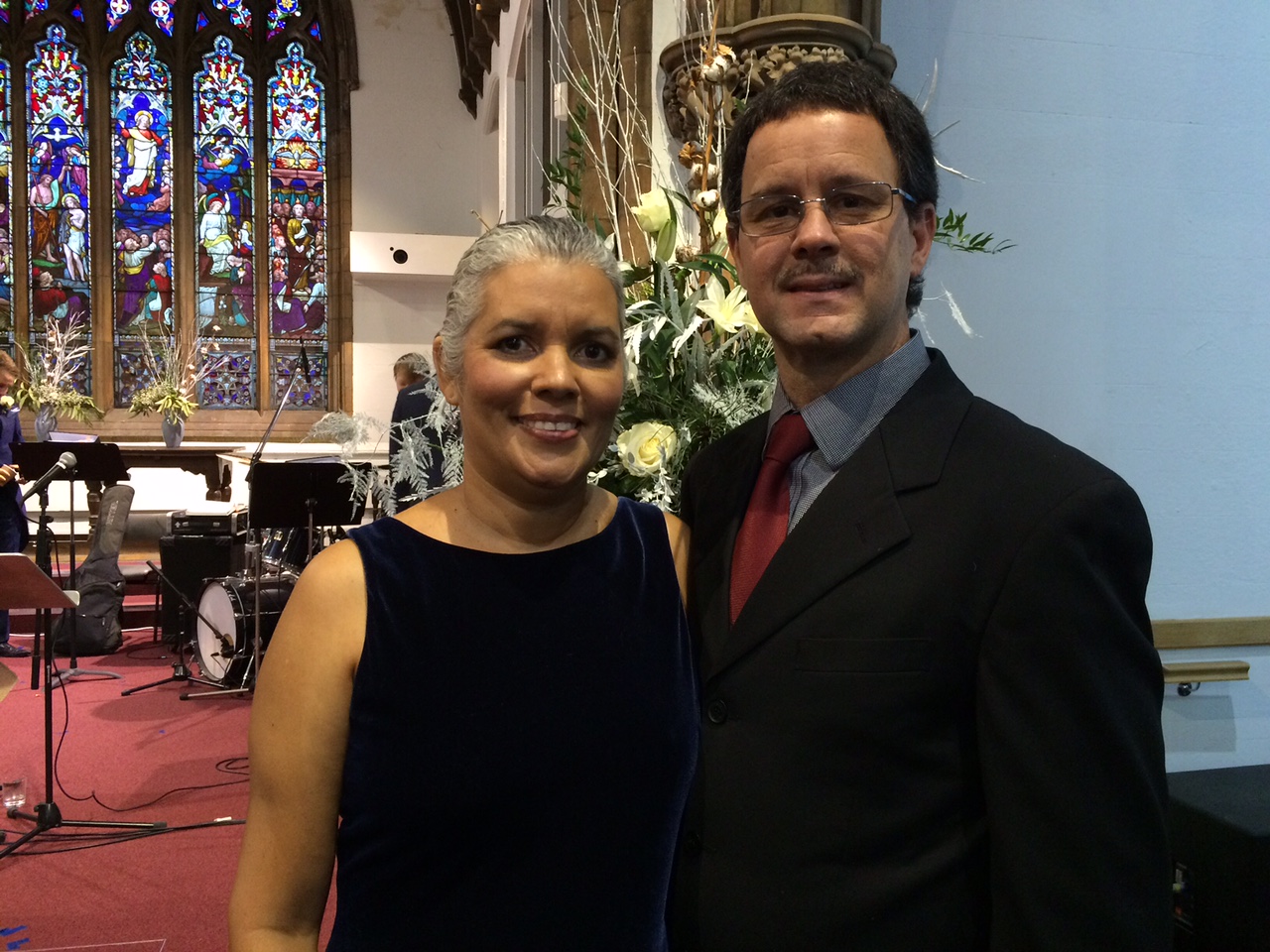 Richard with wife Lissa in London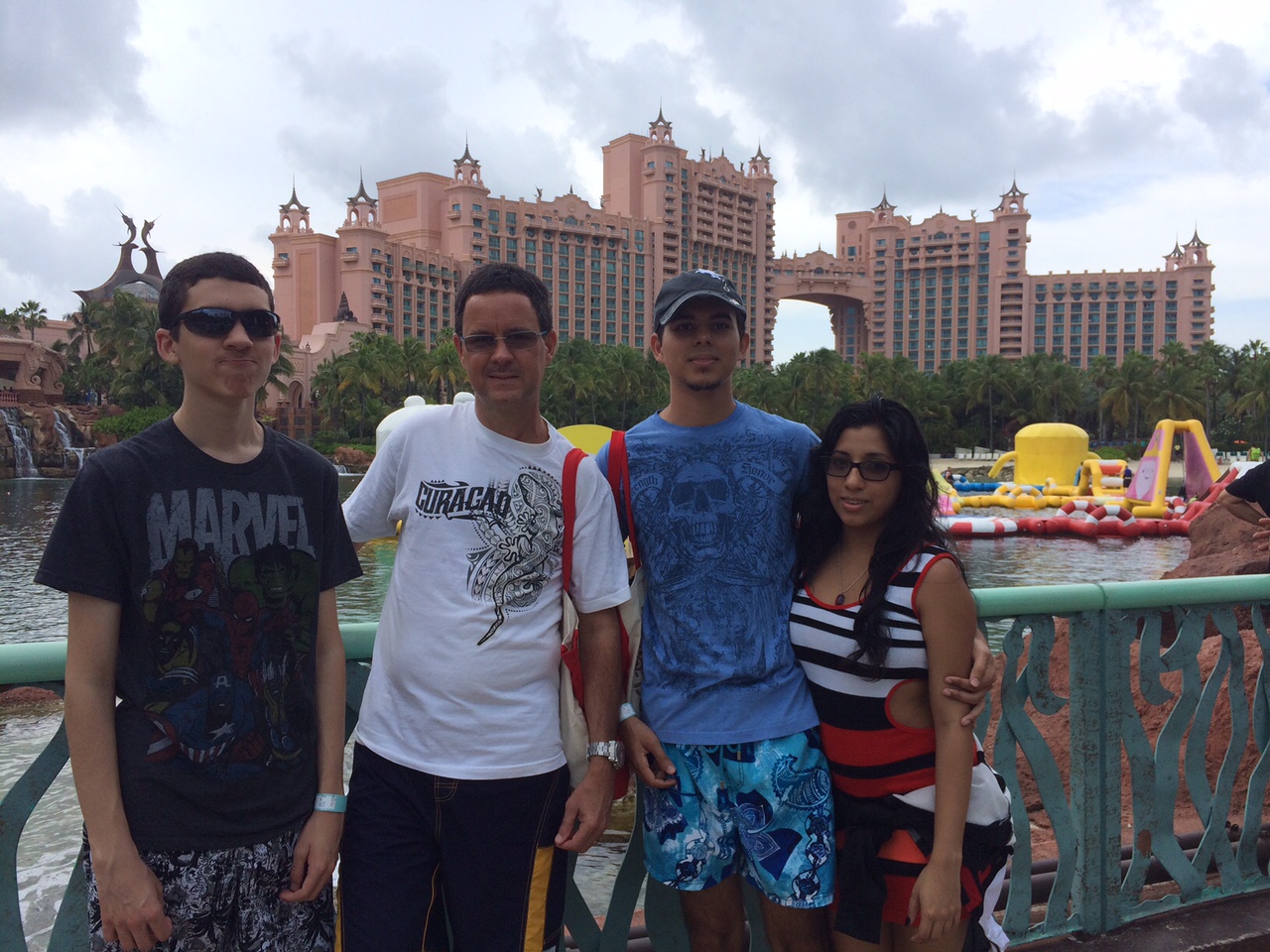 Richard with children in Bahamas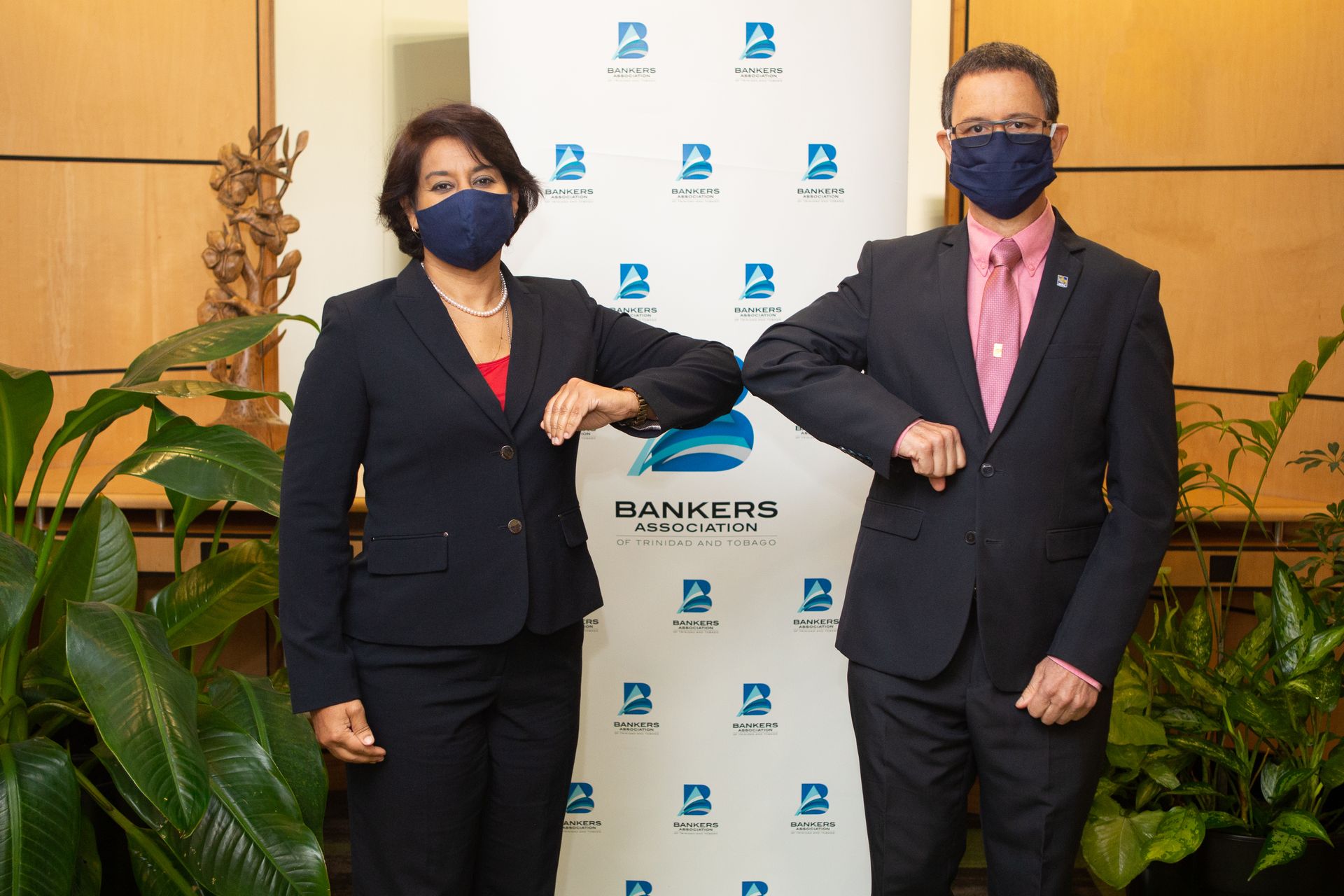 Appointment as BATT President 2021.
Richard (Ricky) Downie (Class of 1981/1983) has more than 25 years of banking expertise and was appointed new Managing Director of RBC Royal Bank (Trinidad & Tobago) in July 2021. The next month he was confirmed as President of The Bankers Association of Trinidad and Tobago (BATT).  
Q. Why did you select Fatima?
I did my O-Levels at Diego Martin Secondary where I played and captained the teams in Football, Cricket and Hockey. I always wanted to play football at the Colleges' level, and with my younger brother David (he attended Fatima from 1976–1984) playing for Fatima at all levels, we would always hang out together. That allowed me to know most of the players during the period when I was growing up as a teenager. As such, it just felt like the natural next step for me in my school career, so there was this strong inclination to get into Fatima. (I must also mention that Fatima Master Mr John Romero made the whole thing possible.)   
Q. How was your experience at Fatima…pleasant and/or non-pleasant; worst mischief, etc.
I totally enjoyed my two years doing A-levels at Fatima. I built many strong bonds with my schoolmates during that period as I also played hockey for Fatima and we won everything during my time there. That hockey team went on to form the Fatima Hockey Club. Most of the founding members are still in the club today and we have seen our children grow up and get married. Those persons include Derek Lee, Alan Young, Keith Nieves, Wayne Nieves, Roger Macedo, Robert Paty, to name a few.
In terms of some of the mischief, the things I remembered were:
The guys lifting and moving Ronnie Warner's small Mini car, placing the front wheels across a deep drain so he could not drive off/move the car.
In Chemistry Labs we always had a special beaker (unknown to Mr Charles – Chemistry teacher) to collect all samples that we would just pour into it. One day I believe it was M.B. (initials only) poured some sulphuric acid into the mix, causing a mini chain-reaction. Of course, his natural reaction with the bottle of acid open was to suddenly throw his hands into the air to block his face. This meant several of us around him got a bit of acid sprinkling onto us––like when you get sprinkled with holy water at Mass (J).  Of course that put an end to our 'community' beaker.
Lastly, a note about how some guys called me "Robbie" in Fatima, even though my name is Richard and family/friend name is Ricky. The story has to do with the then Football captain, Ronnie Simmons, who decided to call me Robbie named after our friend at Fatima in those days, Robert (last name I do not recall), who had Down Syndrome and would be seen most afternoons in the courtyard playing.
You see, I would do strange things when we were just hanging out on the benches, so Ronnie gave me the nickname "Robbie"…which still to this date some guys call me by!!
Q. Did any teacher(s) at Fatima stand out for you?
Two teachers stood out. First is Mr. John Romero ("Ro"). He had the biggest impact in my life as I was at a crossroads in those days. I guess you could say I became a "Ro" boy. The story goes like this: I repeated Form 5 in Diego Sec to gain better grades to get into Fatima. During that year of repeating I would be found most days in Ro's office studying just before exams. 
The second teacher Mr Sundurji, my A-Level Math teacher who helped me realize my strength in Math.   This foundation allowed me to go to UWI eventually and achieve a double-major in Mathematics and Computer Science.
Q. Who was the scariest teacher?
Coming into the school at the Form 6 level, I would say none of the teachers made me feel scared. But I do recall many a story on a someone I consider a friend––Harry.  "Mister Ramdass" J.
Q. Have you been able to maintain friendships with your classmates since school?
I do keep in touch with some of the guys I knew from school via the QPCC 8-a-Side football and cricket tournaments, as well as through the Fatima Hockey Club. Apart from those, there's Andy Govia, Fred Archer, Ricky Waithe, Geoff Lewis, Nigel Camacho, Colin Young, David and Michael Carew, Desmond Dougal…just to name a few.
Q. Any class reunions?
Unfortunately no, as these seem to be for persons graduating from O-Levels.
Q. You were a substitute goalkeeper for Fatima in 1981 when regular keeper Roberts got injured, and you played a part in taking Fatima to the National Intercol final. Tell us about your football days with Fatima, and also with Queen's Park.
Wow – I can say a lot here but let me try and recap it succinctly. I ate, slept and breathed football in those days.  My priorities were football, hockey and then studies. I know…not the right order! We would train 2-3 days a week and play in games on Wednesday, Saturday, sometimes on Monday with the Barclays tournament.  Saturday evenings we would lime after the games––at JB's, Shorelands or just in a house-party. Winning the North Zone Intercol final in '81 was a great achievement for the team and we wanted to emulate the earlier team captained by Garnet Graig to win the National Intercol final.
We played Signal Hill on CIC grounds and won that game (I believed I might have saved a penalty in this game) to get us to the final against St Augustine (Green Machine). We lost the final, played at Skinner Park, 0-1…that was due to a Garth Pollonais break-away from just inside our half of the field. It was a one- on-one with me but he won the duel!
Q. If you could go back in time, is there anything you would change about your experience at Fatima?
The short answer: No. I enjoyed it all.
Q. Tell us about your career path post-Fatima…academics, and your journey to RBC.
I worked for a year with Guardian Life after leaving Fatima. Then I got into UWI where I excelled in my studies. I ended up attaining one undergraduate degree––BSc Maths and Comp Sc. I then went on––while working at Royal Bank––to attain two post-graduate degrees: MSc Comp Sc and an Executive MBA. I joined Royal/RBC as a programmer/analyst in 1988 and moved through most areas of IT, progressively holding a number of senior roles over the years. In 2004, I took a major step out of the IT field and went into running the Bank's operations and service centres. At that point I started to groom my GM skills, and from there I held various senior leadership roles within the bank in TT and then the Caribbean.  Today I am the Managing Director of RBC Royal Bank (Trinidad and Tobago) Limited, Chairman of RBC Merchant Bank (Caribbean) Limited and President of the Bankers Association of Trinidad and Tobago.
Q. What qualities and values did you take from Fatima that helped you in your career?
Team Work, Grit, Commitment. My journey to get into Fatima was not an easy one, but things came together and I excelled from there.
Q. You have noted that during your 2 year tenure as BATT President, your focus areas will be as follows:
Modernisation of the payment system
Easing the ability to do business through a legislative agenda and stakeholder framework
Digital transformation
Customer education.
 Summarize each of these area goals in 2 to 3 sentences.
1. Modernisation of the payment system – We would have recently updated our ACH platform allowing for further offering of features such as the Electronic capture of cheques and eventually Instant payments in the coming couple of years.
2. Easing the ability to do business through a legislative agenda and stakeholder framework – BATT will be working with Min of finance and CBTT covering the 3 main areas:
Bringing the underserved into the banking system and easing the KYC process
Bank facilitation to allow for filing of documents digitally with the CBTT including annual reports etc.
Changes required in the legislation to facilitate the digital agenda that the country has articulated as a national development priority.
3. Digital transformation – BATT supports Digitization as a national priority issue and will support the newly established Ministry of Digital Transformation on its journey.
4. Customer Education – A key component to deliver on a Digital Economy is the educating of all key stakeholders from elderly to the "non" tech savvy person in our society on basic tools used in the digital space.
Q. What in your opinion have been the main challenges for the banking sector during the Covid-19 pandemic?
Banks as an 'essential service' have remained fully functional in the midst of the COVID-19 pandemic. The sector was able to re-engineer its services, while playing a great role in alleviating the impacts of the pandemic on our customers and staff…taking the opportunity to improve delivery channels, utilizing new and improved digital technology to bolster digital payment platforms and to service delivery mechanisms.
Q. Tell us about your family (wife, kids).
A. I have been happily married to Lissa for some 34 years. We actually started dating when I played football for Fatima! We have two grown sons and a daughter-in-law: Nicholas and his wife Chene, and Jason. Both sons attended Fatima.
Q. You are an avid runner. How did you get into running? What is your favorite race distance? Which race was your most memorable and why? Any bucket-list races still to run?
Wow, plenty here. Picked up long-distance running in my early forties as another form of keeping fit. I then got the running bug and so have completed three marathons, 20+ half-marathons, and many 15Ks, 10Ks and 5Ks. My favourite race distance is the half (as you can tell) because I was able to maintain fitness to take part in those a few times per year. Running the Miami Marathon was the most memorable for me––just to experience the size and enjoy the fun in such an event. No plans for any bucket-list races…just glad to still be able to get out there and take part.
Q. Any other hobbies and/or guilty pleasures?
I've been known to do Netflix marathon-viewing. When I get into a new series I will watch it to completion daily.
Started dabbling into Crypto currencies to get a better understanding on how they work.
Q. Favorite Sunday lunch?
Hmm – hardest question. Growing up it was the typical: baked chicken, macaroni pie, pigeon peas, and coleslaw. Now, as an adult, it's more: honey garlic baby-back ribs, sautéed vegetables and a green salad.
Q. Favorite sport(s) and team(s)?
Football, cricket and hockey. Football – Argentina, Holland, Barcelona, and Manchester United fan. Cricket – West Indies, India, TKR, and Mumbai T20 fan. Hockey – Belgium, and Holland fan.
Q. iPhone or Samsung?
Samsung, though I do have an iPad…so not too sure.
Q. What does 'Nitendo Vinces' mean to you?
Nitendo Vinces to me is the continuous striving to succeed at whatever you do in life, be it family, work, sport, or just ways of enjoying your life.
Q. Any closing remarks?
I just want to thank FOBA for the opportunity for me to share a bit about me; I think/hope I am still viewed as the same person schoolmates knew back in the day. A Thank You to all.