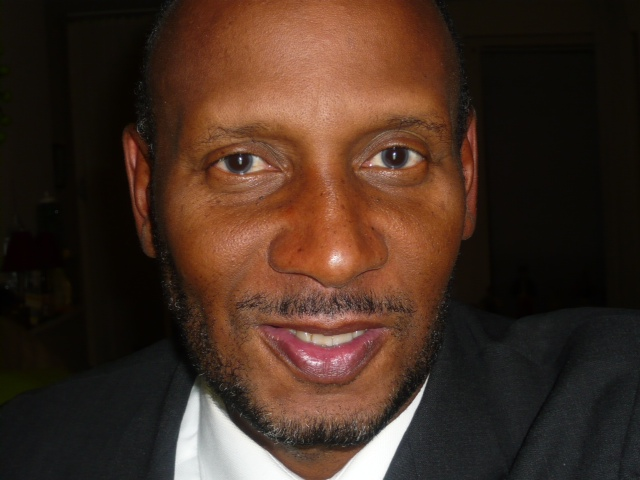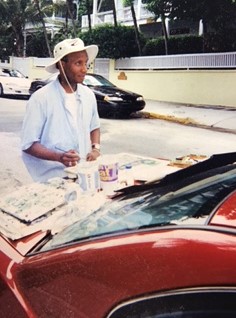 Selwyn painting watercolors outdoors, Key West, Florida circa 1998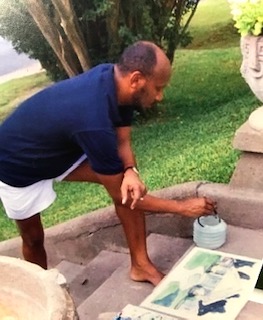 Selwyn painting watercolors outdoors, Helena, Arizona, USA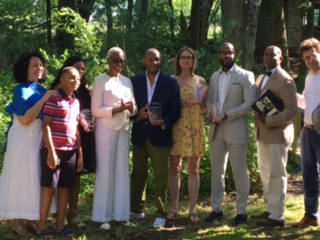 Selwyn (fifth from left): One of 5 artist recipients of the 2017 James Weldon Johnson Fellows in the Arts Awards, Great Barrington, Massachusetts, USA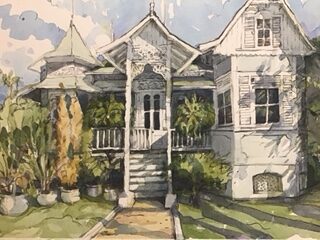 Victorian Colonial Style house, Port of Spain, Trinidad. Watercolor on paper, 2021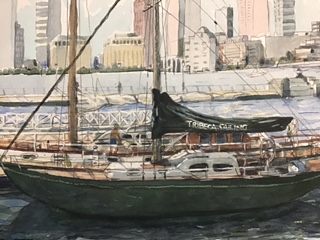 The Tara, sailboat docked in Battery Park City Marina, New York City. Watercolor on paper, 2021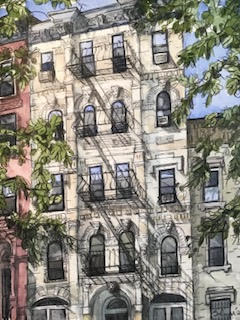 Tenement building, East Village, New York. Watercolor and pencil on paper, 2020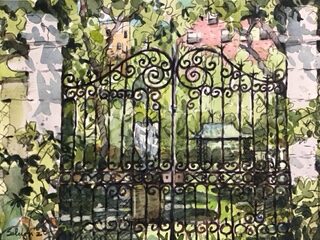 Ornate Iron Gate at Elizabeth Street Garden, Soho,  New York City. Watercolor on paper, 2020
Selwyn Garraway (Class of 1973) is an accomplished watercolor painter and illustrator who specializes in watercolors of landscapes, historic and vernacular architecture and private commissions of "House Portraits." 
Selwyn obtained his Bachelor of Fine Arts degree from the School of the Art Institute of Chicago and his paintings have been exhibited at among others, the Trinidad and Tobago National Museum and Art Gallery, the National Arts Club and the Salmagundi Club in New York City.  His art career spans some 40 years and he resides in New York City where he also has his art studio (in Lower Manhattan)..
You can visit his website at www.selwyngarraway.com
Instagram – https://www.instagram.com/62vin/
Facebook – https://www.facebook.com/selwyn.garraway.376
The decision to attend Fatima College was arrived at during my last year of Elementary School. There were discussions between myself, my parents, my school principal and my  favorite elementary school teacher at All Saint's EC School in Woodbrook. It was made clear to me that my options were limited to one of three prestigious colleges known for educating Trinidad's future government ministers, scientists, professors, captains of industry, entrepreneurs and others in leadership professions. The three colleges were Fatima College, CIC and Queen's Royal College. My mother was a Catholic, so Fatima was a preferred option.  I was urged to study hard and apply myself in order to pass my exams with sufficiently high marks to gain entrance to Fatima College. Everyone in my family was elated when I received news that I was chosen to attend Fatima College.
Q. Tell us about your time at Fatima? Any nicknames? Did you play any sport?
My time at Fatima College was filled with excitement, exploration, solid friendships and generous encouragement and direction from my teachers.  I was in an environment in which I thrived academically, and was surrounded by fellow students with unique characteristics and of diverse economic, social, racial and cultural backgrounds. We had the best educators who cared about our development and academic achievement. I  remember fondly: Father Girod, Father Corcoran, Father Flynn, Mr. Bernard Pantin and  Mr. Mervyn Moore.  I was not an athletic student so I did not participate in sports, but I made up for that by forming great friendships with fellow students who actively participated in cricket, football, etc.  In my last year, once my colleagues realized I possessed artistic ability, they requested pen-and-ink illustrations drawn on the back of their exercise or grade books…for a nominal fee. Everyone wanted one of my illustrations, so my popularity rose. (I was nicknamed "Tino"––by those who formed my inner circle of "cool" buddies.)
Q. What subjects did you do for A-Levels?
I did not take my A-Levels because I left Trinidad to join my parents who had migrated to and settled in the United States in the late 1960's.
Q. How did Fatima influence your character and your career path?
I did not obtain formal art training at Fatima College as the prevailing curriculum did not include exploration of the visual and performing arts. I nevertheless received an extraordinary education that enabled my flexibility in working, and utilizing transferable skills in the non-profit sector. My functioning was in capacities other than as an artist––for example, as an arts administrator for City of New York, Department of Cultural Affairs; as an art library associate at the Gimbel Art Library  at Parsons School of Design in New York; as an art gallery intern in Chicago; as a graduate student in the Museum Education Department at the Metropolitan Museum of Art in New York City; and, as a program associate, approving and distributing grants to nation-wide, non-profit arts organizations and to individual artists at the Lila Wallace-Readers Digest Foundation (at the time, the largest private funder of the arts in the United States).
Q. What is the most valuable lesson you learned at Fatima?
The most valuable takeaway for me was the experience and knowledge I gained after being given the opportunity to study at Fatima College. I benefited greatly from receiving the highest quality education possible.  The camaraderie, sense of responsibility, and the values instilled in Fatima boys remain with us for life; many doors open to us because of our pedigree.
Q. If all your teachers were still there, who would you check first on visiting Fatima today?
Absolutely Father Girod first, followed by Mr. Pantin, followed by foreign language Master, Mr. Mervyn Moore.  If Father Corcoran were still alive––and in a good mood!––when I came to visit, I would look him up…but with a little trepidation, as his mood could change rapidly from aloof and stern to effusive and outgoing, and back! I also remember I had a wonderful physics teacher (black hair and dark eyes) who drove a Morris Minor and who was very patient but seemed a bit young to be our Master.  Unfortunately, I cannot remember his name.  There were also two younger Irish priests(Prefects?) who we all liked because of their genial personalities and thick Irish accents, plus their interest in us. If they remember me, I would pay them a visit too.
Q. Have you been able to maintain friendships with your classmates since school?
After I graduated in 1973 and departed for the United States, I kept in touch with Peter Hobson-Garcia, my closest friend at Fatima College.  Before leaving Trinidad, I was part of a close inner circle of Fatima colleagues and alumni with whom I socialized and attended parties at each other's homes. These 'inner circle' pals included Brian Scoon, Brian Alexander and Wayne Carter.  On the periphery were other pals: Glenford De Souza, Brian Mahabir, Anthony Ramnarine, Anthony Pacheco,  Malcolm Boyd, Christopher Inglefield, Gary Francois and Keith Soverall. For a few years I stayed in touch with Raul Poon Kong, who became an architect in Trinidad with the prominent architectural firm of the late John Newell Lewis.  At present, I try to stay in touch with Christopher Garcia and Anthony Pacheco, both residing in the United States.  Alas, had I visited Trinidad more often in these intervening years, I am certain I could have maintained steady, even closer friendships with all my former Fatima colleagues.  Our bond is that strong.
Q. When did your interest in painting begin? Tell us about your decision to eventually specialize in house portraits and landscapes.
While still in Trinidad in the year after I left Fatima College, I was still self-taught; but I  took watercolor painting classes and went on painting expeditions around the Savannah. I also exhibited with a  group of young, self-taught visual artists. Our group became acquainted with prominent Trinidad painters and sculptors, including Noel Vaucrosson who took us under his wing and introduced us to members of the Trinidad Art Society.  Our collaboration culminated in a group exhibition titled "The In Search Group" at the Trinidad and Tobago National Museum and Art Gallery (formerly the Victoria Institute).  We were introduced to and mingled with the artistic and cultural elite of Trinidad and Tobago society.  My work gained a small following, and a degree of notoriety. 
My first commission was from an American oil executive in Trinidad who wanted a watercolor painting of his splendid home (in the southern part of Trinidad), done as a souvenir. He sent a chauffeured car for me and I completed the painting in one day. I was paid very well.  This led to my doing watercolors of other patrons' homes. I simultaneously developed an interest in landscape painting.  I grew to be a decent watercolor painter and enjoyed the compliments and financial rewards. This was a very big deal for an 18-year-old.  My confidence grew and I gained a deeper sense and understanding of who I was becoming.  I was also fortunate to learn from other artists and art aficionados such as Judith Laird, Cheryl Byron and Norris Iton.  Once in the United States, I obtained formal art training and carved a niche in the particular genre of painting: architectural renderings of historic homes, landscapes and other types of vernacular architecture.  Several happy patrons later, it occurred to me that I should start referring to these art commissions as "House Portraits."
 Q. Tell us about your inspiration from artists or non-artists.
My inspiration comes from several sources, including art history, architecture, Carnival, folk art, flea markets, indigenous art and history, theatre, film, and masterworks by painters, sculptors and photographers whose work I admire and emulate. I frequently visit art museums and art galleries for inspiration and to gain new knowledge of current art styles and trends, significant art movements, in the canon, painting techniques and visual composition.  I also love historic architecture, and strongly believe in 'preservation of important older structures in our built environment for the benefit of future generations'. 
Q. Your work has been exhibited in galleries and museums in New York City, Kansas City (Missouri), Chicago (Illinois), Syracuse (New York), and Key West (Florida). And you also have works published in various magazines. What would you say has been the highest point(s) of your life/career so far?
My memory of my highest success as an artist was the receipt of an award and trophy which I won as third prize at the National Youth Arts and Crafts competition and exhibition in Trinidad!  I was in my mid-teens and was over the moon with pride and joy for this recognition!!  That is when I began considering the possibility of pursuing a serious career as an artist.  Going to the United States afforded me formal art training and certification at the School of the Art Institute of Chicago––the Ivy League of art schools in the United States.  Thereafter, I gained the respect and admiration of my colleagues, and I in turn appreciated the recognition that followed. 
Q. Do you have any further goals/aspirations?
I am always willing to learn and explore new boundaries. As I get nearer to my retirement years, I would like to do some private art teaching.  Another pursuit is my participation in artist residencies as they provide artists with rewarding opportunities to reflect and concentrate exclusively on their art-making, often doing so in an immersive and supportive studio environment with other artists for a set period of time, free of daily distractions, concerns or interruptions.  Another long held goal is to travel to Australia for three to four months, financed by a major grant in support of my research…to result in a body of new work documenting "Queenslanders", a unique British colonial style of domestic architecture in Australia.  (Similar examples of this architecture can be found in former colonies of the British empire in the Caribbean, Africa, India and the southern United States.)  Always in the back of my mind is a return to Trinidad to visit my family, to meet local artists, and to see lots of local art––as well as to reconnect with Fatima colleagues who still reside there.
I also want to explore more of Tobago, to visit sites that tell the history of Trinidad and Tobago's indigenous inhabitants, and to explore both islands' natural environment and topography.
Q. If painting were never an option for you, or you weren't successful, what career would you have taken up?
I would have pursued training and a career as an art curator at an art museum or a fine art conservator/restorer.
Q. Do you encounter fellow Trini artists or painters in your travels and work?
Yes, but only on rare occasions. In my travels I once had the pleasure of meeting famous St Lucia-Trinidad author and painter Derek Walcott.  I personally knew and admired the late Trinidad master painter Boscoe Holder and his equally talented brother, actor, dancer and choreographer Geoffrey Holder. I have exhibited with other Caribbean-born American artists in Brooklyn, NY, and in New Haven, CT.   My particular specialty in art in the United States was such that I circulated in artistic circles and communities that were tangential but not central to Trinidadian culture and arts.
Q. How has the Covid-19 pandemic affected your profession, and how can/should it evolve with the inevitable 'new norm'?
It has been unbearable. The terrible loss of human life caused by the spread of the Covid-19 pandemic! And the restrictions that lockdowns have imposed on our mobility and freedom! But, it has allowed me to experience one of the greatest periods of prolific and creative art production.  Instead of dwelling on the disruption and confinement that we all had to accept, after a few days of being mildly depressed I went into the most creatively active period of my life, at home in my studio.  I would wake up each day and produce new watercolor paintings and drawings, with very successful outcomes.  Though stuck indoors, I thrived in the first months of the pandemic in spite of isolation, and became reacquainted with what it truly means to be a practicing artist.   Although I was as concerned as everyone else about the disturbing inequalities in society which the pandemic exposed, my artistic and creative abilities remained intact, and I was able to cope and move forward while making fundamental changes in my priorities. The art world suffered huge financial losses. That adversely affected the mental health, art careers and opportunities for many visual and performing artists.  I am gratified that my experience was the opposite as I worked steadily and maintained a positive, composed attitude which helped me to thrive and remain hopeful.
Q. Tell us about your family.
Mine is a family of five––two older brothers Eddie and Keith, myself, and two sisters Saundra and Heather…all born and raised in Trinidad.  My father, Vincent Garraway, was born on the island of St. Vincent and was a talented big band musician and chauffeur.  My mother Yvonne Fitzwilliam-Garraway was a homemaker and seamstress who had excellent taste in fashion and home decor. I inherited my creative talents from both my parents.  We first lived in Woodbrook, Port of Spain, but as our family grew, my parents moved us to the suburb of Curepe where we resided until they migrated to the United States to pursue better opportunities for us.  In the United States, my parents settled in the Midwest and call Kansas City, Missouri, home. After living in the United States, my two older brothers returned to Trinidad and have families there.
Q. Do you visit Trinidad often?
No, I returned to Trinidad only once in the past 47 or so years. I looked forward to a trip to Trinidad in April, 2020 to accept the Fatima Old Boys Hall of Achievement Award and attend the ceremony, but that long-awaited trip was cancelled because of the global spread of the Covid-19 pandemic.  It is my desire to reschedule that trip, as soon as the pandemic sufficiently subsides to allow safe travel overseas again.
Q. What is the first thing you would eat on a trip back to Trinidad?
My first choice would be a sandwich of delicious, fried shark on hops bread, accompanied by a tall glass of cold mauby, sorrel or ginger beer. If the shark sandwich is not readily available, my next choice would be a dhalpuri Roti.
Q. What does 'Nitendo Vinces' mean to you?
To me, "Nitendo Vinces" is the Holy Grail and blueprint for how I have been navigating through life since leaving Fatima. I am always inspired and encouraged to 'strive' and 'keep moving forward' regardless of any real or imagined obstacles in my path.  The motto instills confidence in my capabilities which were enhanced by the high-quality education I received at Fatima College. It is also a constant and pleasant reminder of my membership for life, in a uniquely wonderful brotherhood of comrades. 
Q. Any closing remarks? 
My nephew Kayode Garraway, who is now a vet and lives in the Pacific Northwest of the United States, proudly followed in my steps to attend Fatima College. He continues a tradition in our family that started first with my attendance at Fatima.   As I reflect fondly on my time at Fatima College, I am reminded how fortunate I've been and absolutely certain that I would not want to change anything about that part of my journey through life.
See Selwyn's induction into the Fatima Hall of Achievement here