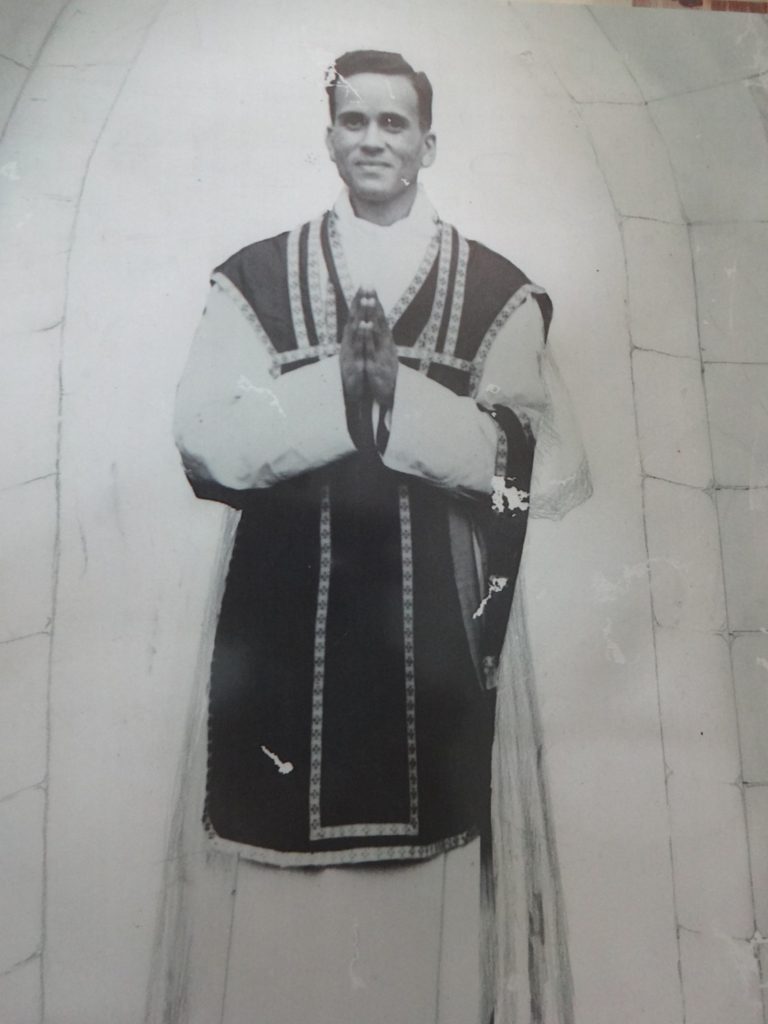 9 October 1926 to 22 February 2013
By Glen Roach
Family members and friends gathered at St. Theresa's Church on Tuesday 26th February, 2013 to say goodbye to Fr. Andrew Cockburn who had died the previous Friday at the House of the Eternal Light Ministry. Fr. Andy was the first Lay Teacher at Fatima College.
With the support of Parish Priest, Fr. Francis Flavin, Fatima started in January, 1945 in temporary quarters in St. Theresa's. The College occupied a small two-bedroom building with a partition separating two classrooms of 30 pupils each. The then Mr. Andy Cockburn was asked to teach in the new school by Dr. Meenan, Superior of the Holy Ghost Fathers and Principal of CIC. The pioneering members of staff were Mr. Cockburn, Mr. Michael Mc Carthy, Irish Holy Ghost Seminarian and Fr. Byrne. The latter concentrated on building the new school on Mucurapo Road, and took the last class of the day. Mr. Cockburn and Mr. Mc Carthy bore the brunt of the teaching.
His mission accomplished, Mr. Cockburn left for Canada to begin his studies. After three years, he returned home to teach at CIC as a Scholastic Prefect from 1948 to 1951. He was off again to Ireland where he studied Theology. Andy was ordained a Priest in July 1954. He was sent to Nigeria in 1955 where he was a very busy man as priest, teacher, principal, dean of discipline and games master. He started a secondary school, ran a parish, helped in neighbouring parishes and looked after prisons' ministry. Unfortunately, he contracted malaria twice. Life was very lonely for Fr. Cockburn. He had to cope with bad roads and the absence of electricity but Jesus was his constant companion.
Fr. Cockburn was forced to return home in 1968 during the Biafran War. He worked in several parishes including Tunapuna, Erin, Arima, Mt. Lambert and New Grant. That is where I first met him where he was a popular priest, accessible to the villagers, firm and compassionate with a major emphasis on the sacraments and a deep spiritual life. However, he insisted on financial accountability and prompt payment of debts. At New Grant, he completed the new church and left the parish free of debts.
Fr. Andy retired from parish life in 1997 and joined the Fatima Community. He started celebrating midday mass from February 3rd and only stopped when his health began to fail him. He spent his time in his room in prayer with his rosary beads. He was also fond of doing word sleuths and dabbling in artistic creations. He made his own special calendars with bristol board.
I was a frequent visitor to Fr. Andy's room. He loved to talk about his family, his stint in Nigeria, his friendship with Bishop Galt and the support of Liz Pouchet, Allison Poon and Candy Churaman. My wife and I visited him in January one month before his death. Little did I know that this was our last encounter.
Farewell Fr. Andy and thanks for your prayers.