On Saturday 22nd May 2010, FOBA organized and held the event 'Musical Blends' in the Fatima College courtyard.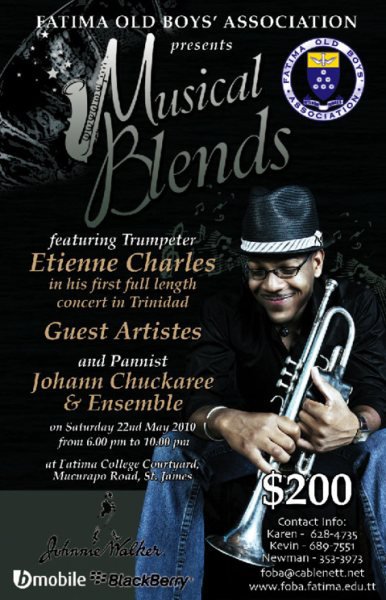 This, the first of a planned yearly event, featured the first ever full length concert in Trinidad by Trumpeter Etienne Charles, a Fatima Old Boy. Guest artistes included Johann Chuckaree (another Fatima Old Boy) and ensemble, Pannist Ray Holman, saxophonist Anthony Woodruffe and 3 Canal. Those patrons in attendance were delighted at all the performances that night and are already looking forward to the 2011 edition.
Full reviews of this event can be read below and pictures can be viewed here.
Review #1
"Rooted deep within my Caribbean belly" – these familiar lyrics of David Rudder could well be said of the music of Etienne Charles who recently performed his first full length concert in Trinidad at Fatima College May 22, 2010. The show, organized by FOBA, the Fatima Old Boy's Association, was held in the school's courtyard and delighted those who attended. Quite frankly it was a rare treat, for Charles is a truly exceptional musician, his trumpet and his compositions evoking the rich musical culture which he is so clearly proud of, and deeply rooted in. As he stood on the stage at Fatima, his alma mater, it was evident how proud he felt to be performing, not only in Trinidad, but at his old school. He was beaming.
Opening the show was another Fatima past student, tenor pannist Johann Chuckaree, well known for his lead role in Phase II Pan Groove's frontline, and increasingly making a name for himself as a performer in his own right. The stage was therefore well set for Etienne Charles and his band, Folklore, so named after his most recent album. For the next two hours you could not help but admire Charles' brilliance as a composer and a performer. It is a gift to take the familiar and add your own distinctive style and interpretation in ways that are refreshing, innovative; add to that his infectious presence on stage as he segways from playing his trumpet, to picking up a shakere or taking over Modupe Onilu's congas.
The result is that his music has immediate appeal, his latest body of work finding its inspiration in our traditional folk melodies which provide him with a platform from which he draws you into his world, his sensitivities. It was a treat to see him joined on stage by pan icon Ray Holman, who incidentally also taught Etienne spanish at Fatima. It must have seemed like old Fatima days indeed as his longtime school friend, saxophonist Anthony Woodroffe, was also a guest performer. Charles could have gone on all night, and there would have been no objections, but when the time came to end he had one final delight in store – out came 3 Canal to render "Folklore", a prelude to their performance with him on June 22, 2010 at Lincoln Center in New York.
Etienne Charles in Concert was an initiative of the Fatima Old Boys Association. He performed with Brian Hogans (Saxophone), John Davis (Bass), Milan Milanovic (Keyboard) and Burniss Earl Travis (Drums), along with special guests Ray Holman (Double second pans), Modupe Onilu (Percussion), Anthony Woodroffe (Saxophone) and 3 Canal.
You can find out more about this remarkable musician at www.etiennecharles.com.
Review #2 (by Wayne Blackman)
Had I been the one being taken out on a surprise first date, my date would have won an A+ Grade for his\her choice of musical blends.
On arriving at Fatima there is no guess work required as you are diligently directed to the field and your parking spot. As you make your way over to the college you are struck with the feeling of security both for your vehicle and person with the preponderance of parking security, police officers and fire services personnel.
As you move into the college, the atmosphere moves you immediately into a further feeling of relaxation, a large elevated stage at the northern end of the grounds allowing for easy visibility no matter where you choose to sit, two banks of chairs set out to the left and right of the music engineers station at the center, all facing the stage, with an initially curious large open area left between the stage and these bank of chairs, later it was announced that this area was reserved for those who came with their blankets and or folding chairs and wished to sit "picnic style" – –  brilliantly done.
As one wondered at the advertised start time of 6pm, as its now about 6.35pm, this seems to present absolutely no issue with the still arriving patrons, as a cool breeze wafts through the grounds, carrying the "set the mood" music being played by the DJ, classics of soul and jazz, even cutting in with that old track "Doing the Dog" to which I had to smile as I witnessed a patron give a short rendition of the popular dance. There is an air of familiarity among the patrons as Fatima old boys and old friends greet each other, even those who do not know each other seem to recognize a mutual love of jazz; hence all is well and uniquely comfortable.
Eventually it is announced that the program will begin promptly at 7pm, along with directions as to the bar, food station and menu on sale provided by Wrapworks Deli and the location of the restrooms. Promptly at 7pm, we are greeted with the popular, resonant voice of Mr. Adrian Don Mora, our MC for the evening, and we begin with the national Anthem, a prayer and the introduction of the first act for the evening, pannist, Mr. Johann Chuckaree and ensemble.
If anyone doubted the evening to come, Mr. Chuckaree, also a Fatima past pupil, and his ensemble blasted any such doubts completely, beginning with a masterful rendition of  "My reward" beautifully accompanied by Ms. Lisette khan, on vocals, who is actually a French teacher at Holy Name Convent for the last 12 years. His performance continues with such well known pieces as "Just the two of us", "Trini to the Bone", three original compositions "In De yard" and "Take Fire" arranged by the drummer of the ensemble, followed by the finale of David Rudder's "Calypso Music" accompanied with vocals again by Ms. Lisette Khan. Bringing a close to the first stirring hour of Musical blends 2010.
After intermission, we welcome Mr. Etienne Charles, yet another Fatima past pupil, and his group Folklore, all residing in the United States, who trumpeted their arrival on stage with a true hardcore, high calibre, jazz flavor. Magnificent trumpet work, with all the intricacies of the variety of instruments on stage blending into that unique sound that is jazz.
Mr. Charles, to look at, "a babyface"  belying his skill, professionalism and maturity he displays in the production of a sound that is definitely jazz, but with a distinct Caribbean flavor and influence.
Pausing between each performance to hail the accomplishments of other Fatima students in all facets of life, music, dance, sport, politics, etc. and reminisce on all his good memories of attending Fatima College and the influences of its many versatile teachers, for example, Mr. Maurice Brash and of course our very own accomplished and well known Mr. Ray Holman, whom he then called to the stage and joined the group accompanying them for a couple of sessions on pan.
Bringing us to another intermission, where I took the opportunity to walk around and chat with some of the patrons. My interviews with a number of persons all produced the same responses, magnificent, great idea, much needed, hope it will become an annual event, the right price, perfect atmosphere, well organized, amazing performances. Truly the only responses that came close to being negative, was the wish for a third act added to the lineup, preferably international, one patron giving me a number as she apparently is a serious and well travelled jazz enthusiast, who has formed many contacts in the jazz world, she too applauded the calibre of Musical Blends 2010. The other was the advertised start time, although none were really perturbed, they all just wondered if it was supposed to start at 6 or 7pm, yet were quite happy with the actual start at 7pm which allowed them not to miss any part of the performances.
Certainly the final third of the night, coming to a close at around 11pm, so patrons were able to reclaim their lost hour between 6 and 7pm, left everyone absolutely sated with the sweet sounds of jazz with no complaints, only wanting more, and of course looking forward to Musical Blends 2011.
Notes:
1. Patron and enthusiast, who can be contacted in sourcing international acts for the next production – Dykestra Henry and Judith Maichan – 773-5433
2. Mr. Chuckaree's profile, many musical accomplishments to date and contact can be found at http://www.facebook.com/johann.chuckaree.
3. Mr. Etienne Charles, his group, personal and professional info can be found at http://www.allaboutjazz.com/php/article.php?id=32925