This year's edition of the Annual Salt and Pepper Cookout is happening on Saturday 10th October, 2009 at the Fatima College compound. Come sample delicious dishes prepared by our own Fatima Old Boys. The event is from 7 to 11 pm (dinner is served from 7:30 pm to 9:00 pm) and tickets are priced at $250.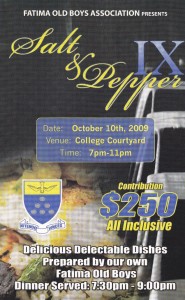 Please call the FOBA Office at 628-4735 for tickets.
If you would like to provide a dish contact the FOBA office, foba@cablenett.net. Each dish should cater for 60 people.