The 2008 edition of the annual Salt and Pepper Cookout was held on 11 October. See a recap below and pictures from the event can be viewed here.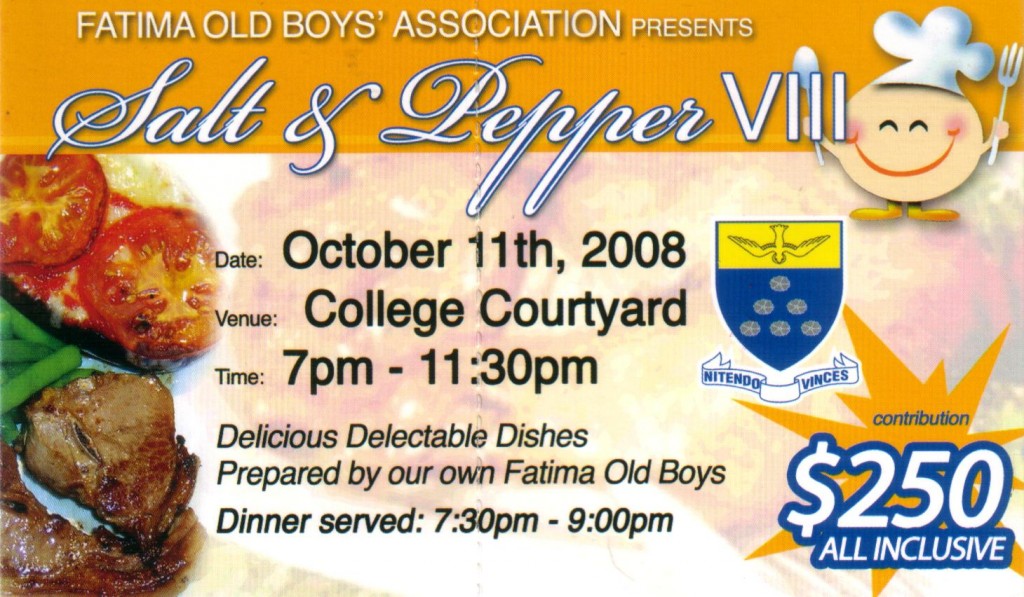 With an exquisite array of international cuisine and plentiful premium drinks to accompany, the all-inclusive culinary event entitled Salt and Pepper VIII was indubitably another grand success for the Fatima Old Boys Association. Being the eighth instalment of its kind since its inception in 2001, this annual event continues to widely appease the palate of expert gastronomes and curious diners alike. Guest were treated to authentic and exotic tidbits such as "Spicy Louisiana Snapper" and "Stewed Duck in Red Wine Sauce" while local delicacies like "Old-Fashioned Gheera Pork" and "Constitutional Corn Soup" were in no way short of demand. The "à la carte" dining experience was further complemented by delicious desserts and a glass of rounded French wine to wash it all down.
In the way of entertainment, the night's events were accompanied by delightful performances from the HCL Valley Harps Steel Orchestra in addition to a Karaoke competition in which many diners/contenders were afforded the opportunity to showcase their vocal talent. Having very attractive prizes at stake, the winners of the Karaoke competition were Captain Kirk in the single-entry category as he performed his version of "Under the Boardwalk" whereas 'the Big 4' claimed the group prize with a riveting rendition of the Mighty Sparrow's "Lizard".
In spite of the many outstanding infusions of savoury flavours, no single pièce de résistance was singled out as being the best dish of the night since all of the night's chefs performed formidably with their generous servings of quality cuisine. Nevertheless, the creativity behind the naming of dishes was indeed up for competition, by which chefs Paul Pantin and John Gonsalves claimed the top prizes for their meals entitled "Wool Ewe Try My Curry" and "Lambasted in the Budget" respectively.
Many guests were also in the winners' circle as an impressive selection of door prizes were also on the agenda. Ms. Cheryl-Anne Phillips, Ms. Margaret Callender and Ms. Karen Rampersad walked away with a Blackberry mobile device, a Fitness Center Gym membsership and a GPS device respectively. In another highlight, recognition was paid to Mr. Ricardo Inniss for his long-standing dedicated service to Fatima College and FOBA.
FOBA extends many thanks to all those who participated in this year's cook out and it is without a shadow of a doubt that Salt and Pepper VIII will remain a key event on everyone's calendar. Look forward to Salt and Pepper IX in the year 2009 knowing that you will enjoy the same great food, drink and company that you have come to expect.