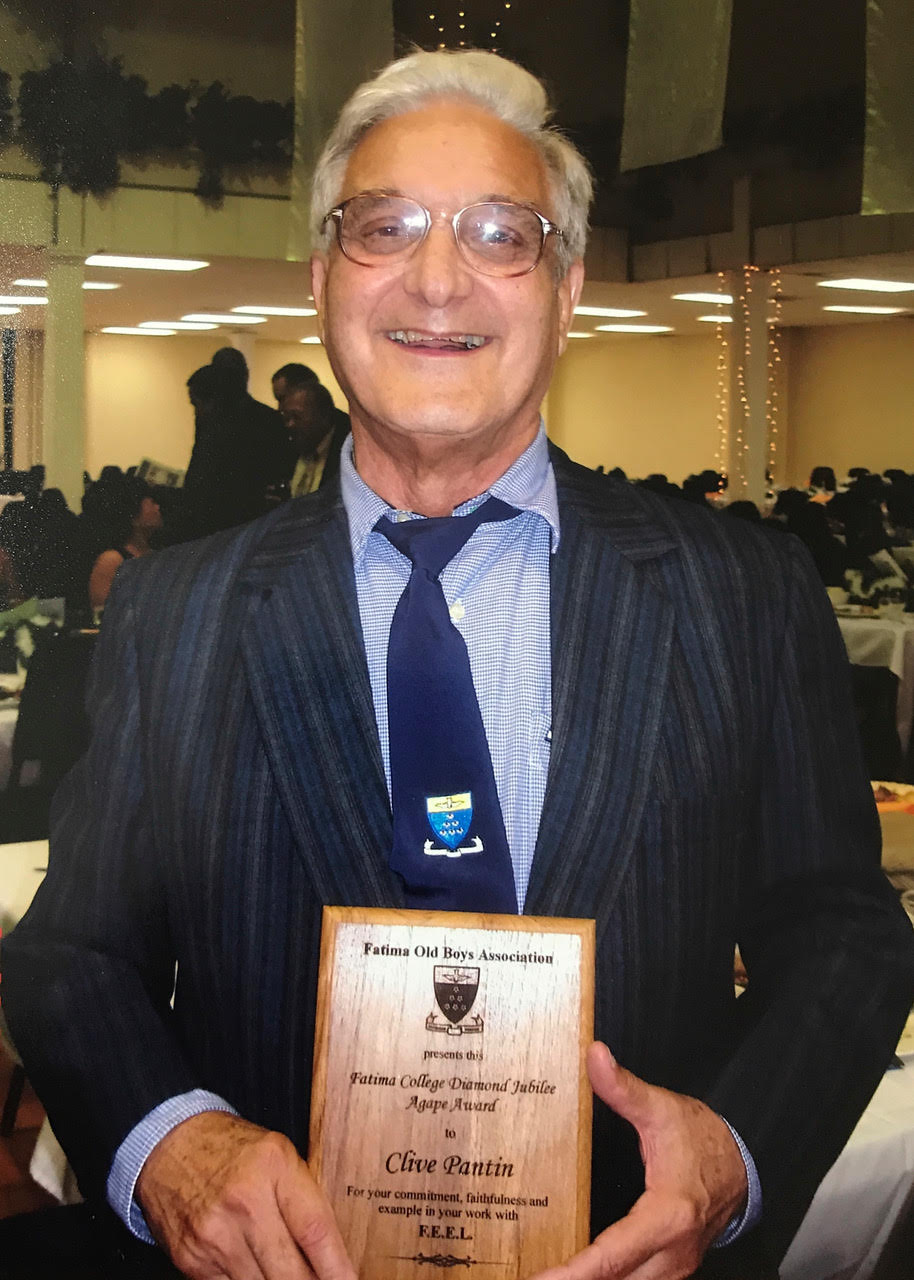 Clive Pantin (Fatima College: 1954-1981) was a man who was born with a feel for life, lived with a special feel for the challenges of his time, and has left behind a FEEL to serve the lives and times of many.
Often, he appeared to be five persons in one: dedicated Family Man, inexhaustible Educator, proficient Multi-Sportsman, refreshing Politician, and insightful Servant of the people of Trinidad and Tobago.
A past-pupil of Fatima's brother-College St Mary's, graduate of the University of Ireland (BA Hons. French & Spanish), he returned to Trinidad in 1954 at age 21 and chose to teach at our Fatima College. Here he held the positions of Games Master, Dean, and finally in 1972 becoming the first local and lay Principal of the College.
Under his leadership, Fatima became pioneers in the technological advancements of the day, establishing an Audio-Visual Centre and Language Laboratory. Clive believed in developing the whole man, thus the ideal of the 'well-rounded' student became fundamental to the philosophy of Fatima College. As Principal, he abolished the ranking system by which students were placed in classes according to their ability (and conversely left to struggle according to their inability).
He was so passionate about the well-being of all of his charges, it was the popular view that Principal Pantin knew the names of all, if not most, of his hundreds of students!
In 1981, Clive chose to give up his secure job at Fatima to offer himself to the Nation via participation in 'reconstruction politics'. He became the National Alliance for Reconstruction Minister of Education in 1986, and set about the task of building new schools as well as encouraging teachers to the renewed commitment of insisting on excellence.
When his political sojourn ended abruptly in 1990, Clive used his retirement phase of life to found FEEL—the Foundation for the Enhancement and Enrichment of Life—a practical manifestation of the Pantin purpose, mandated to alleviate poverty and hunger in Trinidad and Tobago.
Regrettably, a prolonged illness slowed him down, debilitated his body, and eventually led to his death in September 2017 at age 84. But fortunately, his life remains present to those known and unknown to him, a legacy sound enough to serve an endless stream of generations to come.
Tribute below By Glen Roach
Clive Pantin was an exceptional individual who left his mark in social work, education and sport. He was charismatic, an inspirational leader, humanitarian, a great sporting administrator, conservative yet revolutionary in his approach to education, patient but impatient with mediocrity and bureaucracy, adept at implementing projects with a wonderful sense of humour.
It was in 1972 that I first got to know Mr. Pantin. I learned that Fatima was looking for a Spanish Literature teacher and so I headed to the College to put in my application. Mr. Pantin was warm, helpful and welcoming. He made me feel totally at ease in his company. He engaged me in a discussion on my life, UWI and my reasons for wanting to come to Fatima. I returned a few weeks later with two recommendations. Mr. Pantin did some investigation into my background, realized that I did not have a police record and assured me that once I got my degree, he was taking me on staff.
In September 1972, I officially became a Fatima teacher. It was an exciting time for all of us with two very forceful and energetic individuals in Mr. Pantin and Fr. Farfan. They regaled me about their plans for education and the direction Fatima was heading. Mr. Pantin expressed his abhorrence for the system of streaming, the restricted Form 6 groupings and the over-emphasis on academics. He stressed the importance of well-rounded individuals.
He spoke to me about his plans to introduce free choice of subjects, making it possible for an individual to choose Maths, Physics and Spanish in Form 6. He was going to eliminate streaming immediately. Students needed a period after Common Entrance free from too much academic competition. He recoiled at the idea of a 2B and 3B class and the damaging effects of streaming in the lower forms. He felt that education catered too much for those at the top. We were there to serve the majority of pupils.
Fatima underwent several changes in the 70s. The curriculum was diversified with the introduction of Art, Physical Education, Industrial Art, Technical Drawing, Principles of Accounts and Commerce. In 1975, the afternoon periods were dropped to accommodate a wide range of activities, including Auto Mechanics, AV Techniques, Music Appreciation, Cuisine, Dance, Drama, Welding, Woodwork, Printing, Photography, in addition to the usual sporting activities.
The Fatima Development Fund was launched and the AV Centre, Library and three Form 6 classes were constructed. Fatima pioneered the growth and development of the Audio Visual Industry of Trinidad and Tobago. This centre provided students with a range of career opportunities. He was indeed a visionary.
Mr. Pantin coined several phrases to motivate staff and pupils. These served to define his philosophy of education and his approach to life. He encouraged the Fatima Community to "aim at excellence". He emphasized "service before self" which was the hallmark of the Pantin clan. He constantly reminded staff that we were in the business of education "for the good of the boys".
Mr. Pantin was an outstanding sportsman who represented Trinidad at football and hockey. He also played cricket for Fatima when the team comprised teachers and pupils. He was thus an integral part of the Fatima teachers' cricket and football teams. I remember a game against Belmont Secondary when they laughed as he and Mr. Moore made their way to the ground. "Old Man Team" they shouted. Anyhow, old man Mr. Pantin proceeded to destroy them with four goals while they could not get past hard-tackling Mr. Moore. Fatima won that game 9-nil.
Mr. Pantin was generally friendly and encouraging but he did not hesitate to correct you when you erred. I remember a Saturday when I came to school wearing a merino. I was at my desk working when I heard a thundering voice "Young man, that's not the way you dress for work". I cheekily responded "but today is Saturday". He hit back "It does not matter". Mr. Moore came to me shortly after and advised me to apologize to Mr. Pantin and to leave the premises. I went to his office, apologized and headed home. I learnt a very valuable lesson that day. Once a teacher, always a teacher.
Mr. Pantin was a man of action quick to translate ideas into reality. When the cultural-minded advocates like Fenrick De Silva, Clifford Roach and myself stressed the need for a leisure programme in the school, he called a staff meeting and the activity period was born with Errol Camino as coordinator. When he learnt the Government's plan to introduce technical and vocational subjects in the schools, he contacted his friend Arthur Chin Lee and the Huggins Workshops were built. After our Intercol victories in 1979, I showed him a scrapbook with clippings from the newspapers. He immediately called his friend Ken Gordon and we organized to give each player an album with pictures from the papers.
He initiated the Mucurapo Community School project, offered Fatima ground to his friend Leslie Ramdoo to start a St. James football league, built a new cafeteria and additional classrooms and established a language laboratory thanks to Kirpalani Group of Companies. Mr. Pantin was project oriented. He kept moving from one activity to the next.
During the late 70s, I began to detect a sense of frustration with the slow pace of bureaucracy and the failure of others higher up to understand his vision. The AV centre was a success with Bruce Paddington as leader assisted by stalwarts like Seedansingh, Crooks, Headley, Smart, Breteron and others. But the same could not be said for other activities. Projects suffered through his inability to source staff. The language lab needed a full time technician. The Huggins Workshops suffered through the lack of personnel. Neal and Massy seconded one Mr. Haynes to assist with Auto Mechanics but when his time was up, his understudy left teaching and the project stalled. He grew frustrated with the problems in his community and so he formed the Woodbrook Action Group.
It was no surprise when he decided to enter the political arena. He honestly believed that he was going to make a difference and to help create a better society. He gave up 20 years of service and all financial benefits to serve the country. Unfortunately, he was thrice rejected and so he channeled into FEEL (The Foundation for the Enhancement and Enrichment of Life) with the Fatima Class of '75 as members of his Board. It is through this organization that Mr. Pantin managed to live true to his philosophy of putting service before self. Feel was and continues to be an outstanding tribute to his legacy. What a great man!