Fatima alumnus and top junior swimmer Dylan Carter was named the First Citizens Sports Foundation Male Youth of the Year 2013 at the Foundation's Youth Awards ceremony at the Hyatt Regency Hotel on Friday 31st January 2014. Dylan won silver at the Dubai FINA Junior World Swimming Championships in a national record time in the men's 50m butterfly event last August.
Dylan Carter entered Fatima in 2007 and left in 2012 after the CXC examinations.
Q: When did you start swimming?
A: I started swimming relatively late at 12 yrs old. I started training at the Marlin's Swim Club under Franz Huggins.
Q: Tell me about your first competition.
A: My first competition was when I was in Form two during the summer of 2008. I think I got six silvers and a bronze. It was great encouragement. It was a goodwill tournament that is held every year between Guyana, Trinidad, Barbados and Suriname…a developmental meet.
Q: When did you realize that you wanted to pursue swimming as a career?
A: I told Franz that after that first competition, I wanted to go back to playing Water Polo but I performed so well in the competition that he encouraged me to continue to train with him till December when there was supposed to be an invitational meet at Marlins.
I continued to train with him, then I blew his and my expectations out of the water with my performance. I realized that this was my God given talent and I couldn't waste it. This was December 2008.
Q: What is your specialty in swimming?
A: I swim everything from 400m down, all the strokes except breaststroke. It works for me to be as versatile as possible for now. I think my best events now are 200 m free, 50m fly, 100m back.
Q: What College do you attend? Why did you choose it?
A: I'm at the University of Southern California in Los Angeles. Franz was really the one that encouraged me to attend this University. Of course I weighed my options and visited many other Universities. However, when I visited the University of Southern California, that sealed the deal. I was blown away. It was so much better than the others I visited…I had to go there.
Q: Who has been your major source of encouragement so far?
A: I think it varied with different stages in life so far. When I now started I always looked up to Joshua (Romany). He was so fast. My only goal was to be faster than him. Now that I am faster than him, I realize that I am not satisfied…I just want to be faster than everybody.
Joshua and I have a friendly rivalry. My times are better than his now, but he is a great athlete so you never know what could happen. That's meh boy though!
Q: Why did you choose Fatima?
A: Lots of my friends went Fatima. My dad went Fatima, my uncles…it's like a family tradition.
Q: How was your experience at Fatima?
A: I enjoyed it a lot. I can't say I had any bad experience. The last two years were a bit tough especially mixing training with CXC preparations. Some teachers gave me a hard time but I did alright in CXC in the end.
Q: Which teachers were the most encouraging?
A: I like Mr. Maraj a lot…he was my Physics teacher, Mr. Young, Fr. Gregory…he's cool. Mr. Al Cooper was cool.
Mr. Joseph…both Joshua and I were in Form five the year that Mr. Joseph died. That really impacted us a lot…we happened to be away together when we heard the news. He was always on our backs…It was kinda annoying but at the same time we loved him for it…we really appreciated what he did for us.
Q: How did Fatima impact your swimming career?
A: Well, the teachers were very understanding with what I needed to do with my goals. Ms. Gomes especially was very understanding…especially when I had my meets and I was tired.
Q: What does 'Nitendo Vinces' mean to you?
A: I still wear my ring all the time and people abroad always ask me what is it and what is Nitendo Vinces. I tell them that's my school in Trinidad and the motto means 'by striving you shall conquer'. I live that everyday. Nothing comes without hard work.
Q: Tell me about some of your notable swimming achievements?
A: I swam in the US Junior Nationals in Greensboro, North Carolina recently and I swam a really fast 200m freestyle which put me fourth in the U.S. in terms of collegiate athletes. I'm really proud of that now. I'm usually proudest of my most recent achievements because it is a constant uphill battle.
I'm also very proud of my 50m fly in the Junior World Championship. I don't like to stress on it because it is not an Olympic event but it is still a world event and I'm the second fastest in the world in Junior 50m fly.
Q: I see you have a ton of trophies in that case behind you. Do you have a favourite award?
A: Ahh…right now it's probably the National Spirit of Sports Awards' Junior Sportsman of the Year 2013. I don't really study trophies much, but I love that one. It kinda represents everything I have won and worked hard for.
Q: What is your dream?
A: To be the fastest in the world. I want an Olympic gold. That's what I'm working towards.
Q: Describe your training schedule.
A: Over the summer, we go hard. Get up in the morning at around 7.15. Go to the pool at 7.30. Swim 7.30 to 9.30 and Gym from about 10 to about 11.30/12. Sometimes I'll get home at about 12.15pm, and then it's back out for afternoon training at 4pm.
Joshua lived with me in Florida over the summer 2013 for a couple of weeks so it was helpful having him there to train together. It was tough but we got through it together.
Q: What is life after swimming?
A: Well, that is the reason I am in University. I hope to graduate from University, make some pro dollars (endorsements) after swimming if possible. If not, at least I'll have a degree (Sciences) from a prestigious University where I can get a job and live a normal life.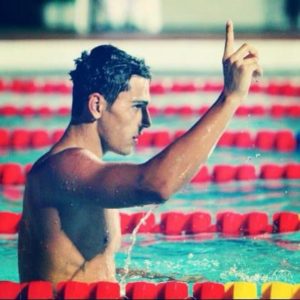 Q: Who is your role model?
A: My dad. He is an athlete as well and was an athlete when he was younger. He used to tell me a lot about my sport and things I should do when I was younger about training and I always argued with him. What could he possible know about what he was talking about?
But now looking back, I realize how knowledgeable he is. He knows so much about swimming. He does so much research for me to advise me and it is all out of love for the sport and me. He always works so hard for his family.
Q: Have you ever felt pressured?
A: No, not at all. My family is so great about that and I know they would love me no matter what. If I decided today that I never wanted to swim again, it would be no big deal.
Q: Describe your plans from the next five years.
A: Right now, I'm just focusing on school. I have NCAA in March. I have Commonwealth Games, Pan Pacs, Youth Olympics coming. I plan to be in school the next four to five years and that's basically it. Hopefully I can make it to the next Olympics.
Q: What is Trinidad and Tobago's Swimming Industry missing?
A: I think it is a drive in the youth itself. You see a couple of kids who are really driven and hardworking but swimming is a sport you need the talent and need to be continuously hardworking. We have the talent for sure. No question about that, but when the kids reach around 14 and 15 years, they don't want to train anymore and put in the necessary hours. All they want to do is lime and get boyfriend and girlfriend after that. I think that's just the problem. It may just be the mentality of the island. There are the pros and cons of being a laid back place. We are generally happy people but nobody wants to get anything done.
Q: Have you gotten a lot of external support for your swimming career so far, such as from the Government or through other organizations?
A: No, my entire journey from 12 and up has mainly been my parents supporting. Only of recently, the Government may lend a hand. I think the Sport Company is heading in the right direction though. I heard some of the plans from the Minister and I think they are putting a lot of things in place especially in preparation for Rio.
Q: How do you prepare yourself mentally for a race?
A: Sports in general is such a mental game and I can't stress it enough to young athletes. I didn't believe it myself when I was younger. I thought that made no difference…I was always like "What are you talking about Dad?"
But it really is so important. Before races, you have to get in the zone and replay the race in your head over and over not only the perfect race but be prepared for anything that could happen. What would you do if something went wrong? What would I do if when I dive in, my goggles fell off? So I rehearse everything in my mind. I think that's what being a good athlete is about…it's about being able to adjust to different circumstances…it's not just about being strong and fast, it's about being able to compete now.
Q: What is your favourite memory from Fatima?
A: I have so many. I think graduation maybe. That was a really special night just seeing everyone you spent the last five years with looking sharp in their suits. Remembering how they were in Form One and seeing how everyone has matured. I love all of my classmates and keep in contact with them.
Q: What do you carry from Fatima into University?
A: The school motto. By striving you shall conquer. You are not going to achieve anything without hard work. That is what was instilled in me from Fatima. You know…that is what I am going to do…work hard!
Q: Any closing comments?
A: Ahhh…Big up Ms. Duff! Big up Ms. Clarke! Big up Fr. Gregory! Oh…and the cleaning lady with the blonde hair…the blonde corn rows. I real miss you!
Interviewer: Stefan Roach