On Saturday 6th September 2009 FOBA reintroduced it's Seven-A-Side Football Tournament that had been very popular in the past but was discontinued for the past few years.
There were 3 age groups: Under-30 (in which 4 teams competed), 30-45 (in which 12 teams competed), and Over-45 (in which 4 teams competed). Below are the results: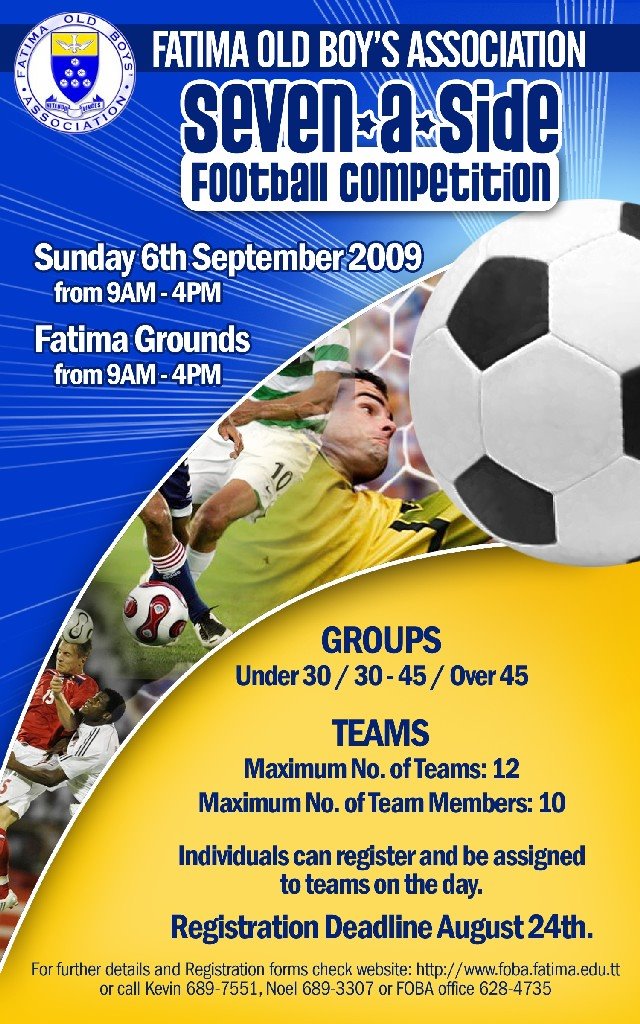 Under-30
1st – Challengers
2nd – Soca Worriers
3rd – Solo Team X
30 – 45
1st – Sagicor Strykers
2nd – Flavorite
3rd – RAS Young Old Boys
Over 45
1st – Fatima Coaches
2nd – Fatima Hockey Club
3rd – Q.M. Caribbean Fatima and Friends
Most Disciplined Team – Solo Team X
Oldest Player – Earlyn Rambaran, 65 yrs (Fatima & Friends)
Trophies awarded
J.H. Ryan Trophy – Over 45 year group
Freddie Alban Trophy – 30-45 year group
Francis John Trophy – Under 30 year group
Pictures from the tourney can be viewed here.