by Glen Roach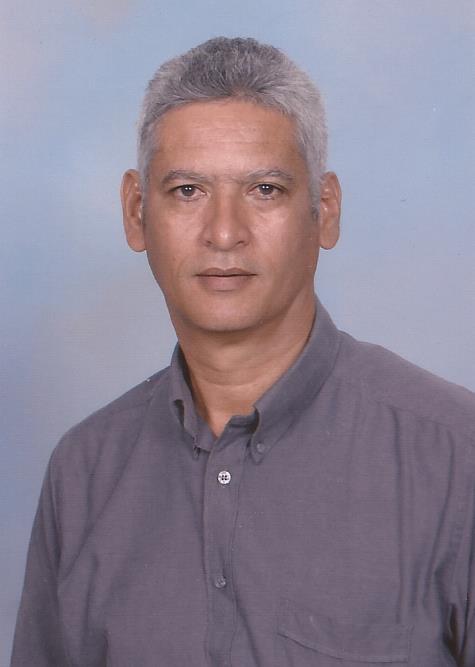 Francisco Garcia, better known as Frico, is a multi-talented individual who has served Fatima with distinction in many different areas. He shone as a physics teacher in the classroom, propelling his students to academic excellence. Yet he engaged in other activities like coaching the Colts cricket and football teams, marking the field for sports, printing the jerseys for Intercol, manning the barbecue pits, reproducing the Fatima crest, coordinating Jubilee celebrations and the staff's contribution to the annual Salt n' Pepper cookout.
Frico was born into a very large close-knit family and spent his early years in upper St. Vincent Street, Port of Spain. St. Vincent Street was still residential, not yet cluttered with commercial enterprises and a tight community. His neighbor was his good friend, Glen Marin who was like a big brother to him. He actually helped Frico with mathematics, assistance which Frico acknowledged with great gratitude. Frico lived close to the savannah and Renegades panyard and like most boys of that era, he spent hours playing cricket and football. The bicycle was a popular form of transport and he and his friend rode to Carenage to sea bathe.
He attended St. Mary's College and excelled in the sciences. He represented the school at the highest level in cricket. A fast bowler of no mean speed and a destructive batsman, he also played for Bell Boys and Maple. He briefly contemplated playing football in form six when he thought that goalkeeper, Trevor Leiba was not returning to school. However, this did not happen.
Having completed his studies at CIC, Frico was accepted to study Engineering at UWI. Some of his friends decided to take a year off to teach. Frico decided to follow suit, heard about a vacancy at Fatima College and was hired. This changed the course of his life. He had always loved teaching but events of 1972 cemented this love.
What was so special about 1972? Clive Pantin was appointed the first lay principal of Fatima College and local Holy Ghost Father, Gerald Farfan was appointed Vice Principal. Fatima still lagged behind the other established schools but these two individuals inspired and energized the staff to work towards raising Fatima's profile. The staff was an exciting array of academics, sportsmen and musicians. They worked very hard, spent long hours at Fatima, went to lunch every day at Johnson's restaurant in Maraval Rd., had a monthly soiree, played football matches against other schools, fielded a very strong cricket team, partied regularly, went to Panorama and bought season tickets to cricket at the Oval. It was a dream start to the career of any young teacher. The Fatima Old Boys produced a brochure entitled 'Fatima on the Move' which focused on plans to construct the Audio Visual Centre. Frico resolved to obtain his degree and returned to Fatima. He did return in 1976 despite receiving many lucrative offers.
Frico performed many functions in Fatima but it was his job of printing exams that reaped the highest rewards. The secretary Kathy Ann King was a frequent visitor to the printing room as part of her responsibilities. Soon, Frico was printing invitations to their wedding that took place in 1977. They are now the proud parents of three children, Keisha, Petal and Newton. They also have an adorable granddaughter, Emma.
Frico and his family moved to Santa Rosa in 1980. They were happy to have their own home, but this curtailed his ability to continue coaching football and cricket. However, nothing would stop him from giving up his Friday evening football activity with Fatima and Friends.
Frico helped nurture a culture of excellence in Fatima. He pushed his students to achieve the highest possible standards. Soon Fatima was winning scholarships, President's Medals to Kieron James and Kyle Rudden. Ravi Tewarie won Fatima's first Open Science Scholarship in 1988. What was remarkable about Frico's tenure was his ability to drive not only excellent pupils but also intermediate ones to win scholarships. His pupils decided to reward him in a tangible way. In 1999 a few of his ex-students gave him an all-expenses paid visit to M.I.T. for a week long Science and Engineering Symposium for Middle and High School teachers in June. He was one of three, non-Americans to attend the course. Graham Fernandes, M.I.T. alumni who wanted to recognize Frico's massive contribution to so many pupils, inspired the offer. Two years later, another group offered the same package. These trips allowed him to establish valuable relationships with M.I.T. to the benefit of many Fatima boys. He is now a member of NEST (New England Science Teachers Association), just reward for putting all his eggs in one basket.
Frico was a no-nonsense disciplinarian and at times he personally sought out pupils who flouted the rules of the school. He was uncompromising in matters of discipline and demanded the highest standards. His methods were not always conventional and students who challenged his authority sometimes got more than what they bargained for. Frico's colleagues think highly about him. He is depicted as being firm, committed, reliable, versatile, a man of immense talent, competent in the delivery of the curriculum, down-to-earth, witty with a straight face, encouraging, hot-tempered but only for a while, a great friend, mischievous, creative, supportive, a Fatima loyalist and influential way beyond the classroom.
Frico thoroughly enjoyed his years at Fatima College especially the camaraderie of the staff and the wide range of social activities. It was his privilege to follow the career of maestro, Brian Lara, with whom he developed a close relationship. He loved the geographic layout of Fatima College, designed to create a sense of community. It was he who suggested the erection of the Fatima Crest atop the Science Wing. He made the suggestion to President of the Fatima Old Boys Association, Ian Benjamin, who acted swiftly on the idea. For the fiftieth and sixtieth anniversary celebrations, he coordinated a Historical Retrospective of Fatima through the years. These ventures bore his customary stamp of perfection and excellence.
It was a privilege to work with Frico and I count him as one of my closest friends. Thank you to your vast contribution to Fatima and the education landscape. God's choicest blessings to you and your family in your well-deserved retirement.