On Sunday 23rd October 2011 RAG Sport Marketing will be hosting a major football event at the Queen's Park Oval in Port-of-Spain. The event is titled "Inter-col Reunion 2011" and, this proposed annual event will be a fund raiser specifically for Renal Care Patients in Trinidad and Tobago, and is being held under the kind patronage of the John Hayes Memorial Kidney Foundation.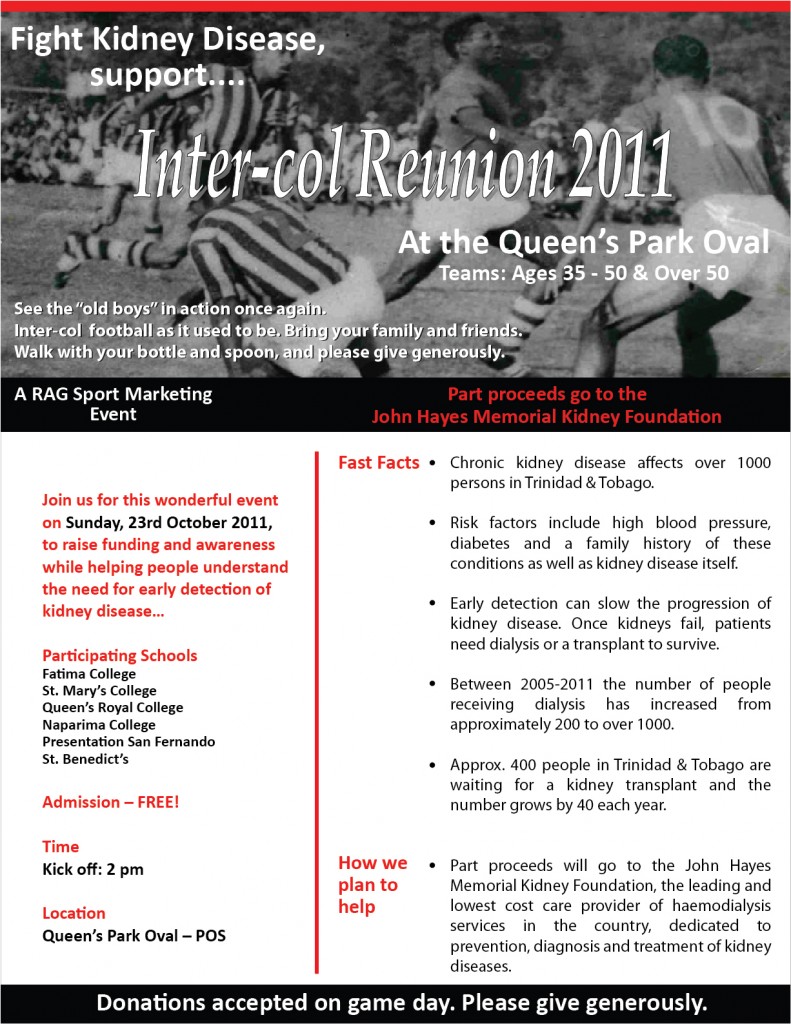 The following contains the main details of the day's activities:
•  Six Inter-col teams on show, i.e. St. Mary's, Fatima, Queen's Royal College, Presentation San Fernando, St. Benedicts and Naparima College San Fernando, all vying for the title of Intercol Champs in their respective age groups.
•  The esteemed participating schools will provide one team each consisting of a minimum of 20 persons in two main age groupings – Ages 35-50 and an over 50 team.
•  An exhibition game featuring two North Girl's Schools (St. Joseph's and Holy Name Convent).
•  All day entertainment and activities for children.
•  It is expected that the event will commence at 2pm and finish no later than 8pm.
•  The winners will receive medals, a challenge trophy and bragging rights for the next year.
Requested from each participant is a contribution of $200.00 (minimum $4000.00 per team/20 entrants). Each participant will be provided with a full soccer kit (tops, pants and socks), meals and liquid nutrients throughout the day, and of course the opportunity to partake in a fun-filled, entertaining day of football.
If you are interested in representing Fatima College please contact Noel Aming at 689-3307.